2019 USA Rugby Collegiate 7s
11 Surprise Teams At College 7s Championships
11 Surprise Teams At College 7s Championships
Alex Goff looks at what teams surprised us.
May 29, 2019
by Alex Goff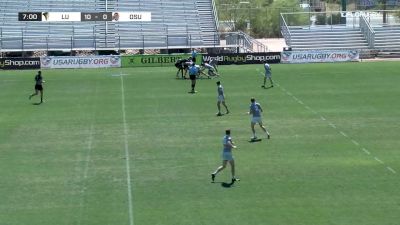 Making predictions is fun and a perk of the job here at FloRugby, but you've got to also admit when you got it wrong.
This past USA Rugby Collegiate 7s Championships offered many opportunities to be wrong, because the competition had two new brackets and all sorts of wild card teams that hadn't played anyone else.
Where did we get it right?
Lindenwood University in the men's and women's teams, along with Dartmouth, Fresno State, Air Force, and Western Michigan were all tapped as being potential champions. So there's that.
Where did we get it wrong?
Actually, we prefer to call these "surprises" because it sounds less negative and therefore reflects better on us, which is very important. Here are nine teams that were pleasant surprises.
William Paterson Men: Generally the Tri-State Conference isn't considered a strong conference, so being the sevens champion there isn't proof that you'll shake things up on a national stage. But WPU did just fine. They were shifty with the ball in hand, and played a solid team game. A competitive 1-2 in a very, very tough pool was enough for a Cup Quarterfinal spot, and in there WPU beat Norwich and ended up a very creditable 6th.
Davenport Men: Playing a bit under the radar, Davenport almost beat Central Washington in pool play, and did beat them in the 3rd-4th game. The Panthers also defeated Notre Dame College.
Northeastern Men and Women: Seriously, no one really thought Northeastern would do much. But they showed what attention to detail, fitness, teamwork, and dedication to defense will do. The men's team went 1-2 in pool play, losing to Ohio State by only a try, but then ran the table to next day to take the consolation bracket.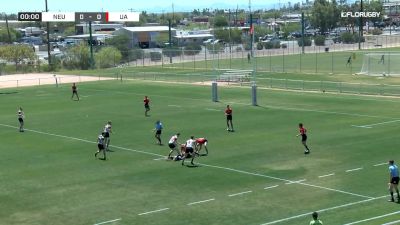 It was kind of the same story for the women. They were 0-3 in pool play, losing two games by a try or less, but took the Bowl in fine style.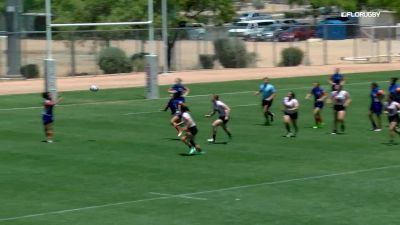 Harvard Women:
It was going to be Lindenwood, Dartmouth, and Life in that order. Harvard produced some strong team sevens and didn't wilt, taking 3rd in the Women's D1 Elite.
Cal Poly Women: A quirk of the tiebreakers put Cal Poly in the consolation bracket in the Women's D2 competition. They went 2-1 in pool play, but so did Bryant and San Jose State. So while CPSLO beat eventual champs Bryant, they found themselves playing for 5th on Day Two. No matter, as the Mustangs pasted Stony Brook and ran by Bloomsburg to finish the weekend 4-1.
Bryant Women: We didn't think Bryant would win. We thought Fresno State would win. After Day One we thought Claremont Colleges would win. Bryant held Fresno State's and Claremont's danger women in check, and took their chances beautifully.
Other Surprises
That would be, teams that didn't finish as well as we thought they would.
Arkansas Men: Yes, we thought the Razorbacks would do pretty well, and in fact they started pretty well, beating a very good Ohio State team, and losing 19-12 to Arizona. But one of our pleasant surprises, Northeastern, shut them down, and Day Two just fizzled.
Western Washington Men: Another team that could have, or might have. Pool D in D1AA was very tough, and WWU went 0-3. However, they picked it up after that to win the Bowl.
Hartford Men: A national title contender in recent years, Hartford was, like WWU, in the toughest pool. Going 0-3 was not a terrible thing against the likes of Principia, NC State, and Whitewater (wow, seriously), but Day Two things went worse. A close loss to Montana State was followed by a blowout against IUPUI.
Penn State Women. For years the best, or close to it, women's college 7s team in the nation, Penn State may have sent a different lineup than we will see this weekend in Chester, PA, but still, it's Penn State. Finishing 7th is just a surprise.