2019 USA Rugby Collegiate 7s
Has Principia College Found The Next Perry Baker?
Has Principia College Found The Next Perry Baker?
TreVaughn Goodman Principia College
May 27, 2019
by Austin Willis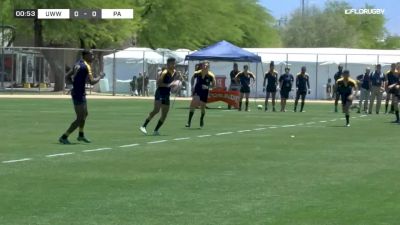 Rugby programs across the country are looking for the next Perry Baker. They're looking for a crossover athlete that can stretch a defense around the edge and in the air.
Look no further than TreVaughn Goodman.
Goodman scored eight tries in five matches this weekend for Principia College at the 2019 College 7s Championships in Tuscon.
Watch Full-Event Replays from the 2019 College 7s
TreVaughn Goodman found his way to Elsah, Illinois as a basketball player. With the Thunder Chickens he's flourished on the court securing a SLIAC Second Team All-Conference nomination. He was also named D3 National Hero of The Week for his 23 points, five rebounds, and five steals on the basketball court.
Goodman was a stranger to rugby just over a year ago, but he decided to give rugby a shot just after facing endless peer pressure from his classmates Zeya Kyaw and Scott Marunde. "They kept asking me to come out but I was like, 'rugby is like football and I don't want to play football.'"
TreVaughn never played football, but his brother, Richard Goodman Jr., played professional football in the NFL for the San Diego Chargers.
Basketball was TreVaughn's calling. Was.
"I promised Scott Marunde and Zeya Kyaw that I'd come out to one practice, and I had fun so I kept coming," said Goodman.
His court vision and speed as a guard in basketball transferred immediately. He couldn't be caught in practice. "Scanning the field and reading hips is huge in rugby and basketball because wherever your hips go, you go," said Goodman.
Several men's clubs have come knocking for the speedster's services. Playing in the men's club 7s nationals in August are not off the table for Goodman.
He still has a full season of basketball and rugby to consider before making decisions on his rugby future. "I'll have to sit down with my parents before I do anything, because I honestly didn't think rugby would come full front like this. I was just playing for fun and to stay in shape," said Goodman.
Goodman admits he has a lot to learn about rugby, but he's excited to see doors opening for him in the sport. For now, he will head home to Florida for the summer and prepare for his senior basketball season.