2019 USA Rugby Collegiate 7s
Bryant Bulldogs Through To Women D2 7s Championship
Bryant Bulldogs Through To Women D2 7s Championship
Bryant University won the Women's D2 College final.
May 27, 2019
by Alex Goff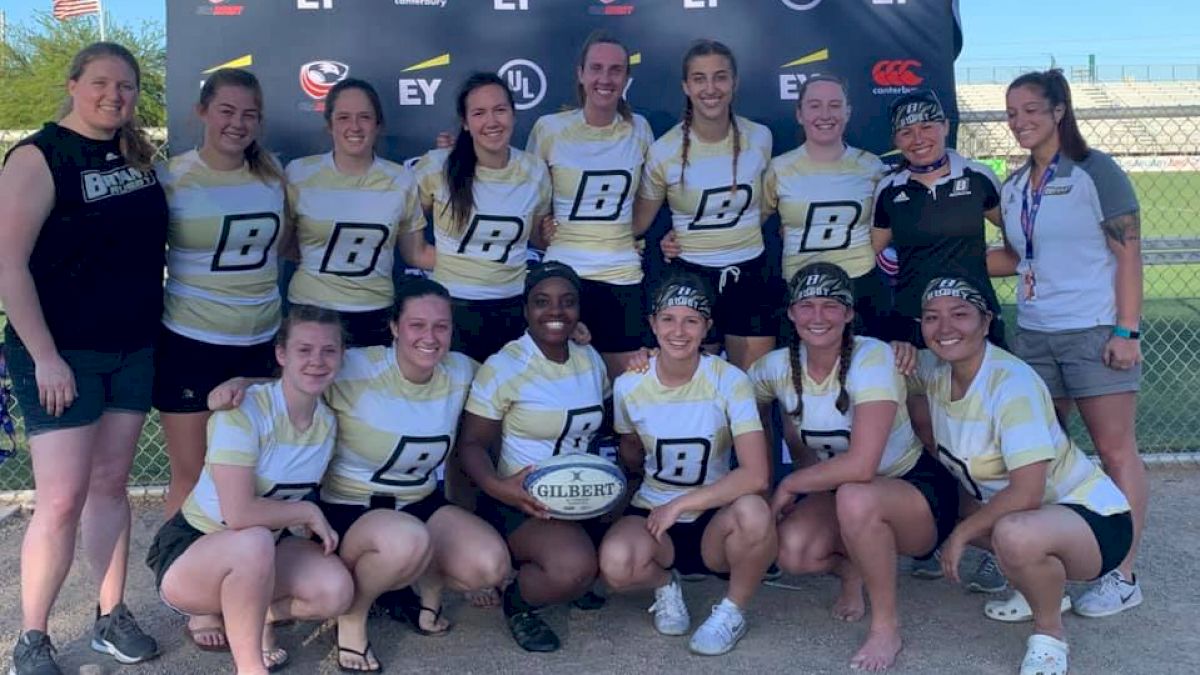 The trend of 15s champions winning sevens titles in women's college rugby didn't quite come away with a perfect record, as 2019 Spring 15s champs Fresno State were edged by Bryant University Sunday in the USA Women's D2 Sevens Championship final.
Fresno State's speedy danger women Chetna Kumar-Naicker and Meaghan Gallagher scored all three Fresno State tries, but Bryant's teamwork and dogged defensive effort staked them to a 10-0 halftime lead, and after a penalty try (that sent Kumar0Naicker to the sin-bin) at the beginning of the second half, Fresno State had too steep a hill to climb.
Jennifer Rosinski, Margaret Mellitt, and Natyasha Jackowicz all scored tries for Bryant, while Melissa Mallahan led from the front and was MVP, as the Bulldogs weathered a comeback from the other Bulldogs and won 22-19.
Bryant's ability to offload off the floor, thus avoiding too many rucks, seemed to be the difference.
Kumar-Naicker's high tackle that prevented a breakaway try, and thus led to a penalty try and a yellow card, wasn't too painful for Fresno as the try would have been scored regardless.
Over the two days of action, teams produced some entertaining rugby. Claremont Colleges unleashed the most ambitious attack plan, moving the ball whenever possible and, as a result, scoring 156 points in their four victories. However, Bryant's defense shut Claremont down in the semis and the Southern California team had to content itself with a well-earned 3rd.
San Jose State was impressive in doing 2-1 on Day One and ended up 4th. That pool play effort included an opening win over Bryant—no team went through the tournament undefeated.
Matilda Kocaj of Babson scored nine tries on the weekend, Kumar-Naicker scored eight, and Bloomsburg's Sarah Van Cise touched down seven times.
Women D2 Order of Finish
1. Bryant
2. Fresno State
3. Claremont Colleges
4. San Jose State
5. Cal Poly
6. Bloomsburg
7. Babson
8. Stony Brook