2019 USA Rugby Collegiate 7s
Hard Defense, Ball Movement Mean Victory for Lindenwood Women
Hard Defense, Ball Movement Mean Victory for Lindenwood Women
A look at the women's D1 Elite bracket.
May 27, 2019
by Alex Goff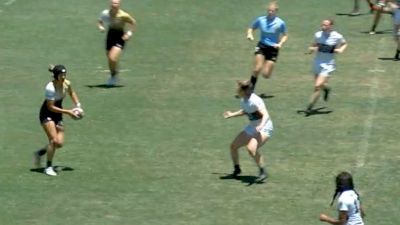 Defense and smart, physical play saw Lindenwood though to a national women's D1 Elite 7s title Sunday in Tucson, AZ.
The Lions rebounded from an earlier 15-12 loss to Dartmouth in pool play to defeat the Big Green 24-7 in the final. The key was making sure Sorensen Award winner Emily Henrich didn't beat them, and by denying Henrich any space, the Lions were able to pummel the rest of the Dartmouth squad to force turnovers.
Early in the final, Lindenwood laid in a series of hard hits, more than one from Annakaren Pedraza, and eventually the pressure forced a knock-on. Slowly Lindenwood built from that and eventually sent the ball through the hands to Dimeken Paogofie-Buyten, who was free and clear down the sideline. The key play there was McKenzie Hawkins with a smooth catch-and-pass to set her teammate free.
From the restart, Hawkins was there again, chasing the ball down and tackling a Dartmouth player into in-goal. Scrum-five for Lindenwood, and while Dartmouth forced a penalty, the Big Green couldn't exit their half, and from an overthrown lineout Teresa Bueso Gomez raced in, gathered the bouncing ball, and was in for a Lindenwood try. Pedraza's conversion was good and it was 12-0.
In the second half, Henrich executed a nifty switch move with Ariana Ramsey who sped in to close the gap to 12-7.
But after that the Lindenwood defense clamped down. Caring De Freitas scored a try and Bueso Gomez iced it. But at the center of this game was Hawkins, last year's Sorensen Award-winner, who was content to do the rough work and let other stars shine, and Paogofie-Buyten, who was imposing on defense.
Champions again, Lindenwood has done well to exploit the fact that women's sevens, especially in college, goes into too much contact. As a result, the Lions have dominated the point of contact to win, and are only vulnerable when opponents break tackles (Henrich), or outrun them (Ramsey).
Meanwhile, offensively, Lindenwood just keeps the ball moving. The Lions understand that they can tire out defenders by making them run, and the try above highlights that perfectly.
Harvard did well to take 3rd in this new Women's D1 Elite bracket, while Central Washington bounced back from going 0-3 in pool play to win 5th with victories over Penn State and Davenport. For Penn State and AIC, not that long ago on the top of the heap in women's college rugby, this was a tough weekend.
Women D1 Elite Order of Finish
1. Lindenwood
2. Dartmouth
3. Harvard
4. Life
5. Central Washington
6. Davenport
7. Penn State
8. AIC