2019 USA Rugby Collegiate 7s
Air Force Flies To Women D1 7s Title
Air Force Flies To Women D1 7s Title
A wrapup of women's D1 7s in the USA Rugby College 7s Championships.
May 27, 2019
by Alex Goff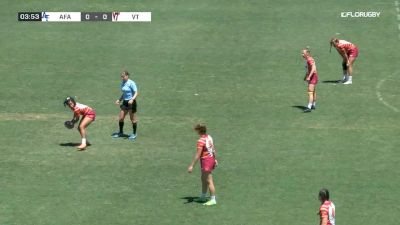 Six months after winning the Women's D1 fall championship, the US Air Force Academy made it two titles in a single school year with a convincing defeat of Virginia Tech Sunday in Tucson, AZ.
Air Force rolled through pool play, beating Northeastern 36-0, Iowa State 38-0, and UC Davis 34-0. Center and wing Sara Cook was at the center of the Air Force attack, scoring eight tries in those three games. With Adrienne Yoder showing some hard running and helping lead the defense, and with Devin Doyle, Jaqueline Hamby, Jessica Beyer, and Kaylee Eskeli all part of a unit that worked well together.
Air Force's overall team height helped in winning ball and outstripping opponents.
On Sunday, the Zoomies finally gave up some points, as Princeton did score a try in the 32-5 semifinal win for Air Force.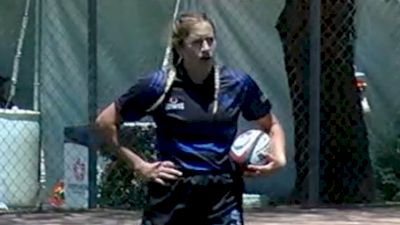 Virginia Tech, meanwhile, had only been pressed by Princeton in pool play, and with Anya Fisher and Congetta Owens part of a potent attack, the Hokies defeated UC Davis 15-5 (Owens scoring all three unconverted tries) to make the final.
Tech looked dangers early, defending nicely against the Zoomies and exploiting Air Force indiscipline to set up Gabrielle Vitale for a charge down the sideline. She was just brought down as Cook nudged Vitale's toe with her finger, taking the Virginia Tech forward down, which forced her to lose the ball forward.
No try, and eventually Air Force got out of trouble and after Tech got into penalty trouble, Yoder took a pass off the quick tap and was in under the posts. That was the final play of the first half and Air Force led 7-0 after Yoder converted.
Once again Virginia Tech got on the front foot in the second half, and this time the pressure resulted in Nadja Ross on the end of a string of passes to get over the line.
Air Force replied. Yoder cut through a small gap, ran around the sweeper and was gone to the corner and around in under the posts.
Hamby was good on the conversion and Air Force led 14-5. And with time winding down Tech fumbled the ball. Air Force kicked through and Yoder was there again to scoop it up and charge in for her third try. Hamby converted, and it was a 21-5 win for Air Force.
The success was a team effort, with the Zoomies defense easily the best of the competition, allowing two tries in five games. Cook's desperate stop on Vitale was an excellent example of how Air Force didn't give up on a play.
Worthy champions, Air Force also enjoyed a special moment over the weekend. Air Force Academy juniors usually receive a class ring in a special ceremony this weekend. Devin Doyle passed up that ceremony to be with her team, and the Academy made special dispensation to release her ring so it could be presented by her teammates during the tournament.
It was a nice surprise for Doyle, and another example of how this Air Force team takes care of its own.
Final Women's D1 Order Of Finish:
1. Air Force
2. Virginia Tech
3. Princeton
4. UC Davis
5. Northeastern
6. Sam Houston State
7. Colorado
8. Iowa State