Brutally clinical play saw Back Bay and Royal Irish through to the Boys HS Rugby National Championships club final.
Back Bay, stung by a slow start against Kansas City Junior Blues on Thursday, decided not to let a slow start burn them this time. The Sharks came out hard, pummeling the Charlotte Tigers early and using Junior Gafa to blast through in the midfield.
Jonathan Haley at fullback handled the kicking game well and Sean Nolan was impressive on attack. Flanker Colin Turner was part of a very strong back row effort.
Back Bay head coach Jeff Bonnett said there was going to be no repeat of the slow start.
"Yesterday we warmed up way of on some other field, walked over, stood around, and finally started to play; we just were really flat," said Bonnett. "We weren't going to do that today. We warmed up right next to the field and came over and started to play."
"Kansas City was really killing us on the kicking game," said Turner. "So that was something we wanted to take care of this time around."
Behind early, the Tigers kind of came out of their game plan as they tried to come back. It didn't help.
Irish Come Back Again
The San Diego Mustangs kicked deep and put the Royal Irish under pressure for two tries and two penalty goals. With ten minutes left in the first half, San Diego scored a second try and led 18-7.
Royal Irish kicked off, and the restart didn't go ten meters, giving San Diego a scrum at midfield. This was an ideal attacking position for the Mustangs, and seemed to indicate that Royal Irish was really in big trouble.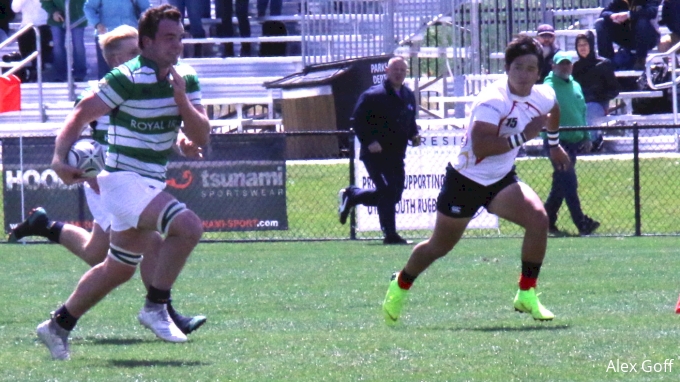 But the Irish shoved hard and stole the put-in at the scrum. No. 8 Russell Lemaster picked up and went left (because the scrumhalves were on his right) and thundered 50 meters to score under the post.
That made it 18-14, still with San Diego in the lead, but the momentum had made a palpable shift. The Mustangs looked frustrated, and when Royal Irish put together a strong team effort. for another try before halftime, it seemed clear the Lemaster try was a turning point.
Royal Irish head coach Scott Peterson expected nothing less.
"I ripped 'em at halftime," he said. "I ripped 'em pretty good. I said if you played like you did in those last give minutes the rest o the game you'd win this game. In the second half, we were patient on defense and the guys worked hard. I was pleased."
And so he should be. With center Jackson Sherby making tackle after tackle and Tommy Hannon running the attack, Royal Irish ran in four tries and controlled the second half.
In the consolation bracket, Lamorinda rebounded from a tough Day One to beat Kansas City Junior Blues, while Danville outlasted NorCal rival Granite Bay 17-8.