Day One of the 2019 Boys HS Rugby National Championships had just about everything, but especially dramatic finishes and tight games.
High seeds struggled, with one #1 seed, two #2 seeds, and a #3 and a #4 seed all losing.
The results prompted some grumbling about the seeds (produced by votes from coaches and other experts), but the results were also an indication of parity throughout the divisions. Only one game could be called a blowout.
Tier II
United, the #7 seed, fell behind early to #2 seed Wando, the South Carolina state champion, but slowly began to inch its way back.
"We have had a strange season where we play well but then just make mistakes," said United head coach Colin Puriri.
The wind would be a factor in most of the games, and several teams fell behind going against the wind only to rebound with the breeze at their backs. This is what happened with United, which used the boot once in a while and were able to pin Wando in their end. United came back to win 31-27.
Rocky Mountain blew away Snow Canyon, playing a much faster game and hitting Snow Canyon hard, fast, and often.
"We like to run our forwards a lot and then just bring it out to our backline," said Rocky Mountain flyhalf Ethan Van Tonder. "And once we saw in the first five minutes that they didn't like to give their backs the ball, we took advantage of that." It worked, to the tune of 70-10.
Eastside was too big and powerful for St. Thomas Aquinas and eventually rolled 44-10, while Aspetuck garnered some revenge for an earlier loss to the Raleigh Redhawks, weathering Raleigh's impressive pace to work the phases and ram home a 28-19 victory.
HS Club
The wind was certainly one of the actors in an intriguing play between #2-seed Back Bay and #7 KC Jr. Blues. The Blues come to nationals every year and knew how to approach the game. They were smart, quick-witted, and ran out to an early 12-0 lead.
But eventually Back Bay stopped trying to win the game in the space of 30 seconds, and scored a couple of tries late in the first half, making it 17-12 for KC at the break.
With the wind, the Sharks started to pummel KC, and as the game wore on the Blues started to fall off tackles.
The key play in this game was ten minutes into the second half, with Back Bay behind 17-15, flyhalf Sean Nolan launched a clearance kick that bounced and rolled and threatened to roll past the dead-ball line. Had it done so, KC would have had a scrum deep inside Back Bay's 22 and might have scored.
But the ball stopped rolling just before the dead-ball line, and that meant a 22 dropout. Back Bay got the ball back and eventually scored to take the lead. Nolan was instrumental in this game but so was the forward pack, which took control late. Back Bay 30 KC Jr Blues 17.
Danville ran out to a lead over Royal Irish only to see Royal Irish storm back. The Indiana team has been hit with injuries, but battled through in a back-and-forth game that wasn't decided until very late. Nathan McCahill and Wyatt Schrader came on to add a boost. Royal Irish 38 Danville 26.
"The key is, keep the boys calm," said No. 8 Russell Lemaster. "Even when we're down points, it's good to come together, calm everyone down, keep possession, and drive down [with] the ball."
Meanwhile, top-seeded Granite Bay was upset by #8 San Diego Mustangs. Granite Bay started well, exploiting a San Diego yellow card to take a 5-0 lead. Near the end of the first half, however, a breakaway try from wing Luis Gutierrez and then another from center Cade Calfield put San Diego up 14-5.
Granite Bay came back, and in the second half, took the lead 17-14. The Mustangs tied it, but the Grizzlies scored again to lead 24-17.
San Diego managed to get over, but didn't convert, and the score stood 24-22. Then, with no time left, San Diego worked its way into the Granite Bay half. The Mustangs got a penalty, and fyhalf Oren Cargill, who had missed a couple of kicks he felt he should have made, whacked over a 40-meter kick to win the game 25-24.
And the Charlotte Tigers thumped and then outpaced Lamorinda 26-7, with brothers Darius and Donovan Law hitting holes and the forward pack, led by No. 8 Brandon Harvey and urged on by sparkplug scrumhalf Alex Paquette, was immense.
Single-School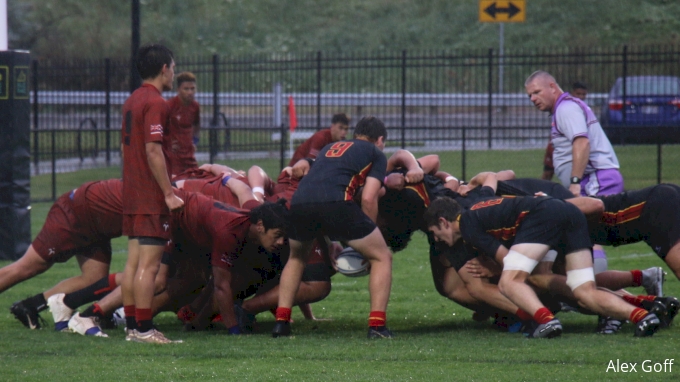 Not to let the clubs have all the fun, the single-school teams provided plenty of drama, too. Herriman was pushed very hard by Greenwich. The game was back-and-forth in the first half, but then Herriman started to pull away. The key play was at the end of the first half when Herriman worked a nice team try to score in the corner. That made it 12-7.
Herriman would score twice more to lead 26-7 before Greenwich scored twice to make ti 26-21. But that's as close as the Connecticut team got.
Penn HS came into the tournament ranked #1 by FloRugby, and started off looking like they'd be able to finish up #1. Two tries from center Noah Brown (who scored on an eightman pick as Penn liked to use him there, too), and center Johnny No was part of a fairly dominant 45 minutes or so for Penn.
Scrumhalf Trenton Horvath and fullback Alec Hardrict were also outstanding.
While East did get a try in the first half, the Angels failed to take advantage of the wind. Against the breeze things got better, but still, with 12 minutes to go Penn led 33-14. Then the dam broke. Some smart substitutions put fresh legs into the backline for East and they broke through for a long-range try. Moments later, they scored again, with Chris Moang making the key run and No. 8 Talin Finau finishing it off.
Now it was a one-score game was 33-28.
With time almost up Penn ran the phases and looked to finish East off. But a knock-on prompted by some aggressive East defense led to a scrum five meters from the East line. The Angels won possession and passed out to the backs. Starting from behind their goal line East surged on, broke through to midfield, and then Masi Tilaia picked up and zipped right through the ruck and under the posts.
Momo Kauvaka hit the conversion and East had done the impossible.
Penn will be left shaking their heads as they tried to play a little too much rugby at the wrong time. East, led by superb flanker Andre Toilolo and with prop Enoch Vaenuku making some big players, showed they can score from anywhere. East 35 Penn 33.
The final games, played in torrential rain, saw Jesuit roll past a hard-hitting Kahuku team 41-10. Jesuit's structural approach was too methodical for Kahuku.
Meanwhile, Xavier and Gonzaga battled it out in a classic. Both teams held leads, but in the end it was Gonzaga's commitment to using the forwards to work through the sloppy conditions that won out.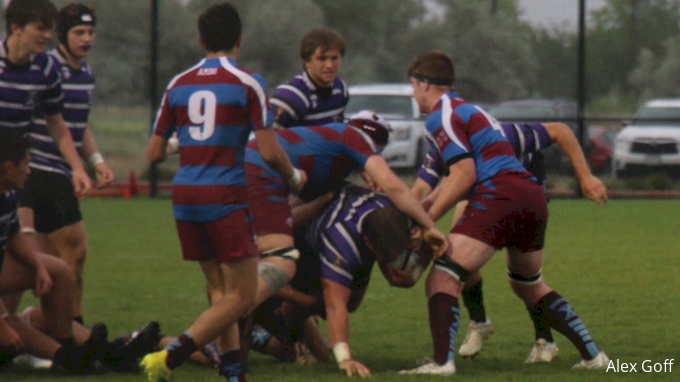 "We played the weather very well," said Gonzaga head coach Peter Baggetta, whose team made its 11th straight national semi. "I told the backs they probably weren't going to see the ball, and if they did, boot it downfield. It worked."
Barely. Gonzaga controlled possession nicely in the second half, but Xavier would not go away, and scored later to make it a three-point game. Gonzaga continued to play smart and held on 28-25.
Two games where the winner scored the winning points on the final play. Five games within a try. Five higher seeds losing. This was a day to remember.
And there's another one tomorrow.