Create a free account to unlock this article!
Get Started
Already a subscriber? Log In
Four teams remain in the Men's D1 Club championships, and while we might be all a-flutter at the burgeoning Major League Rugby, remember that these club teams are what help fuel the pros, and have been doing it for many decades.
Who will win out of the four? Well, here are some reasons why each of the teams remaining have a shot.
Defense Wins … Well, You Know
It has become a joke that defense wins championships, but it is certainly true in rugby that teams that keep the scoresheet clean and crush an opponent's spirit can find success (South Africa 1995, Scotland 1990, Seattle Seawolves 2018). And that might be the road the Life University Running Eagles go down. After all, helping with the program is Scott Lawrence, considered one of the most capable defensive coaches in the game.
Life's defense looked downright porous in September (81 points allowed in three games), but things started to come together after that, highlighted by a somewhat shocking 17-10 win over Old Blue in New York City.
Bolstered by graduates of the 2017-18 D1A champion undergraduate team, which hammered Cal in the final (pictured below), Life's men's team has Austin White, Sam Cowley, Zander Van Schalkwyk, and Maciu Koroi, with Blake Bradford overseeing it all as coach.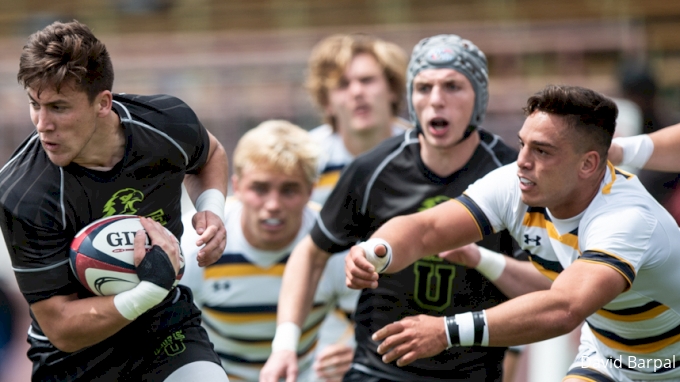 Bradford may be a little concerned about the crossover win against Rocky Gorge, in which Life led 40-14, and then leaked two tries before running in five in retaliation to win by 69-26. It's those two in the early parts of the second half he might be unhappy about.
Watch The USA Rugby Club Regional Playoffs Eastern Bracket LIVE on FloRugby
Coach Glues It Together
The Chicago Lions have been at the top of American club rugby for decades, and that longevity usually means they have long-standing players who are generally good at folding in new additions. This year is not really that different. Captain Andy Rose has taken ownership of this squad. Rose captained the Zimbabwean national team and is now completely bought-in to Lions rugby, from coaching youth on up to leading the men's squad.
Veteran Mike Ziegler is a stalwart, while young University of Arkansas product Jack Casey has been a revelation. He wouldn't be much of a surprise addition if you followed Razorback rugby, but Casey is a smart playmaker who was put in at outside center, where most Midwest teams put their biggest, most imposing runner. Casey, who is not big at all, just cuts that tall timber down, shows no fear, and is an attacking talent, as well.
Gluing all of this together is coach David Clancy. The first full-time coach in the club's history, Clancy coached at Munster in Ireland, the Cayman Islands, and Samoa, and word is he will start to have a role in the USA Women's 7s system, too. But on the training field in Chicago he has done wonders. His clarity of instruction, knowledge of strength and conditioning as well as rugby, and his desire to teach has everyone working in the same direction. Austin is playing at home? Under Clancy, the Lions won't care.
Home Cooking
It's not just that the Austin Blacks will play in Austin, TX for their semifinal, it's that the Austin Blacks D2 team, and the Austin Blacks D3 team, and, for good measure, the Austin Valkyries D1 and D2 teams will all be at the playoffs. That's a lot of home teams at a crossover player. Every single bracket has an Austin team involved.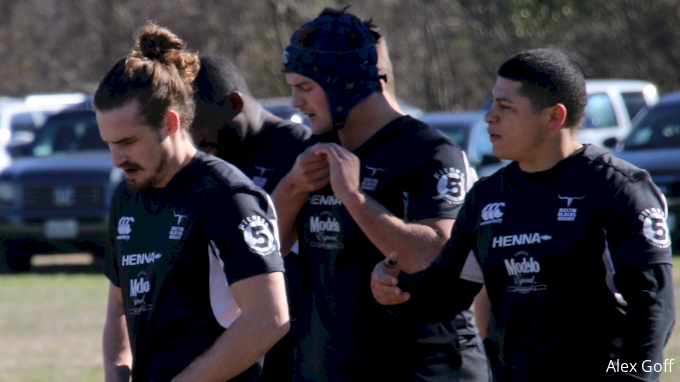 For the Blacks D1 men's side, the story is playing at home, and having that amazing depth. That wasn't on display any better than the recent final league game against the Dallas Reds.
In bucketing rain, the Blacks led 22-0 at halftime when the game was halted. Three weeks later, it was resumed, with rosters locked (no changes allowed). Despite having some players away and thus somewhat shorthanded on the bench, Austin scored two quick tries in the first few minutes of the second half and cruised to a 34-14 victory.
Example? Adam Armstrong (who works at FloSports but we're not sucking up) is a very solid goalkicker for Austin, but wasn't there for the second half of that game. No problem, as Brendan Monahan is also a strong goal kicker—it's just that sort of a team. Hayden Johnson and Chris Ingate are leading try-scorers for a Blacks team that scored more points than any Red River team, and allowed fewer.
And with Rohhan Zebib and Chris Baumann carrying the load in the front row, the Blacks can form quite the welcoming committee.
Watch The USA Rugby Club Regional Playoffs Western Bracket LIVE on FloRugby
Resilience
After a rough 2018 season, Life West redoubled its efforts and won the Pacific Rugby Premiership. The Gladiators did so despite falling behind 24-5 in the championship game against Belmont Shore.
Head coach Adriaan Ferris said the wind was, as always, a factor on Treasure Island and he figured once his team had the wind, it would regain the momentum.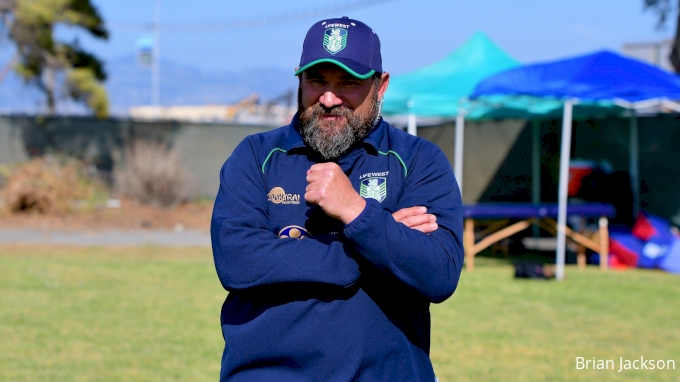 In fact, that happened before halftime, as two tries late in the first half put Life West back in contention.
"I always felt we were in the game," said Ferris. "I also felt they weren't beating us for those tries. If you look one was a straight strip, and the other a missed tackle. They only had to work hard for two of our tries. I know the wind would be a significant factor so I told the guys to stay calm, play in the momentum, and they were able to execute."
While Life West is known for running rugby and throwing the ball around, they can get too caught up in that. Defensively, they were coming up too fast, trying to laying that monumental hit instead of containing the Belmont Shore attack.
When they slowed down and stayed connected, the forwards, led by Jacob Finau at hooker, went to work.
"We just have to stay in that moment and maintain line integrity," said Ferris.
Sounds like good advice.
USA Rugby Club Finals LIVE on FloRugby June 1-2