Create a free account to unlock this article!
Get Started
Already a subscriber? Log In
USA Men's Sevens head coach Mike Friday has named 14 players to travel to London and Paris for the final two legs of the Men's Sevens World Series, and they've got Olympic Qualification, and a championship, on their minds.
The big news is that Martin Iosefo, who withdrew from the squad in Singapore due to an injury, is back healthy. The even bigger news is that Danny Barrett, part of the 2017-18 World Series season Dream Team, and Perry Baker, World 7s Player Of The Year in 2016-17 and 2017-18, are also healthy and ready to play.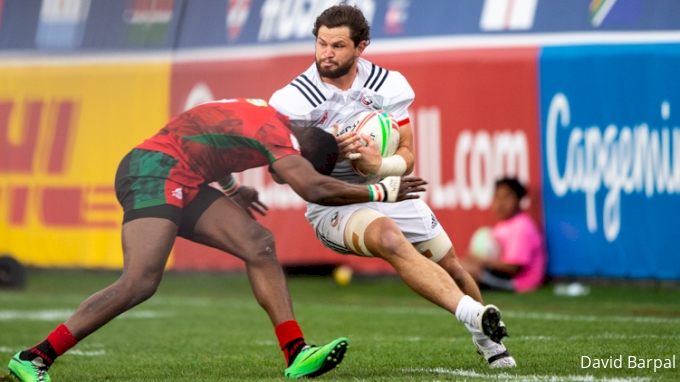 After starting the season with four second-place finishes in a row, and then a tournament victory in Las Vegas, the Eagles have dropped off very slightly, finishing 4th, 3rd, and 4th in the last three tournaments.
Turnovers, mistakes, and perhaps missing those big names, led to some iffy results, but several other players also broke out, with Kevon Williams playing some of his best rugby.
Looking ahead, the USA doesn't need to set the world on fire to clinch a place in Tokyo 2020, but will have to maintain the standard to hold onto a slim World Series lead over Fiji.
Friday has named a squad of 12 with two traveling reserves. Often he takes just the one reserve, but perhaps he is hedging his bets with three players coming back from being sidelined.
The Pool
Drawn in Pool D, the Men's Eagles Sevens will open HSBC London Sevens against Spain, followed by Wales and Australia for a chance to make the Cup Quarterfinals.
Spain currently sits in 11th place and last faced the USA in Hong Kong where the Eagles came away with a 36-7 win, also in pool play. Wales are currently 14th in the standings and have been well-known to put up a measurable fight against the U.S. all season.
The final battle of pool play will bring 7th place Australia who have only faced the United States once this season in Dubai. Back then the Eagles Sevens defeated the Australians 22-17 on a heroic try by Danny Barrett to make their first Cup Final of the season.
With only two tournaments remaining, making the Cup Quarterfinals could be crucial to earning qualification for the Tokyo 2020 Olympic Games. The top 4 teams at the end of the season will earn automatic qualification with the United States currently 38 points ahead of fifth-place England.
Friday Likes His Chances
"It's great to have the opportunity to pick from a fully-fit squad for the first time this season with the exception of Maka Unufe," said Friday. "This gives us great confidence as a group as if we illustrate the same work ethic, desire, and resilience with the squad we have landing in London. Our attacking game has the capability to excel if we are both accurate and hungry."
Friday acknowledged that qualifying for Tokyo 2020 is important, but there's time to get that done.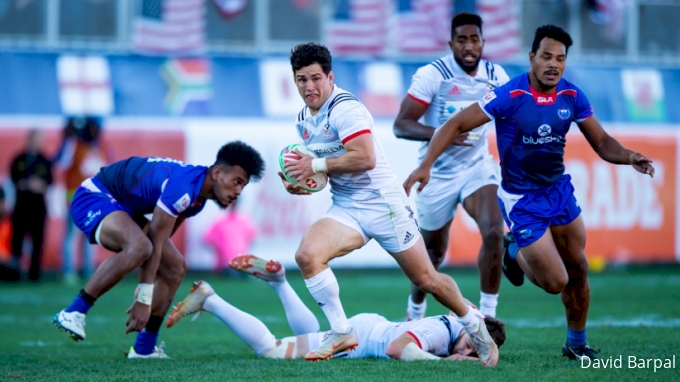 "London is the first stop of this two-leg tour and gives us the opportunity to achieve Olympic qualification which has been the focus every time we take the field as a group," said the coach. We go up against opposition who are fighting for their survival and will need to be up to each and every challenge on Day One to give us a ticket to the big dance on Day Two.
"We are under no illusion of the task that lies ahead. We are excited about that opportunity and challenge, and we are determined to leave London in the same position on the table as when we arrived."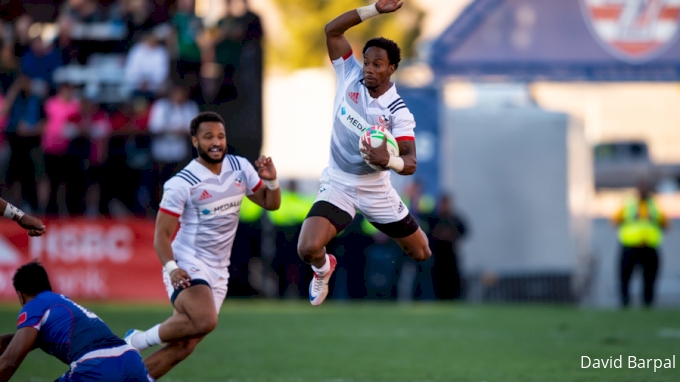 Stats And Notes: Carlin Isles will appear in his 50th World Series tournament. Isles is currently leading the World Series with 44 tries. He is also 3rd in the World Series in points scored—USA captain Madison Hughes leads with 243.
MEN'S EAGLES SEVENS ROSTER
| | | |
| --- | --- | --- |
| PLAYER NAME | POSITION | HSBC TOURNAMENTS |
| 1. Carlin Isles | Wing | 49 |
| 2. Ben Pinkelman | Prep/Hooker | 31 |
| 3. Danny Barrett | Prop | 46 |
| 4. Matai Leuta | Prop | 34 |
| 5. Brett Thompson | Prop | 31 |
| 6. Kevon Williams | Halfback/Wing | 19 |
| 7. Folau Niua | Halfback | 67 |
| 8. Marcus Tupuola | Wing | 4 |
| 9. Stephen Tomasin | Hooker | 29 |
| 10. Madison Hughes (C) | Halfback | 45 |
| 11. Perry Baker | Wing | 39 |
| 12. Martin Iosefo | Center | 40 |
| 13. Joe Schroeder | Prop (traveling reserve) | 8 |
| 14. Maceo Brown | Center (traveling reserve) | 8 |
MEN'S EAGLES SEVENS STAFF
Head Coach | Mike Friday
Assistant Coach | Anthony Roques
Assistant Coach | Phil Greening
Strength & Conditioning Coach | Jon Hood
Athletic Trainer | Brian Green
Team Manager | Scott Novack