The pools for four of the six brackets at the USA Rugby Collegiate 7s Championships have been released, with some of the pools, let alone the bracket, a complete tossup.
Watch The USA Rugby College 7s National Championships LIVE on FloRugby May 24-26
Women D2
Eight teams in two pools, with the top two from each pool going on to the semis and the final, and the bottom two going on to the challenge bracket.
National spring champion Fresno State tops Pool A, with surprise team Babson, always-tough Claremont Colleges, and Stony Brook.
Bloomsburg is the only one of these teams that suited up last year in the Women's Open bracket, which was mostly D1 teams. Bloomsburg ended up taking 5th, going 1-2 in pool play and beating Sam Houston State and Kennesaw State to take the consolation bracket.
Bryant comes in as the Northeast winner, but this is new territory for San Jose State and for Cal Poly.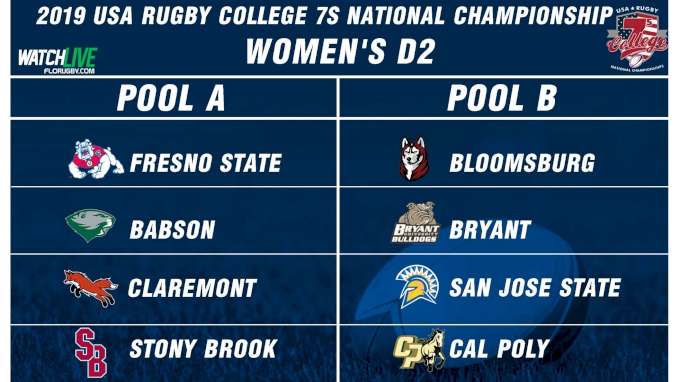 Women D1
Air Force won the Open Bracket last year and did so going undefeated. The Zoomies head up Pool A while Virginia Tech, recent Spring 15s runner-up, and Colorado, who finished a strong 2nd to Air Force in the Rocky Mountain, are in Pool B.
Princeton has a ton of sevens experience and finished third in the 2018 Open Bracket. Babson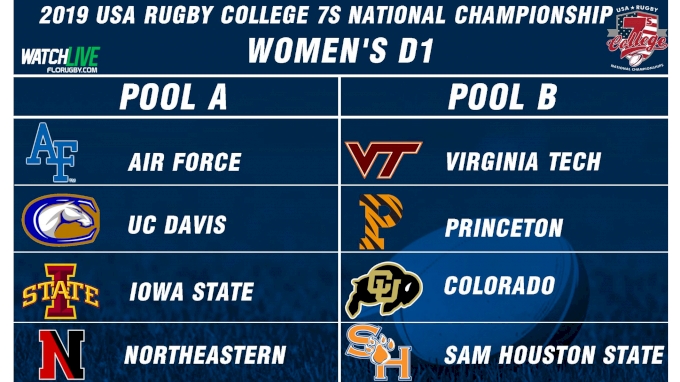 Men D2
This is a hugely competitive group with most of the top dogs from the fall 15s playoffs, with recent sevens champions thrown in.
There is, in fact, no favorite. Last year's champions, UNC Charlotte, got in as an at-large because East Carolina took the South. UW Whitewater has won this before, but will have to get through a pool with NC State (reigning fall 15s champion), and Principia (previous D2 sevens champion), as well as a Hartford team that is always in the thick of it.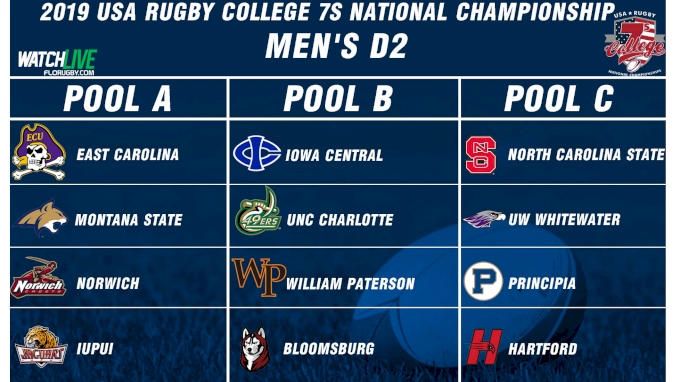 While Pool C may be the toughest pool, Pool A is just a crap shoot, as any of ECU, Montana State, Norwich, or IUPUI could win it.
Men D1AA
Mary Washington wanted a national title this year, and didn't get it, and will try to finish its time in D1AA with a sevens trophy. The Mothers head a Pool A that includes an Oregon State team that shocked everyone by beating Western Washington in the Northwest Collegiate Rugby Conference 7s.
WWU made it as an at-large, but will have to get by a very polish Stanford team and a St. Joe's team that is excellent in seven-a-side.
Pool B includes a Lindenwood-Belleville team that could be moving to D1A next year, and will have the same goal that UMW has. Western Michigan was a bit of a surprise MAC winner, while Iowa State is very strong.