Create a free account to unlock this article!
Get Started
Already a subscriber? Log In
In what was expected to be a very physical contest Cal and Life both lived up to expectations, Life University repeated as D1A champions with a dramatic 29-26 victory.
Life led by as much as 22-7 before Cal stormed back to lead 26-22. However, Life had the last score, and that proved critical. Life scrumhalf Ryan Rees was the game MVP, but he shrugged that off.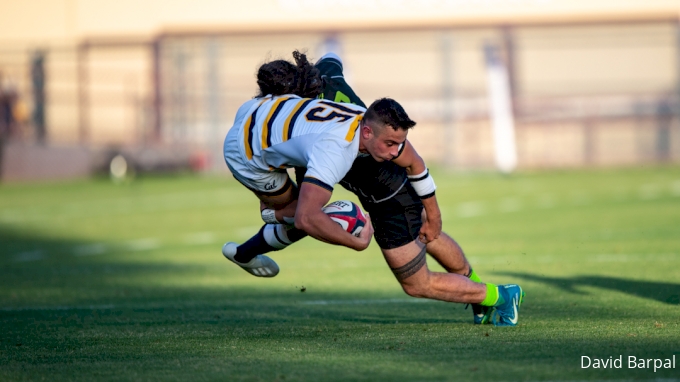 "I'd give player of the game to the entire forward pack," he said.
Cal showed their intention to run early, and only some snappy cover defense from wing Connor Mooneyham stopped that run. Prop Damon Wiley cut through on a pick-and-go but he was also stopped.
Life, which had earlier seen a promising attack called back due to a forward pass, finally opened the scoring. Scrumhalf Alex Rees scampered wide, and fed Mitch Wilson, and the fullback raced 20 near the Cal 22. Flanker Justin Johnson carried on almost to the line. He was dragged down by Henry Poon, but a loose ball rubbed off Wilson's foot, and Duncan Van Schalkwyk dove on it for an opportunistic, and somewhat unpretty, Life try.
Life lost Keegan Sparks 15 minutes in. The No. 8 laid in a massive hit in midfield that left him writhing on the ground. He shook off the trainer the first time, but a second tackle put him off the field, and Marek Lipold took his place.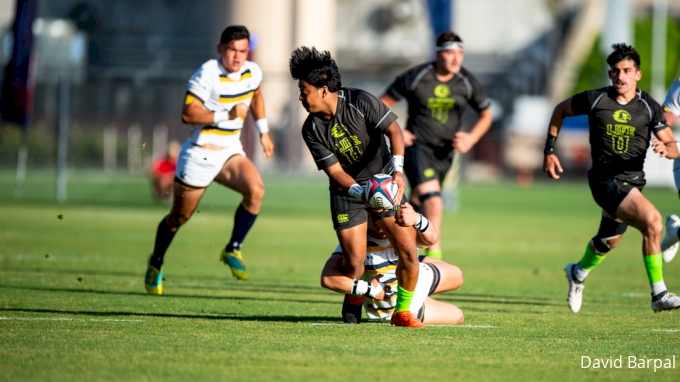 Cal, meanwhile, started to exert pressure on Life with a hard-driving scrum. Life, however, was able to survive that pressure by disrupting the Cal lineup, and raising the stakes. Mike Islava received a warning from referee Lex Wiener for a late tackle, and Life got away with another piece of chippy play that no official saw.
Another Life player left midway through the first half, as center Matt Mairowitz left injured and Nikey Roberts, himself just back from injury, took his place.
Life did get a penalty that resulted in an attacking lineout, but Cal stole that throw, and eventually pushed Life to the point that tighthead pro Kareem Odeh got a yellow card for a professional foul. Cal surged on from there, running phase after phase within ten meters of the Life tryline.
Finally Cal got over, and fittingly it was Wiley, who had tested the Life defense several times. It took about 20 phases, but it did the job. Sam Walsh converted and Cal led 7-5 at 29 minutes.
Life came right back, mauling the ball about 25 meters off a lineout. Cal stopped it but was guilty of coming in from the side. Life tapped and was back right on the line. Phase after phase Life bashed ahead, and then suddenly Van Schalkwyk send a sublime pass way out wide to wing Julian Roberts, who Sid in the regain the lead for Life 10-7.
Back came Cal. Sam Cusano somehow offloaded as he was shoved into touch, and Cal again went through multiple phases right on the Life tryline. Finally, after some consideration, referee Wiener called a knock-on.
Life was able to kick free despite trouble in the scrum, but Cal was still on the front foot. Life was frantic on defense, and once again forced a knock-on, and Cal had to be wondering what they needed to do to get over that line.
With less than a minute to go in the half, a kick ahead from Van Schalkwyk bounced awkwardly, and the Life chase forced a penalty. But again, critically, Life lost the lineout, and while Cal was able to work its way out of its 22, a forward pass ended the half.
Second-Half Comeback
Neither team looked happy with the 10-7 scoreline, and rightly so, as both teams has missed prime try-scoring opportunities.
The second half began badly for Cal. After dominating the scrum in the first half, the Bears gave up a penalty in the first second-half scrum. Life took a lineout, and Cal was penalized a second time, this time for driving on the jumper while the jumper was still in the air. Another lineout, and a maul this time. Brian Muntanga looked good to go over the line. Wiley came through to hold Muntanga up, but he did it illegally, and Wiener awarded a penalty try.
Frustrated, Cal took out that frustration on Wilson. The Life captain caught the restart and was slammed to the ground. Cal regathered the ball and was on the attack again. And once again they came close, but not over the line. The Bears finally got a penalty, took the lineout, and set up the maul. But Life stripped the ball away and Rees popped a frantic box kick that rolled all the way to the Cal 22.
Life's chase was outstanding, with Mooneyham and Wheeler making the tackle and forcing Cal to dive onto the ball. Life set up the lineout and maul, and on the second attempt, Muntanga was over to make it 22-7.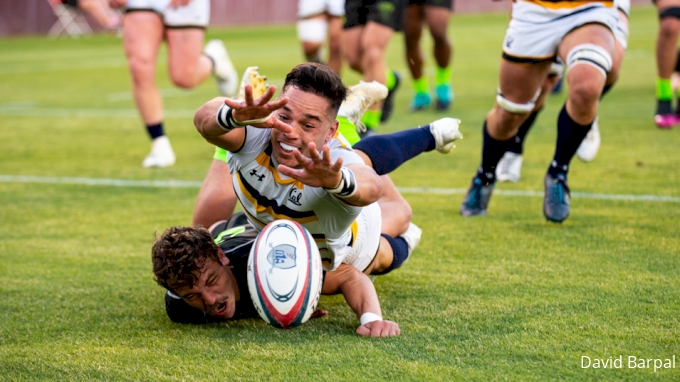 Cal liked the idea of kicking to Wilson and pummeling him and this time it produced a knock-on. From there, a penalty, a maul, and some pressure on the line finally ended with Nic Mirhashem striding through. Walsh converted and it was 22-14.
Life finally got some open-field possession after that, but Cal's defense, led by massive hits from Jack Iscaro and Christian Dyer, held firm.
Then Cal struck. Life got a yellow card for Mike Islava for repeated infringements, and the Bears passed up a kickable penalty and went for the lineout instead. It somehow paid off. Life stole the lineout but the ball was tapped back in-goal, and fumbled backward again. In raced Mirhashem, like a good flanker, and he dove onto the loose ball for the try. Walsh converted and it was a one-point game 22-21.
And then it was Cal in front. Life's restart rolled through the dead ball line and so Cal had a scrum center, and made Life pay. Wing Sam Cusano made two key runs and then it was Wiley again in the middle of it all, crashing through tacklers to punish the Running Eagles ice more. Walsh missed the conversion, but Cal had the lead 26-22.
Not for long. While Van Schalkwyk (who had clashed heads with Justin Johnson earlier and stayed on the field), appeared to injure his hamstring on the starts, Life put the pressure on. Once again the Running Eagles forced a penalty, and once again went for the lineout and maul.
Cal did well to stop it, but after a few more surges to the line, and ball went out wide to Mooneyham and he dove over. Wilson came in to take over the kicking and slotted a beautiful kick from the touchline. Life 29 Cal 26.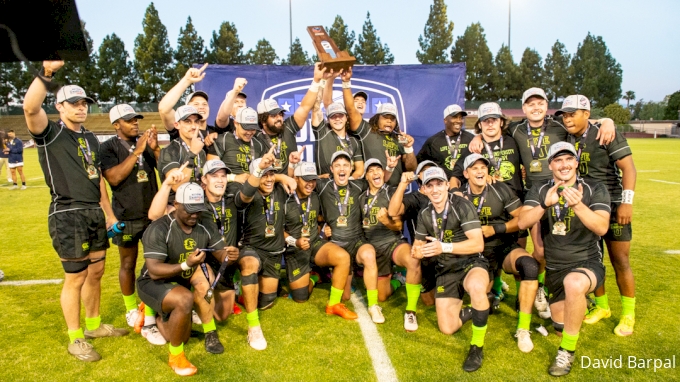 Cal had one more shot, against forcing a penalty and after some debate, opting for a kick at goal. Walsh's attempt slid just wide.
"It was absolutely the right decision to go for posts," said Cal center Christian Dyer. "We back our forwards when we go for the lineout and we back Sam every time, too."
There was time on the clock after that, and Life took the 22 dropout, but Cal had a long way to go after that, and finally the ball was knocked loose and that was the game.
Cal 26
Tries: Wiley 2, Mirhashem 2
Convs: Walsh 3
Life 22
Tries: Van Schlakwyk, Muntanga, Penalty Try, J. Roberts, Mooneyham
Convs: Penalty Try, Wilson