Create a free account to unlock this article!
Get Started
Already a subscriber? Log In
We're down to eight D1 men's club teams all seeking a national title.
Club Regional Playoffs LIVE on FloRugby
Western Showdown
The Austin Blacks and Dallas Reds resume a key game this weekend, two weeks after it was halted.
The game itself decides who moves on to the national D1 club semifinal against the Pacific Rugby Premiership winner, but it's been tough going.
Watch The Pacific Rugby Premiership Finals LIVE on FloRugby May 4
The game was supposed to have been completed on April 13, but torrential rain halted that game just past halftime. There's a whole contretemps between the two clubs about the game—Dallas said they had control over use of the field at a public park, but when the rain was ankle-depth, city officials kicked them off.
Complaints and appeals followed, as Dallas tried to reschedule the game for April 20, and then Austin wanted something else. Finally, a USA Rugby committee ruled that the game should be resumed, starting at halftime, with rosters locked.
That's a bit of a sore spot for Austin, as they don't have available all of the players who suited up on April 13. But a source close to the decision said rosters were locked (meaning, that no one who wasn't on the roster on April 13 can play on May 4), to ensure no one loads up a new lineup.
And, since this was going to be only half a game, it wasn't going to be a major hardship for either team. Austin, by the way, resumes the game up 22-0.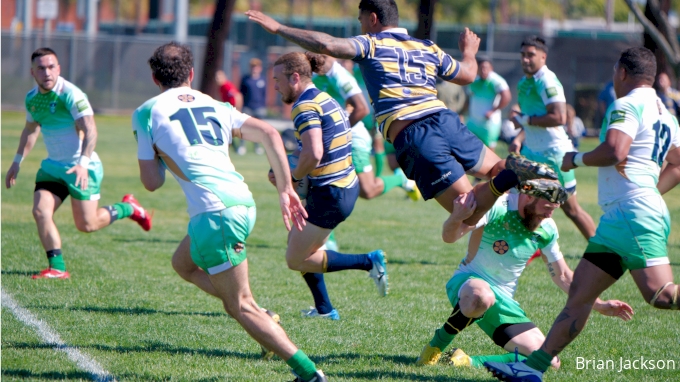 Meanwhile, the Pacific Rugby Premiership plays this weekend with Life West taking on Belmont Shore is a much-anticipated clash (all 80 minutes of it), to decide who plays Austin or Dallas in two weeks.
Eastern Promises
Rocky Gorge beat NOVA last week 56-24, breaking open a tight game at halftime (21-17) to put aside their Mid-Atlantic rivals and earn a place in the crossover playoffs. They take on top ARP team, Life University.
Life beat Mystic River 80-0 to make this game. Sam Cowley lead the scoring, but the tries were spread throughout what is a very strong Life men's team. Several players who were part of Life's successful undergrad program these past few years have bolstered the Men's Running Eagles.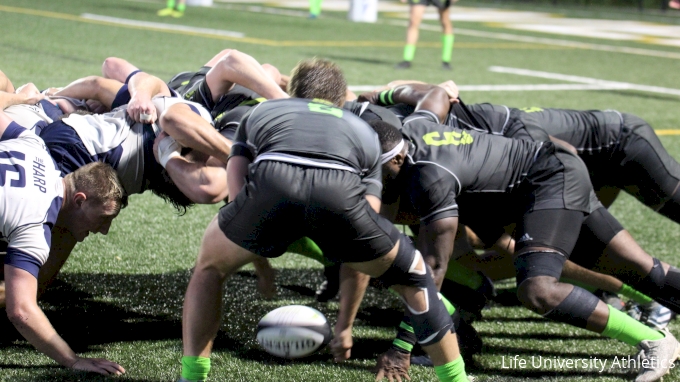 The winner of that game will meet the winner of the Chicago Lions and Palmer College. That game goes off this weekend in Chicago.
The Lions have defeated their last three opponents, Detroit, Wisconsin, and the Chicago Griffins, but a combined score of 164-32. Palmer and Chicago did meet in April, but it was largely a game for players who needed more game time, and while the Lions won, don't put too much stock in it.
Palmer beat the KC Blues this past weekend, 25-12.
The Final Eight
Life West vs Belmont Shore (Live on FloRugby)
Dallas vs Austin
Winners play each other May 18 (Live on FloRugby)
Chicago Lions vs Palmer College
Rocky Gorge vs Life University
Winners play each other May 18 (Live on FloRugby)