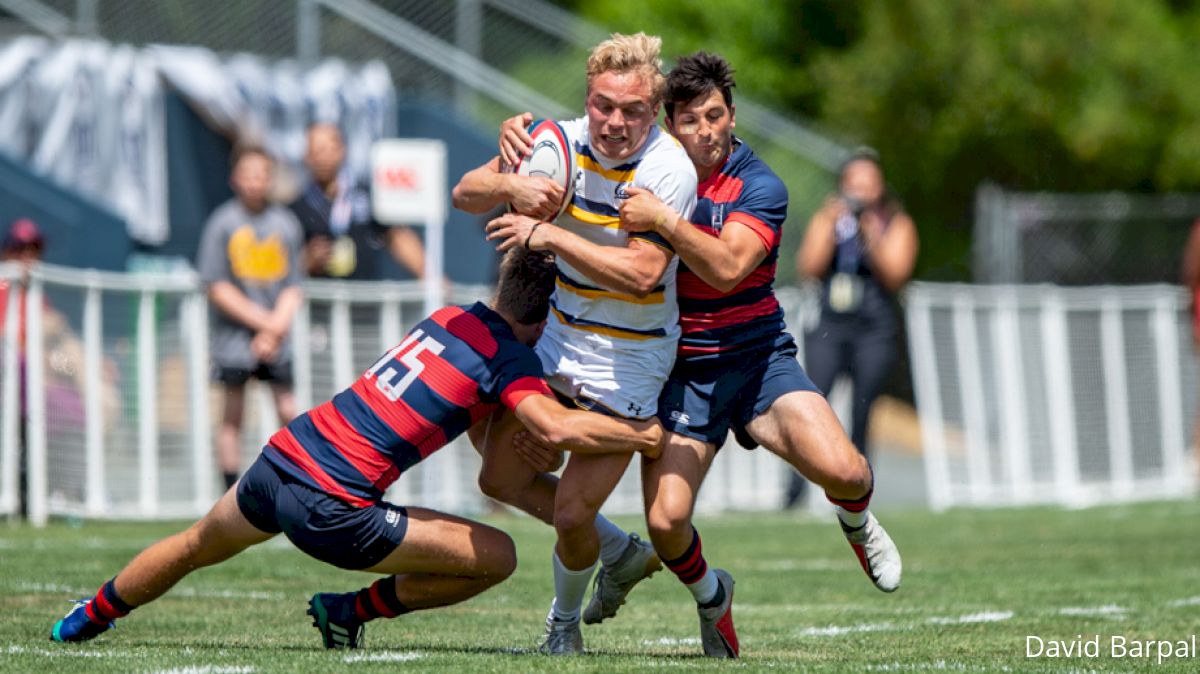 Cal booked its place in the D1A final with a try with no time left to beat Saint Mary's 28-24 in a wild game.
Saint Mary's had all sorts of chances to open this game up, but the game will be remembered for Cal's immense defense with their backs against the wall.
Watch Cal vs Saint Mary's On-Demand
The game began with Saint Mary's pressuring Cal inside the Bears' 22. The Golden Bears goalline defense was dogged and the Gaels were able to get very close, but couldn't break through.
At the same time, Cal couldn't break out. Their clearance kicks were not big-boomers, and repeatedly Saint Mary's made inroads, eventually earning a penalty that was a little too far to the side and too far away for an attempt at goal. The Gaels took the lineout, and lost it.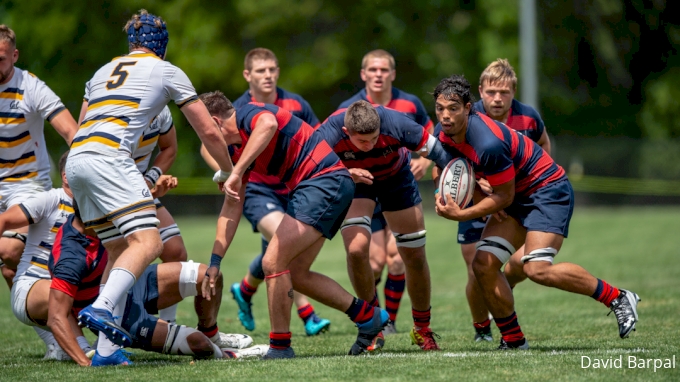 Cal finally got out of trouble, only to get into trouble again. Finally, the Gaels took the points on offer. A long-range penalty kick from Yacoubian made it 3-0.
But the Bears held the run of play for a good portion of the next 15 minutes, with hooker Jack Manzo crashing over, and then Sam Golla, playing at No. 8, not his accustomed position, put a stamp on a strong half for him with a try after a long period of pressure.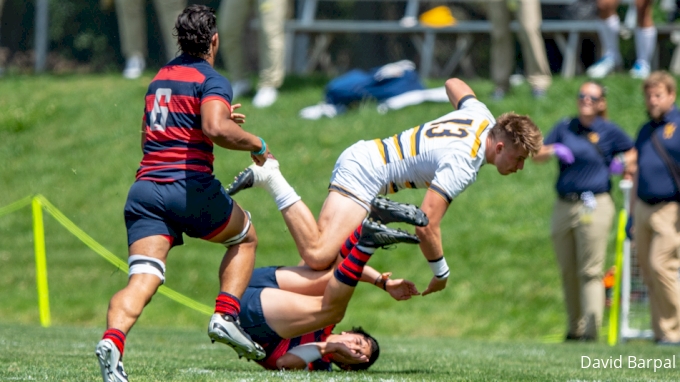 Saint Mary's finally did get a try. An attack on the wing followed by a grubber ahead spelled real trouble for the bears. Scrumhalf Henry Poon was the only man back and he kicked the ball dead, but did it before the ball rolled into in-goal. The result was a five-meter scrum for Saint Mary's, and from there No. 8 Vili Helu picked up and sent a flat pass to center Tavite Lopeti who was in untouched.
But Cal immediately responded, scoring just before the break when freshman flyhallf Sam Walsh called his own number and scampered in under the sticks.
Good news also for Cal was that their goalkicking, having taken a vacation the week before, was on-song, and Cal led 21-10 at halftime.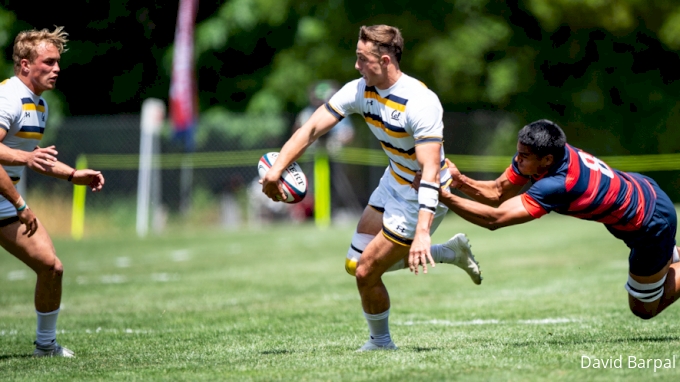 The second half was much the same story. Saint Mary's put Cal under pressure and had ball right on the tryline. Twice they were held up, and a turnover at one scrum and a knock-on after another gave Cal life.
Some wild plays, including an interception for Christian Dyer, who was then intercepted, were partially the result of both teams pushing the pace. Finally the pushing worked for Saint Mary's. A free kick off the scrum gave Helu a chance to tap and run. He linked with scrumhalf Sean Yacoubian, who then offloaded to flanker Ronan Murphy, who was in for a huge try.
That made it 21-17 with over 20 minutes to go. As expected, this would go down to the wire.
With 13 minutes to go Saint Mary's pulled off a turnover in contact and Yacoubian found Eddie King, who looked free down the sideline. King sent a long pass back inside to Yacoubian, who couldn't handle it, and a surefire try-scoring opportunity was squandered. But back came the Gaels, and were right back within five meters. Phase after phase Saint Mary's ran, and finally Lopeti was hit hard and lost the ball forward.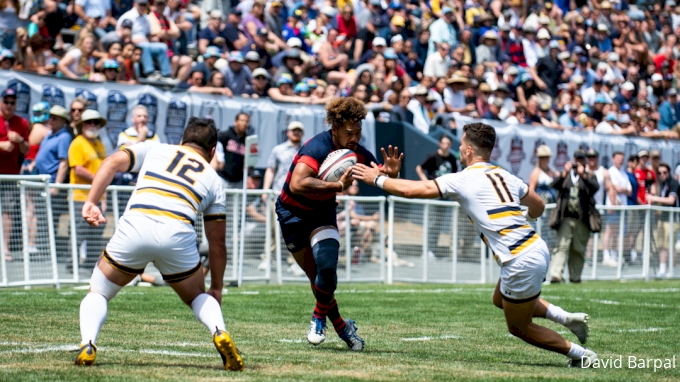 Cal could have squeezed out of trouble there, with Troy Lockyear kicking downfield, but the pass he received was forward. One more shot for Saint Mary's, and it was enough. Saint Mary's attacked through the phases again, and finally Helu found Yacoubian on the wing, and the scrumhalf dove in at the corner. That put Saint Mary's ahead 22-21, and Yacoubian missed the conversion. However, Cal wing Sam Cusano charged early, and Yacoubian got another shot, and he drilled it for a 24-21 lead.
Three minutes to go. Cal powered ahead, almost broke through, and then lost the ball on the break. Helu recovered and the Gaels sent it wide. Here was the crucial error by Saint Mary's. Had they just consolidated they could have run out the clock and won. Instead, they went wide, kicked downfield, and Cal had one more shot. They didn't miss. After getting back to the Saint Mary's 22, Dyer drew his defender and sent a nice pass to Cusano, who sidestepped his opposite number and raced in for the game-winner. The conversion was good, but unnecessary, Cal had done it.
For Saint Mary's, Helu was immense, and Payton Telea Ilalio, back from injury, was enormous in contact. Cal got a superb performance from Dyer, who saved a sure try with one tackle and was always dangerous with the ball. Hooker Jack Manzo had one of this best games,
Cal finished the game doing well to disrupt Saint Mary's ball at the ruck. The Bears were fortunate not to be called for interfering with the scrumhalf—certainly Yacoubian wanted that call—but there's no denying that Cal's work on the counter-ruck was energetic and effective. Meanwhile, Saint Mary's will rue the half-dozen balls knocked-forward within five meters of the tryline, and have learned the obvious—you cannot squander scoring chances against Cal and win. Meanwhile Cal's defense was outstanding, and Walsh going four-for-four on goalkicking turned out to be crucial.
"I am extremely proud of the boys," said Cal captain Nic Mirshashem. "We committed to each other coming in. We knew defending within the five-meter line was going to be the key to this game."
Cal 28
Tries: Manzo, Golla, Walsh, Cusano
Convs: Walsh 4
Saint Mary's 24
Tries: Lopeti, Murphy, Yacoubian
Convs: Yacoubian 3
Pens: Yacoubian