Looking test itself before HS Nationals, Herriman Rugby out of Utah split two games on its tour of Northern California last week, dropping a tough contest to Jesuit 30-8 before rebounding with a 22-14 victory over Danville.
Watch the Boys HS Nationals LIVE on FloRugby May 16-18
As one of the few public schools to consistently contend at the national level in the single-school bracket, Herriman is usually not able to tour during the season due to limited resources that must be allocated to travel expenses for HS Nationals.
However, Salt Lake City's selection as the host, afforded the team the opportunity to finally make an in-season tour a reality, and they took full advantage over the school's spring break.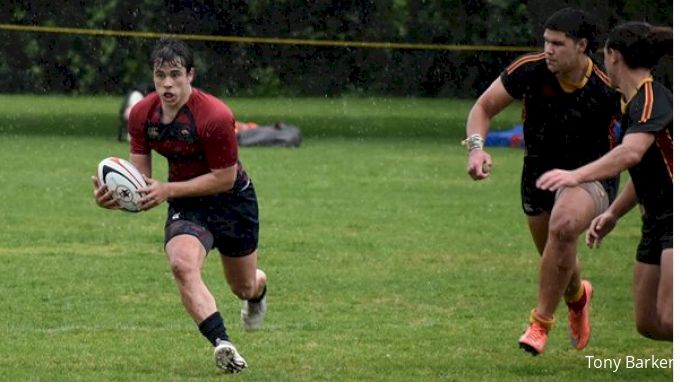 "When considering possible tour destinations, NorCal was a no-brainer," said Herriman Director of Rugby Jeff Wilson. "Not only is it close enough for our parents to make the 10-hour drive to watch their boys play, but it gave us the chance to test ourselves against two of the premier programs in the country."
And this wasn't an easy-time trip, either.
"Playing a seven-time national champion in Jesuit, and the defending club national champion in Danville, gives us the kind of matches and style of play that we are likely to encounter at the NIT, so we knew that they would better prepare us for postseason play, which was the primary goal when looking at a tour," said Wilson.
Herriman came into the tour with a slight case of bad timing, missing five starters—all returning starters from a year ago—due to injury. But their replacements performed admirably.
Sunny skies in the morning gave way to a slight drizzle just before kickoff for the opening game, at Jesuit in Sacramento. Soon the drizzle became a downpour.
Jesuit showed their worth literally from the opening kickoff, as a beautiful high ball from Max Schumacher was taken by the Marauders and immediately worked into space. It took less than two minutes for the hosts to score against a shell-shocked Herriman side, as Schumacher finished what he'd started.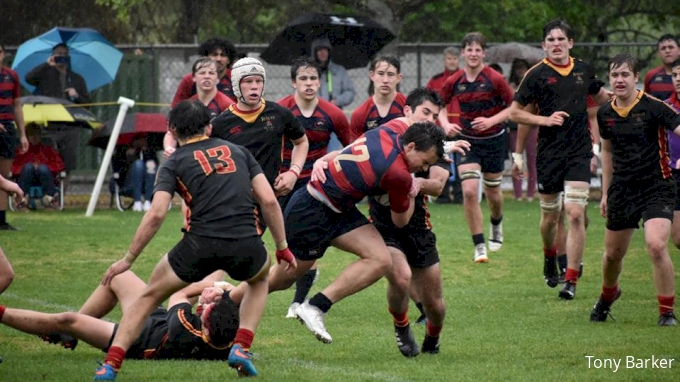 The Mustangs gathered themselves and settled in after the quick try, working the ball down the field and forcing a penalty from 25 meters out, which was slotted by Isaac McQueen to bring the score to 5-3. Strong running by Tui Kefu and Alec Perschon kept Herriman going forward and forced another penalty by Jesuit. The visitors had the chance to take the lead from nearly the same spot, but McQueen's kick went just wide and the scoring opportunity was missed.
Jesuit was able to regain some momentum and go on attack after wresting nearly 10 minutes of control away from Herriman. Although the Mustang defense would not yield much in the way of big breaks all day, Jesuit was patient through the phases and kick two timely penalties to touch. A nice maul had them knocking on the door, but hooker Donovan Martucci was able to steal the ball in contact and make a nice break to clear. A clearing kick ahead was well chased and taken by McQueen in to Jesuit territory, but the wet conditions caused a handling error and a turnover.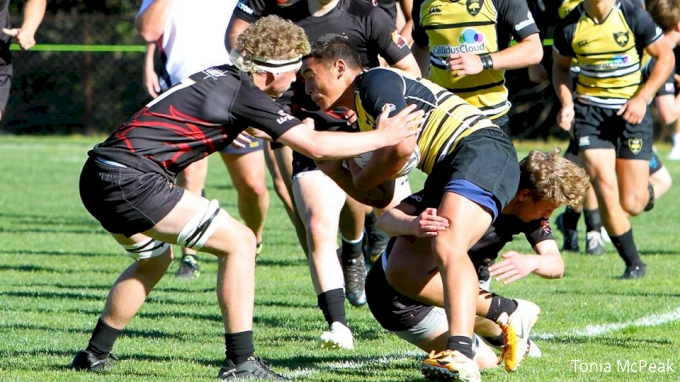 Using several deft backline moves, Jesuit now had a solid attack structure and ended up with a lineout close to the try line. A nice maul did not quite do enough to score, but once the ball found its way out to Laiatu Latu the big man would not be denied, powering over for a try to extend the lead to 10-3. The wet conditions continued to stymie several Herriman attacks, as the visitors' ball retention seemed more affected by the rain than did Jesuit's. Latu would add another score off of some patient phase work by Jesuit to extend the lead to 17-3 with four minutes left in the half. But Herriman responded right back with a big run by Fisher Jackson setting up Perschon on a crash ball that saw him burst through for a score just short of the halftime whistle to make it 17-8 going into the break.
The first ten minutes of the second half was much like the first—Herriman with a distinct advantage in territory and possession, but not able to capitalize, in no small part due to a well-organized Jesuit defense that was lightning quick to get set and match up at the breakdown. If there was a theme for the game, it was Jesuit making the most of fewer opportunities in the Herriman half, and Herriman failing to make enough of more opportunities in the Jesuit half. Jesuit scored a try in the corner through hooker George Miller about 10 minutes in to extend the lead to 22-8.
Play continued for another 10 minutes following the score, but this time it was Jesuit who controlled territory effectively, and the Mustangs who played stout defense and consistently repelled the Marauder attack. With about 10 minutes left in the game, and frustrated by a lack of ball in hand, Herriman elected to take some attacking chances from deep instead of clearing, in hopes of sparking something that would help them get on the board.
The decision backfired quickly when a poor pass and dropped ball in goal gave a hard-charging Jesuit defender a ball to fall on for an easy try 27-8. Jesuit added a penalty late. Jackson Marchant of Jesuit was very good with his territorial kicking, a lesson Herriman will remember.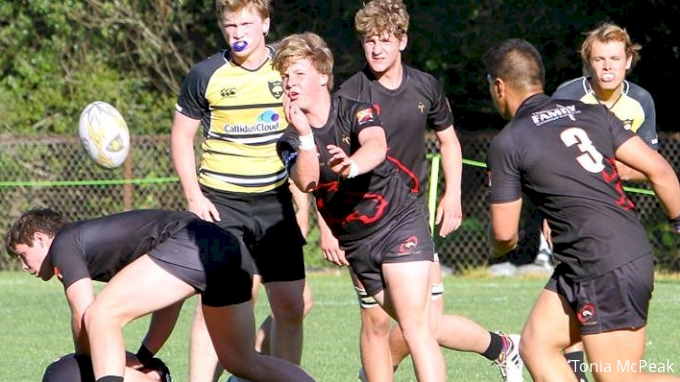 A day off helped the Mustangs refocus as well as take in some of the local sights. The team enjoyed a day in San Francisco at Pier 39 and Fisherman's Wharf, then traveled to the campus of Saint Mary's college for a campus tour and a meet and a meeting with the Gaels coaching staff at training.
Herriman returned to the Saint Mary's campus on Wednesday to take on defending national club champion Danville, with the injury situation going from bad to worse, as the Mustangs lost three more starters from the Jesuit game to bring their total missing to eight.
They were hit especially hard in the backs, with wing Ammon Sagala and fullback Conner Hyde forced to move into the centers. This meant that only two backs remained in the same spots from the Jesuit game, and the starting back three for Herriman had only logged a combined total of 15 minutes against Jesuit.
It was perhaps fitting, then, that the new faces made huge contributions all day. Nathan Depew, logging his first-ever minutes at fullback (a position he'd never practiced), was on point under the high ball all day. It was Depew who started a counterattack under pressure that set up the dynamic Kody Eggers, who bolted down the sideline and broke three tackles on his way to a 50-meter try just minutes in.
Not to be outdone, debutant wing Victor Hernandez was rock solid defensively at the other end, making several key tackles in space that might have seen the Oaks away for a try or two otherwise.
Both teams played a tough, evenly matched first half with Herriman holding a slight lead at 10-7 after Mariano Delgado scored.
But Danville is a posed squad and moved the ball very quickly at the breakdown. This set up good attacking chances, stymied only but the Herriman defensive effort.
Following a big break by Fisher Jackson and some nice footwork from flyhalf Jackson Hammer and captain Sagala, Hyde scored to make it 17-7. Danville answered shortly after with another long, sustained attack to pull within three once again.
Cole Eggers, playing in his first game at flanker after moving from the backline to help cover for injuries, was a defensive force off the bench for Herriman, logging nearly double-digit tackles in less than a half of play and putting his hand up for more minutes in the pack, as he thwarted several Danville attacks.
Back on the offensive now, Hammer found several gaps in the Danville defense and made two more long breaks, setting his team up well in opposing territory. A hard-charging Si'i Fifita would power through several defenders for a backbreaking try from 15 meters out and a 22-14 lead that would hold to the final whistle.
Freshman Caden Sydall showed well off the bench for Herriman, and sophomore scrumhalf Strider Fountaine orchestrated the attack well all day. In all, Herriman had six sophomores and one freshman get minutes on the tour, and although many of the older players are expected to heal up in the coming weeks, this experience will pay off for the Mustangs in years to come.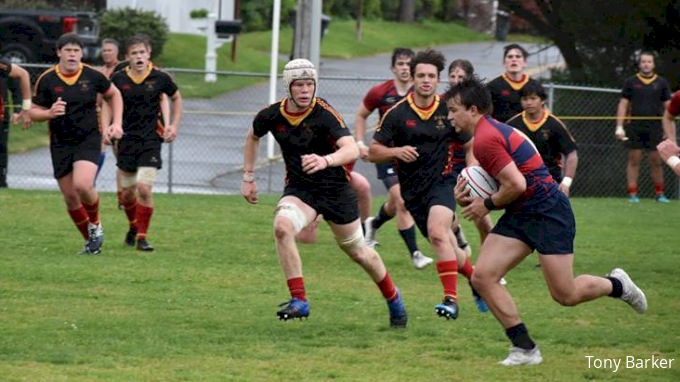 "We could not be more pleased with what we got out of this tour," said Wilson. "Even though the result in game one was not what we wanted, playing a team like Jesuit is always a great learning opportunity and an opponent that is tough to replicate in terms of their skill level and execution, so playing them will always make you better."
Wilson had much praise for his hosts and the coaches at Jesuit, Saint Mary's, and Danville.
"I love the spirit of brotherhood that we were able to build with respectful competition against out-of-state teams, and it was great to be able to get together after hard-fought games and still be friends," he said. "As much as we would have loved to compete at full strength, perhaps having so many guys out was a blessing in disguise because it forced us to build more depth and allowed some guys to show us what they can do in national-caliber games."