The Men's Dll college sevens nationals is taking shape with a bulk of the automatic qualifiers taking place over the last several weeks.
Tri-State
William Paterson was the first team to punch a ticket to nationals, WPU beat Marist in the Tri-State final April 6.
Watch The USA Rugby Collegiate 7s Championships LIVE on FloRugby
RNE, MARC, Gateway
April 13 was action packed with four teams taking home hardware and earning a place in Arizona on Memorial Day weekend.
Norwich bested the field in the Rugby Northeast, beating Middlebury in the final and being tested by New England College in pool play.
Connor Miller scored five tries and slotted 18 conversions and was the tournament MVP, while Nathan Rolling scored six tres for the Cadets.
Principia went undefeated in the Gateway, defeating Saint Louis 14-7 in the final to win the conference tournament.
The MARC's champion is Bloomsburg, which won the series and will go to Tucson.
Upper Midwest
Iowa Central took home the title in the Upper Midwest over a deep field of teams. The Tritons went 5-0 on the day and beat Wisconsin-Whitewater in the final 31-5.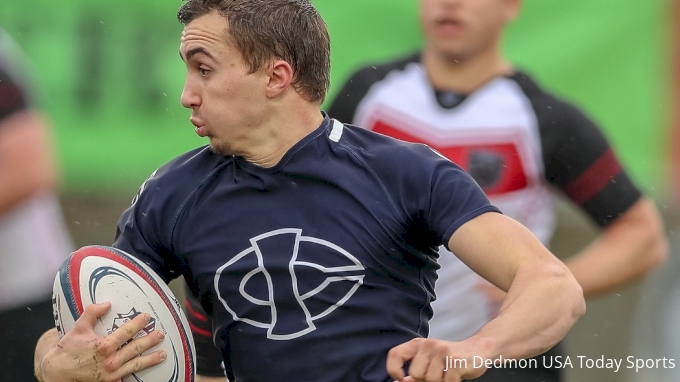 Iowa Central's defense was the story of the day, as they shut out everyone, including a tough Minnesota-Duluth team, except Whitewater and St. Cloud State. Having had to practice a lot indoors in the college's wrestling gym, the Tritons' tackling is solid.
Rhys Smith and Jordan Sanderson were solid on the day and newcomer Pierre Wansbury has started well.
Cardinals
The Cardinals Conference had a bit of drama thanks to the weather and is currently undecided. NC State and Old Dominion reached the finals and were 7-7 at halftime when the weather forced a stoppage to the game. The game is currently rescheduled for this weekend.
In addition to the Cardinals Conference final, this weekend will see the culmination of the Southern Conference series. Eight teams will compete in the fourth leg of action to determine a national qualifier.
The New England Wide will be the final qualifier this weekend. The Coast Guard, Vermont, Quinnipiac, and Sacred Heart should lead the pack.
Spots Taken And Open
There are 12 places in the Men's D2 College 7s Championships. WPU, Norwich, Principia, Bentley, Bloomsburg, and Iowa Central are in. That's six; after that we find out about the Cardinals Conference, and two more tournaments are also officially on the slate. So that leaves four more spots to fill.
—Brett Anker