The rain and wind and threat of a tornado didn't stop the Tropical 7s, only allowed it down a little, but the first leg of the North American HS 7s elite competition provided plenty of thunder and lightning on its own.
Fittingly, perhaps, with the weather turning the sky into the sea, it was Atlantis, named for the mythical kingdom swallowed into the ocean, that came out victorious.
Both the Atlantis Boys and Atlantis Girls teams took home the trophy in Orlando.
Girls Down To The Wire
For the girls, playing under USA 15s WNT captain Kate Zachary, the tournament seemed early to be a collision course between that squad and the Celtic Barbarians.
Both teams showed superb defense. Atlantis rolled through its pool 3-0, defeating a very tough Kahuku team
The Celtic Barbarians didn't allow a point through almost four games, shutting out Utah Rugby Academy, Stars, and USA Rugby South. Their only slipup was against Upright Rugby. In that game the Barbarians led 12-0 at halftime, only to see the Canadian team charge back for a 12-12 tie.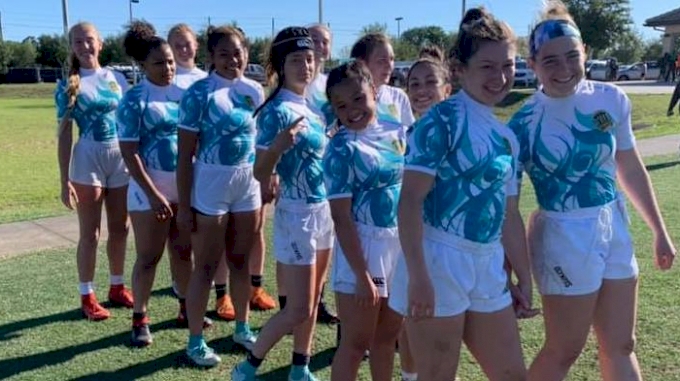 But showcasing plenty of agility and acceleration, the Barbarians won the pool.
That set up a final and what a final it was. The teams traded tries back and forth, and Celtic led 17-12 with virtually no time left. Atlantis attacked down the left side, and it appeared that the Barbarians had forced a turnover. But instead of kicking the ball into touch, a Barbarians player, under pressure, threw the ball over the sideline.
That's a penalty—you can't throw the ball into touch—and that gave Atlantis one more shot.
It was enough. A powerful run from Alex Wantlin got Atlantis near the tryline, and then quick ball set up Emma Gamboa, who scampered over for the try.
That made it 17-17, and then Alex Wantlin nailed the conversion to seal the victory, 19-17.
Upright beat Kahuku for 3rd.
Final: Atlantis 19 Celtic Barbarians 17
3rd/4th: Upright 24 Kahuku 0
5th/6th: Utah Academy 10 Green & Gold 5
7th: Stars Rugby 7s 14 Memphis Inner-City Rugby 10
8th/9th: Memphis Inner-City Rugby 30 USA South 5
(With only nine teams involved, the 7th-place game was a playoff. The winner took 7th, and the loser had to play USA South, which took 5th in Pool B.)
Restarts Boys, Restarts
For the boys, Atlantis and Eagle Impact Rugby Academy were always on a collision course. Those two teams had the best defenses and the most polished attacks. Atlantis held off Upright Rugby in pool play to go 4-0.
EIRA's biggest opposition was an upstart USA Rugby South team that surprised many by beating BC Elite, Utah Rugby Academy, and Rock Rugby. But EIRA won the showdown between those two.
With the weather forcing delays, the semis were scrapped and Atlantis played EIRA in the final.
Atlantis opened the scoring with a big break and then a dummy by Aidan de Villers that gave him enough space to go over.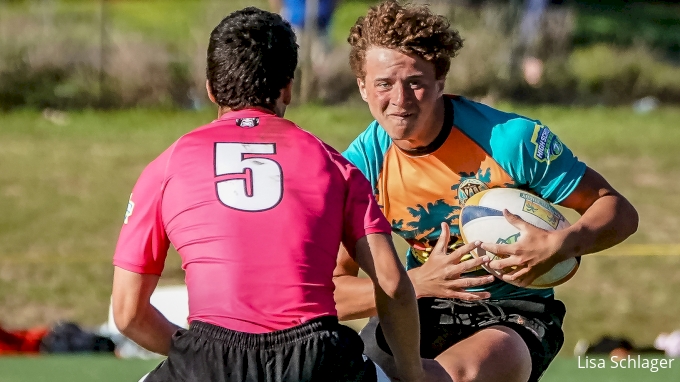 EIRA replied with a superb break around the outside from Peyton Wall to tie the game at 5-5. But Atlantis would responded with a powerful run from Dave Rimes. Lewis GRay's conversion made it 12-5, which is how the half would end.
Restarts are the name of the game in sevens and EIRA made a critical error to start the second half. No one was able to catch the restart and it bounced among a group of players. Atlantis regathered, g to a penalty, and put de Villers over for a 17-5 lead. Then the killer blow. From a scrum very near the touchline, Atlantis halfback Ryan Neimiller somehow found the space and was gone down the sideline untouched. That finished it off.
Down 22-5 EIRA mounted a comeback, scoring two tries, with Wall racing in and then later feeding Jake Cortinas for a surging run make it 22-17. But there wasn't enough time for more.
USA Rugby South finished off a strong tournament with a defeat of Upright to take 3rd.
5A: Bobcats Rugby 5B: Rock Rugby Academy 17 34 4A: Rebel Rugby Academy 4B: Utah Rugby Academy 0 43 3A: Kahuku Boys Rugby 3B: BC Rugby 5 27 2A: Upright Rugby Rogues 2B: USA Rugby South I 7 26 1A: Atlantis 1B: EIRA 22 17
Final: Atlantis 22 EIRA 17
3rd/4th: USA Rugby South 26 Upright Rugby 7
5th/6th: BC Rugby 27 Kahuku 5
7th/8th: Utah Academy 43 Rebels 0
9th/10th: Rock Rugby 34 Arizona Bobcats 17
Overall
It was an excellent start for Atlantis which is world class when it comes to getting disparate players to perform as a unit. After the disappointment of the 2018 NAI 7s in Salt Lake City, the boys team is on top. The girls never left, and while they needed a little bit of luck, they made the luck count.
(Note, teams that aren't officially in the NAHS 7s do not get listed in the standings.)
| | | | |
| --- | --- | --- | --- |
| NAHS Girls Series | Tropical | NAI 7s | Points |
| Atlantis | 22 | - | 22 |
| Upright Rugby | 17 | - | 17 |
| Kahuku | 15 | - | 15 |
| Utah Academy | 13 | - | 13 |
| USA South | 7 | - | 7 |
| | | | |
| --- | --- | --- | --- |
| NAHS Boys Series | Tropical | NAI 7s | Points |
| Atlantis | 22 | - | 22 |
| EIRA | 19 | - | 19 |
| USA South | 17 | - | 17 |
| Upright Rugby | 15 | - | 15 |
| BC Rugby | 13 | - | 13 |
| Kahuku | 12 | - | 12 |
| Utah Academy | 10 | - | 11 |
| Rebels | 9 | - | 10 |
| Rock Rugby | 8 | - | 8 |
| Arizona Bobcats | 7 | - | 7 |