Deionte McMurray showed up to Huntsville with intentions to walk-on to the Bearkat football team, but had six months until tryouts; four years later he's captaining the Sam Houston State rugby team to the D1AA Spring Championship quarterfinals.
The Bearkats take on the 2018 D1AA spring champion, Dartmouth.
To advance to the Spring Championship Final, McMurray and his teammates will have to beat Dartmouth in the Saturday quarterfinal then win the Sunday semifinal in Greenville, NC.
Watch the D1AA Spring Final LIVE on FloRugby
"If there was ever a time to put Sam Houston on the map this is it." McMurray says, "we have the players, we have the coach, we have the system, we have the funding."
Every Player Can Hit
McMurray took up rugby to develop his tackling ability to improve as a defensive back. He learned quickly that he had come to the right place.
"Every player at Sam Houston can hit," McMurray said. "These guys carry the ball hard and they tackle hard. Our physicality will no doubt be our strength."
The Bearkats are going to need it because Dartmouth has been waiting.
Dartmouth had the Ivy League title secure by November, while Sam Houston bussed around the state of Texas knocking off incumbent champions Angelo State and Dallas. Dartmouth could have taken a shot at the D1AA Fall Championship, but as in years past Dartmouth used the winter for sevens and conditioning in preparation for the April Championships.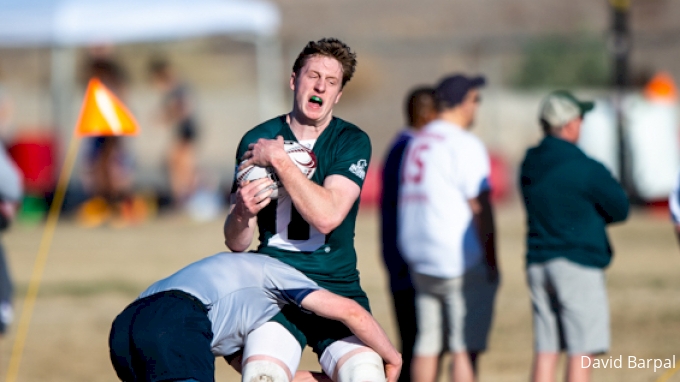 The World Game
Until he picked up rugby, McMurray had never traveled outside of Texas/Louisiana area. Two months into the sport McMurray displayed rare quickness and lateral ability prompting selection to the Texas All-Star team to compete in Canada. He's since toured the Bahamas, New Zealand and is set for Cayman Islands this summer.
But the Caribbean will have to wait. This weekend the team will fly to Greenville with two matches to win to keep Sam Houston's dream alive.
Look Who Made The FloRugby D1AA Top 40
This week the Bearkats were misinformed that they'd be playing Iowa State in the quarterfinal. Later confirmation proved Dartmouth would be their opponent. "To be honest we told our coach we don't care at all because we figured we were going to play Dartmouth the next day, after Iowa State," said McMurray.
Sam Houston State is 6-0 and the 2019 Texas State Champions. The squad also snuck down to the NOLA Collegiate 7s tournament for a clean sweep cup final victory.
Deionte McMurray came into college having never played the sport. He'll leave the winningest Sam Houston Captain to come through the program in years. The Bearkats are tuned up for their quarterfinal with Dartmouth and if they win they'll have a crack at the winner of Iowa State or Central Florida.