Sad news hit the San Francisco Golden Gate family this week, but the news oddly gave a jump-start to the team on the field.
"We finally had a common purpose," said head coach Neil Foote after SFGG defeated OMBAC 38-24 in Week 9 of the Pacific Rugby Premiership. "We're a family, and we played like it. Like any family we have some bumps in the road, and we had three yellow cards in that game, but we played as a team."
Longtime SFGG star Paula Fukfuka's wife, Lahina, a fixture on the sidelines for the club, as are her kids, suffered a heart attack this past week, and remains in the hospital. For the SFGG family, this was a shattering blow as Lahaina, Paula, and their children are held in very high regard.
"Their son James has been our water boy since he was eight," said Foote. "They have been such a huge part of SFGG."
Saturday, the club dedicated their performance to Lahaina Fukafuka, and then went out and smashed OMBAC.
"Fans on the sideline were saying we looked like the SFGG teams of old," said Foote. "We just wanted to honor someone who means a lot to the boys. It was very emotional."
With Samisoni Pone back at center and flanker Siaosi Nonu scoring three tries, Golden Gate showed that by honoring their past, they still have a strong future. Still in 6th place out six, Gate is coming along.
SFGG 38
Tries: Nonu 3, V. Huihui, Barrett, Tonga
Convs: McCarthy 4
OMBAC 24
Tries: Purcell, 2 Others
Convs: Dillon 3
Pens: Dillon
---
Life West remains atop the PRP after slamming the upstart Glendale Merlins 59-31. The Merlins had been on a bit of a roll, but the Gladiators put a stop to that.
Flyhalf Martini Talapusi scored 24 points all by himself, with eight conversions, a penalty, and a try, as Life West scored eight tries from eight different players. Now at 7-2, Life West is in 1st place and has clinched a spot in the championship game against Belmont Shore.
Watch the PRP Finals Day LIVE on FloRugby
Life West 59
Tries: Vailala, Stanfill, Namulauulu, Sakalia, Helu, Talapusi, Moletika, Cazenave
Convs: Talapusi 8
Pens: Talapusi
Glendale 31
Tries: Fitch, Damm, Maka, Oles, Wormer
Convs: Walsh 2, Wilder
---
Belmont Shore also clinched a spot in the championship game after a 39-14 defeat of Santa Monica. Fullback Adam Channel scored three tries in the first half alone, as Shore took a 31-5 lead into the break.
Santa Monica's two tries came in the final seconds of each half. After starting the season 3-1, the Dolphins have gone 0-5, and will face Life West in two weeks.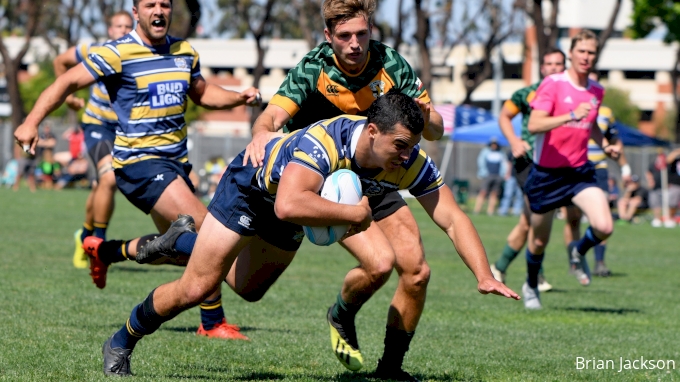 Currently Santa Monica is 4th and is in contention for the 3rd-4th final also on May 4. But most of that is up in the air. SFGG, despite improvements, will play in the 5th-6th game, but still has a shot at getting out of the cellar in Week 10.
Belmont Shore 39
Tries: Channel 3, Daniel, Barry
Convs: Thomas 4
Pens: Thomas 2
Santa Monica 14
Tries: 2
Convs: 2
---
Here's where every club stands:
Life West. 1st, clinched a place in the final. Can drop to 2nd if they lose to Santa Monica April 27.
Belmont Shore. 2nd, clinched a place in the final. Need to beat SFGG and for Life West to lose to take the #1 seed.
Glendale Merlins. 3rd, not clinched anything. A bonus point or a tie or a win April 27 against OMBAC will clinch a spot in the 3rd-4th game.
Santa Monica. 4th, not clinched anything. The Dolphins are head of OMBAC by points difference. They can catch Glendale for 3rd by beating Life West, and Glendale losing to OMBAC with no bonus points, as long as OMBAC's winning margin is ten points less than Santa Monica's, or OMBAC wins with no four-try bonus point.
Santa Monica can also drop to 5th if they lose and OMBAC gets even one bonus point, or even 6th if they lose to Life West and SFGG beats Belmont Shore.
OMBAC. 5th, not clinched anything. A win over Glendale will likely get OMBAC into the 3rd-4th game.
SFGG. 6th. Could improve to 5th, but set for the 5th-6th game win or lose.