2019 D1A Round of 16: BYU vs UCLA
D1A Round of 16: Cal, Saint Mary's, BYU, and Arizona
D1A Round of 16: Cal, Saint Mary's, BYU, and Arizona
D1A Round of 16: Cal, Saint Mary's, BYU, and Arizona
Apr 14, 2019
by Alex Goff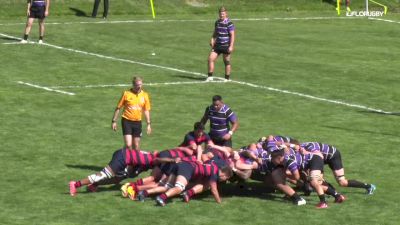 The favorites won comfortably in the West Bracket of the D1A Round of 16, with only one game being close—but that one was very close.
Next week's quarterfinals at Cal will feature the hosts, the Cal Golden Bears, taking on PAC Conference rivals Arizona, while Saint Mary's will play BYU, a team the Gaels have beaten twice this season.
BYU 50 UCLA 12
UCLA's plan was the put pressure on BYU deep in their own 22 and force mistakes. It worked for a while, but BYU's defense held first when under pressure, and too often the Bruins would make errors in the red zone that killed attacking opportunities.
But wing Coleman Meier scored three tries in the first 20 minutes, his first in less than a minute and the best when he chased a box kick and caught it on the fly.
With Elias Bigelow pulling the strings at flyhalf and hooker David Nonu causing problems with the ball in hand, BYU scored early and pulled away late in the first half.
UCLA finished well. In a game that could have been really ugly, the Bruins kept playing with Patrick Regan putting in a full day at the office at center and sometimes hooker, and with lock Yanick Mendes and fullback Joh Finch also playing well.
But BYU had built up too much of a lead, and with the back row of Spencer Ika, Seen Tarawhiti, and Kevin Sorensen smacking players to the turf and causing turnovers, the Cougars rolled.
BYU 50
Tries: Meier 4, Semu, C. Parry, Ika, Thomas
Convs: Bigelow 5
UCLA 12
Tries: Finch, Owen
Convs: Barry
The Round of 16 has just concluded. Here's how it all went down and the quarterfinal matchups! pic.twitter.com/o1HGB0HORU

— D1A Rugby (@D1ARugby) April 13, 2019
Cal 141 UC Davis 3
This game was always going to be a runaway for Cal, as UC Davis was the #8 seed in the West and Cal had already defeated the Aggies by 138 earlier in the season. It was the same story this time around.
Cal was too quick, too strong in contact, and too polished in their offloads. Davis had no answer. Golden Bears center Christian Dyer had a hat trick within ten minutes. Lock Sam Golla scored four in the second half. Flyhalf Sam Walsh scored 46 points. It was that sort of day for Davis.
Watch Cal vs UC Davis On-Demand
Cal 141
Tries: Dyer 3, Shankland 3, Golla 4, Walsh 2, Iscaro, Bloom 2, Holland,, Purdey 2, Douglas, Joyce, Freeman
Convs: Walsh 18
UC Davis 3
Pens: Siniora
Saint Mary's 74 Grand Canyon 12
The Gaels hit hard and fast and early, with Ronan Murphy bursting over and then scrumhalf Sean Yacoubian following with another. Yacoubian was an injury worry for Saint Mary's, and after he converted the fourth Saint Mary's try, he was off the field before 25 minutes were up, his job done.
Up 24-0, the Gaels almost doubled that number in a few short minutes. New scrumhalf Tom Brusatti, who had started on the wing, finished a nice movement with No. 8 Vili Helu off the back of the scrum to touch down.
From the restart, fullback Eddie King was in down the sideline, and from the restart again, wing Diego Vasquez was in from long range. With Derek Ellingson converting all three tries, it was suddenly 45-0.
Aaron Matthews stretched over to make it, with Ellingson's conversion, 52-0, and that's how the first half ended.
The Gaels ran on the subs and started having whoever scored the try go for the conversion. Grand Canyon didn't stop playing but had so little possession it was tough to get anything started. Early in the second half the 'Lopes had more of the run of play and did score a try. But Saint Mary's weathered that storm and returned the pressure with interest.
Watch Saint Mary's vs GCU On-Demand
Saint Mary's 74
Tries: Murphy, Yacoubian, Calk, Waller, Brusatti, King, Vasquez, Matthews 2, Lopeti 2, Hackett
Convs: Yacoubian 2, Lopeti, Ellingson 4
Grand Canyon 12
Tries: Steed, Figueroa
Convs: Curle
Arizona 28 CWU 19
Arizona pieces together a very solid effort in defeating Central Washington 28-19 in one of the closer games of the weekend.
This was, as expected, a tight game and Arizona approached it as such, taking points when they were on offer and securing a 6-0 lead through two penalty goals from flyhalf Robert Figley. The first try came off a mistake by Central Washington—Arizona nabbed lineout ball after the thrower and jumper failed to connect. Quickly the Arizona backs got to work and then scrum half Matt Rogers dummied and dove over. Figley converted for a 13-0 lead.
Central rebounded with a long sequence of phases, with No. 8 Alex Mackenzie going over for his team's first try.
Arizona exploited an attacking scrum and, after the forwards bashed against the CWU defensive wall, No. 8 Fabien Lumsden crashed over. Figley converted and it was 20-7.
The second half started well for Arizona when Rogers kicked ahead and gathered for a spectacular try. But after that, CWU clawed back, scoring tries through Henry Foster and Diego Damian-Hernandez to make it 25-19. The game got very tense after that, but Arizona held on, got one more Figley penalty, and advanced 28-19.
Watch Arizona vs CWU On-Demand
Arizona 28
Tries: Rogers 2, Lumsden
Convs: Figley 2
Pens: Figley 3
CWU 19
Tries: Mackenzie, Foster, Damien-Hernandez
Convs: Hollidge 2