Life will play Navy, and Lindenwood will take on Arkansas State in an all-Mid-South D1A quarterfinal bracket in the East, as all of those teams won Round of 16 games Saturday.
Life 34 Penn State 3
In a game that was very much back-and-forth for the opening ten minutes, Life University started to exert its dominance over time.
The Running Eagles were unflinching in their defense and played a typical Life game—pound in a try with the forwards, and then when you're worried about that, send it wide. Lock Daemon Torres did the former, and then a lovely run from Harley Wheeler set things up for Julian Roberts on the wing.
Penn State had scoring opportunities, but couldn't quite convert. Still, the Nittany Lions held firm and it was only 10-0 at the break.
Minutes into the second half, Torres was over again, and while Mike Dabulas slotted a penalty goal for Penn State, Life really began to pull away.
Quick hands and a sweet one-handed offload from prop Kareem Odeh set up Duncan Van Schalkwyk, and Life cruised from there, with Torres notching a hat trick.
Watch Life vs Penn State On-Demand
Life 34
Tries: Torres 3, Robert, Van Schalkwyk, Johnson
Convs: Van Schalkwyk, Mairowitz
Penn State 3
Pens: Dabulas
Arkansas State 31 Army 24
Army's playoff troubles continued as the Black Knights put themselves in good scoring position only for handling error or poor decision to kill the momentum.
As a result, it wasn't until midway through the first half that anyone scored any points, and it was Arkansas State, somewhat against the run of play, who did it. ASU stole scrum ball on Army's put-in, and then sent it wide to Dylan Boat, who cut through a huge hole to score, and then convert.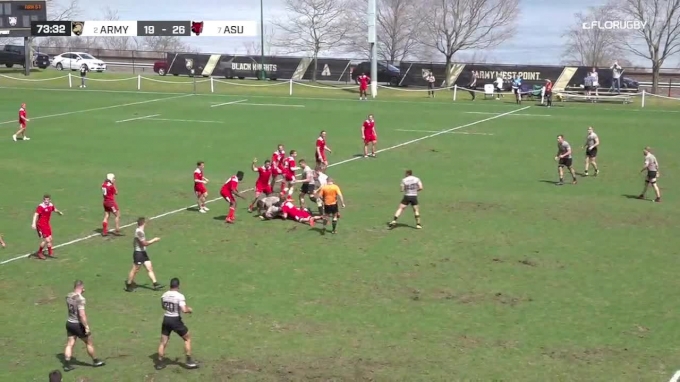 Boast added a second try ten minutes later and then converted Valentin Balande's try to make it 21-5 at the break.
In the final 15 minutes, Army made a game of it late, with Austin Rutledge and Andrew Finken scoring, but ASU made sure it wasn't enough, with sub forward Timothy Ohlwein intercepting and chugging 79 meters and reaching over to touch it down on the line.
Watch Arkansas State vs Army On-Demand
Arkansas State 31
Tries: Boast 2, Balande, Maree, Ohlwein
Convs: Boast 3
Army 24
Tries: Green, Penalty Try, Rutledge, Finken
Convs: Jurassic, Penalty Try
Lindenwood 97 Wisconsin 0
In the mud in Wisconsin, Lindenwood was brutal, and clinical, putting hooker Kayleb O'Donoghue over in the first two minutes, and then Lorenzo Thomas set up Christian Rodriguez to make it 14-0 after ten minutes.
The Lions did not let up, as Ayden Hurst, Thomas, Wes White, and Rodriguez all touched down in the first half. Fullback Reece Botha did as well, and converted six of the seven tries for a 47-0 halftime lead.
There was no change in the second half as Lindenwood looked very strong.
Watch Lindenwood vs Wisconson On-Demand
Lindenwood 97
Tries: Rodriguez 2, Thomas 2, White 3, O'Donoghue, Hurst 2, Botha, Albert, Wells, Parker, Hernandez
Convs: Botha 11
Wisconsin 0
The Round of 16 has just concluded. Here's how it all went down and the quarterfinal matchups! pic.twitter.com/o1HGB0HORU

— D1A Rugby (@D1ARugby) April 13, 2019
Navy 71 Oklahoma 0
In wet and windy conditions in Norman, OK, the US Naval Academy put in a strong defensive performance and won comfortably over the Sooners.
The game was close in the first 20 minutes or so, as Navy led 7-0 early but couldn't add to that. But after some concerted pressure from the Navy forwards, wing Denver Fuller called for the ball and had a free dive to pay dirt.
That kind of opened up the floodgates. Flanker Jermaine Oliver charged through to go 55 meters and expose some iffy Oklahoma tackling. Fuller broke through off a turnover and then fed prop Andrew Malick, who looked very spry in support, and who scored the try.
Save Voyne charged over to make it 31-0 just before halftime, but Navy had time for one more, with flyhalf Cole Euverard fending off a Sooner defender and slicing through.
He converted and Navy led 38-0 at the break. Navy's scrum was once again dominant and the Midshipmen looked every bit a contender.
(An earlier version of this report had the score at 64-0. Due to the weather there was a little question as to some of the scorers, but that has been corrected and the box score beow reflects accurately who scored.)
Watch Navy vs Oklahoma On-Demand
Navy 71
Tries: Oliver 2, Fuller, Malick, Voyne 2, Euverard, Craig, Galvan, Czar, Hobbs
Convs: Euverard 6, Malick 2
Oklahoma 0