The USA men's 7s team knows how to bounce back.
After finishing only 3-3 in Hong Kong, and getting to the Cup Quarterfinals thanks to a little luck, the Eagles faced the gremlins of last week in Singapore and defeated them.
The two teams that defeated the Americans in pool play in Hong Kong, Wales and England, were opponents in pool play this week. This time, the USA defeated those opponents in convincing fashion.
This happened despite injury hitting a key player once again. Martin Iosefo, who limped off the field in Hong Kong, failed his fitness test and was replaced by Patrick Blair. That meant that Grand Canyon University speedster Maceo Brown was thrust into a starting role in the midfield. Brown would play some excellent rugby.
Wales Goes Down
Against Wales, it took a while to get things going, but eventually the Eagles scored after taking a lineup around midfield. Two charging runs from Matai Leuta allowed Madison Hughes to cut up the middle.
Wales responded, but then Brown worked a nice switch with Folau Niua and the flyhalf charged in from long range. Niua would sell a dummy and go in again to open the second half, Brett Thompson scooped up a loose ball and was gone, and then Carlin isles found some space and sealed it 31-12.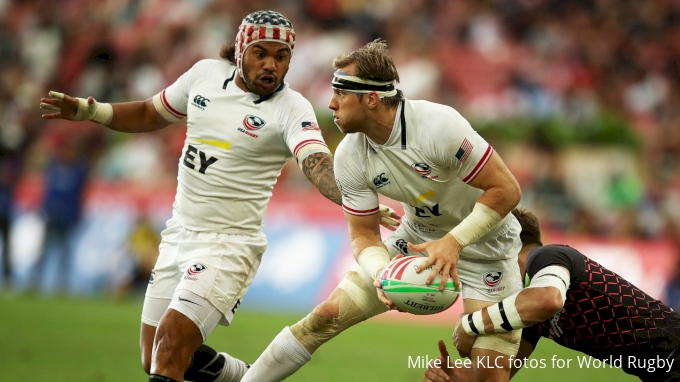 Kenya Close
Against Kenya, the Eagles won 17-14 but it really wasn't a game they were in danger of losing. Kenya scored first off a USA error, but then paid the price for over-committing against Isles.
The USA wing saw four Kenyans skating wide to cover him, and sidestepped them all to score.
Brown made a big run and linked up with Leuta before Isles finished it off, and the Eagles led 12-7 at the break.
In the second half, Hughes went weak off a scrum, sidestepped one defender, and was gone. The USA captain was ill last week and couldn't finish the tournament. This week he is playing with the energy anyone has once an illness has been cast of.
The USA almost scored once more, with Isles and Hughes getting close. But the final pass didn't go to hand. Regardless, Kenya had too far to go in too little time.
England Pushed Side
Then came England. Last week, the USA played England and lost to finish 1-2 in the pool, but had done enough to go through on points difference. This time, England did it.
England had defeated the USA last week by keying on Isles. This time, Isles didn't even start. Instead head coach Mike Friday put Marcus Tupuola in. The result was that England couldn't contain the big men, and Ben Pinkelman unleashed two superb passes to set up Hughes and then Stephen Tomasin.
Brown was very good in this game and executed a perfect catch-and-pass to allow Niua to feed Tupuola.
Kevon Williams torched England out wide, and everyone got involved as the USA won 22-7. The game ended with Ben Broselle chasing down Dan Norton and forcing him to commit a penalty.
The Sitch
So all is good in USA sevens land. The Eagles looked very solid throughout the squad as Friday has asked more and more of his so-called subs. On Sunday, the Americans take on Argentina in the quarterfinals, and if you're watching the standings, more good news is that New Zealand and Fiji play each other in the quarterfinals. A USA win over Argentina guarantees the Eagles daylight over one of those two.
Cup Quarterfinal Matchups (with Standings placement):
USA (1) vs Argentina (8)
South Africa (4) vs Samoa (6)
New Zealand (3) vs Fiji (2)
England (5) vs Australia (7)