Major League Rugby has announced a revamped, expanded format for its 2020 season, with three new big market teams, a two-conference system and 101 elite matches set to give North American sports fans unprecedented access to professional rugby in MLR Season 3.
Bringing the total number of MLR teams to 12, the three new teams are the New England Free Jacks; Old Glory DC, in Washington D.C.; and Atlanta's Rugby ATL. For Season 3 the 12 teams will be divided into the Western Conference and the Eastern Conference. The Western Conference comprises Austin, Houston, Glendale, San Diego, Seattle, and Utah. The Eastern Conference will feature Atlanta, New England, Washington D.C., New Orleans, New York, and Toronto.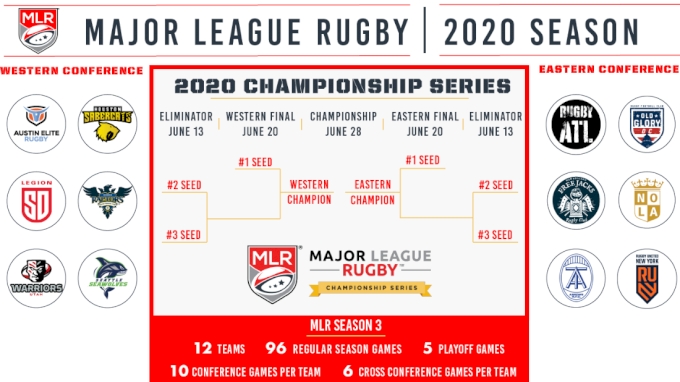 The 96-match regular season kicks off on February 15, 2020. Each team will play the other teams in its conference home and away, for a total of 10 games, plus six cross-conference games, three home and three away. Season 3 will conclude with a five-match Championship Series across three consecutive weekends from June 13, 2020. The 2nd- and 3rd-place teams in each conference will face off for a place in the Conference Final, where they will play the top team in their conference. The MLR Final will then pit the Western Conference Champions against the Eastern Conference Champions in the winner-takes-all climax on June 28, 2020.
Major League Rugby grew from seven teams and 31 matches in Season 1 to nine teams and 75 matches in Season 2.
"Professional rugby is here to stay in North America," said Major League Rugby Commissioner Dean Howes. "MLR is the first time the North American sports model has been applied to the global game of rugby. That model is now laying the foundations for the long-term success of this league and the sport. For everyone involved in MLR, from our team operators to our players, fans and media partners, our ultimate goal is to see North American rugby thrive. Rugby means business here, and MLR is right at the forefront."