With all the talk about how well the USA Men's 7s team is doing, it's perhaps easy to forget that the USA Women are a pretty solid squad, too.
The Eagles will take the field against April 20-21 at the Katakyushu 7s in Japan, and that tournament could tell us a lot about whether the Eagles will be thinking Olympic Qualification. Right now, the USA is 2nd in the World Series, in a virtual tie with Canada and Australia, but 12 points behind World Series leaders New Zealand.
The top four teams will garner automatic qualification to Tokyo 2020, and right now the Eagles are in a strong position. Even if Canada and Australia bypass the USA, France and Ireland are quite far back, and would have to heavily outperform the Eagles in the final three tournaments of the season.
USA captain Nicole Heavirland said the point in every tournament is to battle as hard as you can in every game.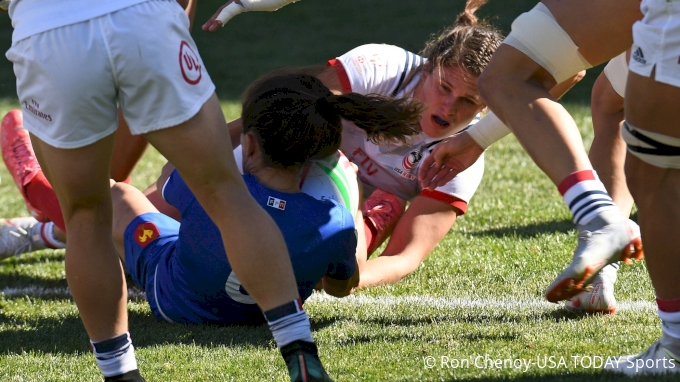 "Even if you know you can't get 1st, you still want to be successful, and you work your hardest to finish as high as you can," she said. That is the same approach in a tournament, or in the season.
"We've had some good finishes, but we know we can do better. Every game, we want to start strong and end strong," she said.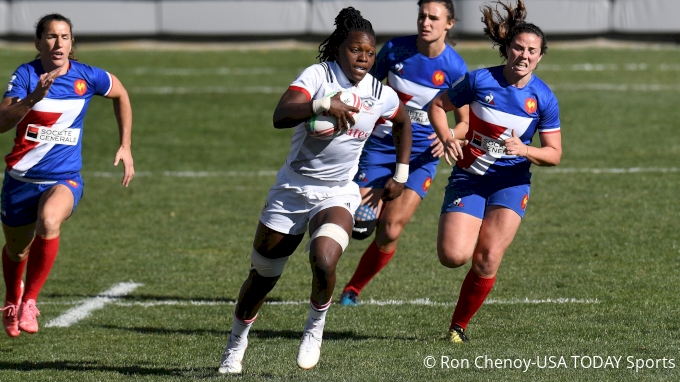 Twenty-four players have been working hard to make this USA team, and with Chris Brown still putting his stamp on the team, it's a bit of a question as to who will fill out each tournament squad. Regardless, said Heavirland, "we are all working toward the same goal."
Brown has been changing the team, and one of those aspects is that he expects all players to be able to play multiple positions.
"He's making that a priority," said Heavirland. "You'll see at training, we're all putting on hooker's tape [to protect the ears]."
Backs will be in scrums and lineups. Forwards need to be able to play in open space. The team is working hard on set-piece attack—making tap penalties, scrums, and lineouts yield points—and ball security.
"Every possession is special," said the captain.
It's likely that the USA won't clinch a place in the Olympics after the next tournament, but they could go a long way to making that a reality. The key job is to start strong against England, not falter against Fiji, and, crucially, beat Ireland.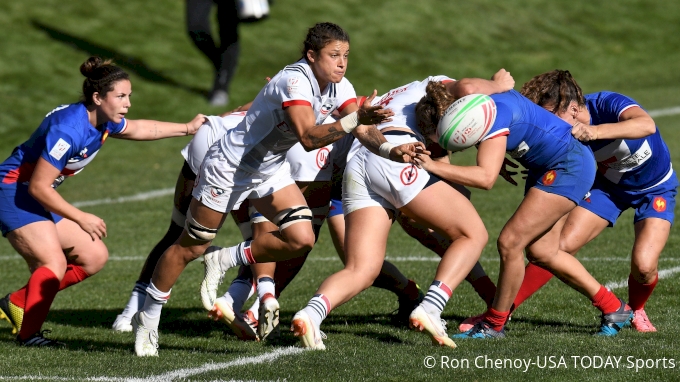 2018-19 Women's Sevens World Series Standings








POS
TEAM
USA
DUB
AUS
JAP
CAN
FRA
POINTS
1
New Zealand
20
20
20
-
-
-
60
1
USA
18
14
16
-
-
-
48
3
Canada
16
18
12
-
-
-
46
4
Australia
12
16
18
-
-
-
46
5
France
14
8
10
-
-
-
32
6
Ireland
10
6
14
-
-
-
30
7
Russia
8
12
8
-
-
-
28
8
England
6
10
3
-
-
-
19
9
Spain
4
3
6
-
-
-
13
10
Fiji
3
2
4
-
-
-
9
11
China
2
4
3
-
-
-
9
12
Kenya
-
1
-
-
-
-
1
13
Papua New Guinea
-
-
1
-
-
-
1
14
Mexico
1
-
-
-
-
-
1