US Rugby Legend Ponders HOF, Tries Record
US Rugby Legend Ponders HOF, Tries Record
Vaea Anitoni, USA Rugby Hall of Famer, looks back at his career.
Apr 2, 2019
by Alex Goff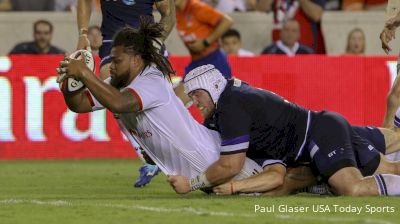 A USA rugby player young fans might not know a ton about has been in the news a little bit recently, and FloRugby caught up with an All-Time great to talk about current honors, and future records.
Vaea Naufahu Anitoni is the USA Men's National Team all-time leading try-scorer. He has held that record since 1996 and when he retired in 2000, after 46 test matches and a career spanning nine seasons, he had scored 26.
No one was close at the time, and really no one has come close to that 26 since, until now. Joe Taufete'e now has 20 tries, scored in fewer than half of the games Anitoni appeared in. He seems destined to break the longtime wing's record, but not before we give Anitoni his due.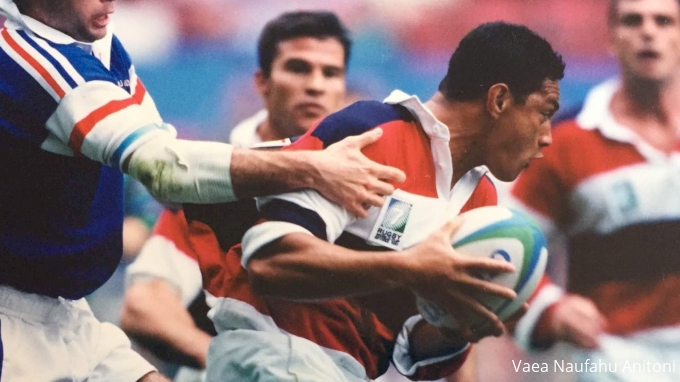 Under A Tree
And not only us, but everyone in American rugby. In March Anitoni was selected to the US Rugby Hall of Fame. He is the first Polynesian player to receive that honor, and it is richly deserved. After playing with the Tongan Yankees and San Mateo in the Bay Area, Anitoni was selected for the Pacific Coast Grizzlies under John Tyler, and his performances there led to Jack Clark bringing him onto the USA team.
The story goes that Clark was eager to find Anitoni and give him a shot, but could never connect. Then one day at a tournament he encountered Anitoni sitting in the shade of a tree between games. It was like a piece of fruit had fallen for the coach to catch.
The Honor Of Being An Eagle
From there, Anitoni was the go-to finisher for the Eagles. He was smart, quick, and fiercely loyal. Born in Tonga, he was a patriotic Eagle who often suggested the team sing the national anthem at team meetings.
"It was an honor to play for the USA, and an honor to play for Jack Clark," said Anitoni, who was also a star for the USA 7s team. "I was really lucky to be able to play with the team for so long and to play for Coach Clark for so many years. I am just really grateful and honored to be named to the Hall of Fame."
Anitoni won major championships with San Mateo and the Grizzlies, in 15s as well as sevens. He played wing usually for the USA, but for San Mateo he was often the flyhalf, as his vision along with his athleticism made it a no-brainer to get the ball in his hands as much as possible. Today, thinking on sevens, he marvels now at the success of the USA team.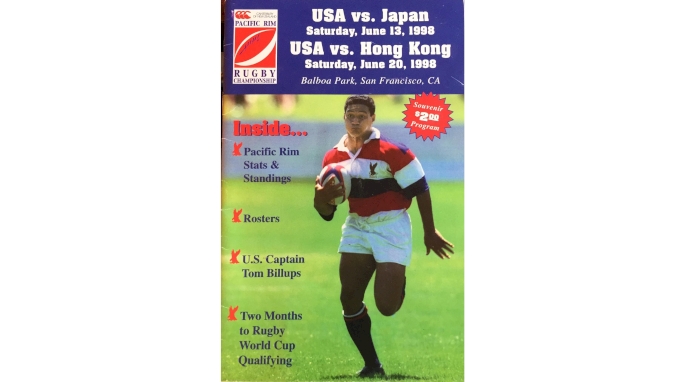 Things Are Different Not
"When I played you had to prepare on your own," he said. "We'd all meet at the airport and go to the tournament and play. But now the guys are together all the time and you can see the difference I loved going to Las Vegas and seeing how great they are playing right now. I am really happy for them; they are all on the same page."
When Anitoni played, rugby was an amateur sport, and it was only in the late 1990s that players started to get paid at all. Anitoni worked as a baggage handler for United Express and DHL. It was tough work, out on the airport tarmac in all kinds of weather, and sometimes he had to rush from work to the field to play in a game.
"It was good training," Anitoni jokes now. "Physical work, and loading all those aircraft it helped me stay in shape. They were good to me. They gave me time off from work so I could play."
Teammates
That was often the same story for many of the players, and Anitoni, who works for Coca Cola now, remembers his teammates fondly.
"Tom Billups and Dan Lyle, they were great guys and great teammates," he said. "Mark Williams was an old-timer even when I came on, and I looked up to him. We played together at the Olympic Club, and I learned a lot from him about the game and my preparation."
And the fellow Polynesian players, some of whom might well be honored as Anitoni is, were family. "Vuka Tau in sevens was a great player, and the guys on San Mateo like Wili Mahoni and Alatini Saulala. Alatini and I were teammates on San Mateo and the USA and he was a huge help for me."
(See this video of Anitoni getting the attack started for a Saulala try against Tonga)
And now he's looking over his shoulder. Joe Taufete'e, and possibly Mike Te'o, looks set to break Anitoni's tries record.
"I watch him play and he's a great player, but I was surprised because he's a forward, scoring so many tries," said the former wing/flyhalf. "But to break a record held by Keith Wood—that's pretty impressive."
Anitoni grew up in Tonga and actually ran track through much of his youth. He ran for St. John Catholic School, which has since merged with St. Mary's girls school to become 'Apifo'ou College.
"Then somebody said, with your speed, you should be playing rugby, so I started playing rugby," he said. "All I ever wanted to do was help the team. Whatever I could do to help the team is what I wanted to do."
The Tries
Of the 26 tries Anitoni scored for the USA, four were scored in one match against Portugal, and four more against Japan. But he spread out his tries, running in scores against Spain, Argentina, Canada, Ireland, and Wales, to name a few. While many were breakaways, he remembers two that were different.
"We played a World Cup Qualifier against Argentina in Long Beach and I just shot through the line, just a little bit of space, and they got me low but somehow I was able to get the ball over. I remember that one," he said. "Against Ireland in Dublin we stole the lineout and I squeezed through. That was more like a forward's try. I just kept pushing."
Don't Forget
Anitoni's election to the US Rugby Hall of Fame is a nod to the huge contribution Polynesian athletes have made to the sport in the USA. It's also a nod to the hard work many players and coaches put in during the 1990s to build what fans can see today.
Soon, maybe very soon, Joe Taufete'e may break Vaea Anitoni's tries record. Right now the two are the only Eagles with 20 test match tries. If and when it happens, remember a supreme talent who held that record for well over 20 years—Vaea Naufahu Anitoni—a true American rugby legend.