2019 D1A Bracket Reveal Show
D1A Latest: Cal, Navy, Life Win, And More
D1A Latest: Cal, Navy, Life Win, And More
A wrapup of the major D1A games.
Mar 30, 2019
by Alex Goff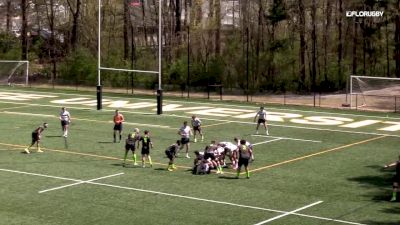 Three second-half tries put Cal past Saint Mary's 29-19 Saturday in Berkeley, making the case for Cal to be the top-seeded D1A team in the west.
Cal was down 12-10 at halftime after scoring a try that put them ahead 10-5 just before the break, only to give up a penalty try on the final play.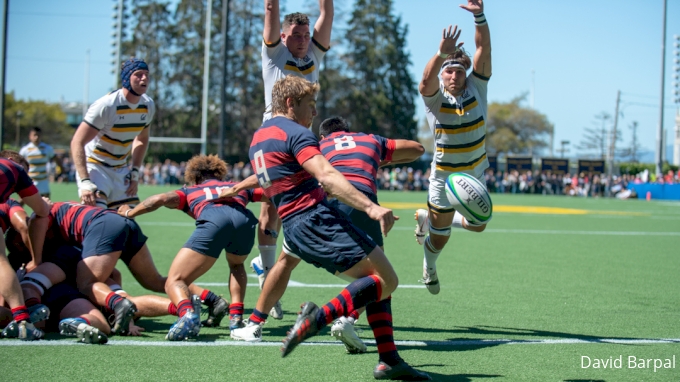 Wing Sam Cusano put the Bears on the board first with his try in the 12th minute. Seven minutes later the score was tied after a try by Gaels wing Tom Bursati. But bad news for the Gaels came as scrumhalf Sean Yacoubian left with an injury. Bursati was moved to scrumhalf.
Both teams battled through possession sequences until Cal grabbed a 10-5 lead on prop Damon Wiley's first score with three minutes remaining in the first half. But after Vili Helu stole a lineout throw, Saint Mary's got a penalty, and finally a penalty try for a collapsed maul to lead 12-10.
"The tempo wasn't quite what we wanted in the first half," said Cal fullback Troy Lockyear. "In the second half we did a better job pushing the pace."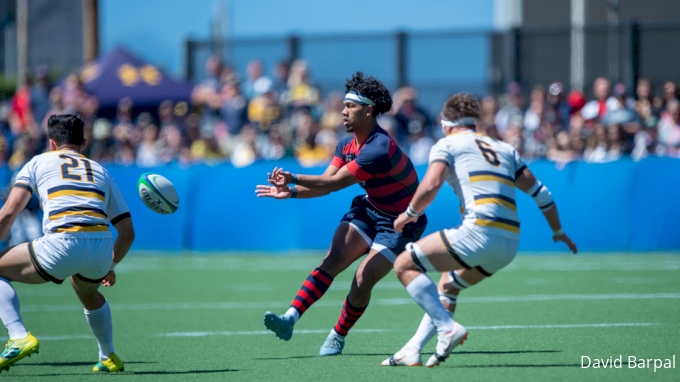 "Our plan was to retain possession and we did a lot better job of that in the second half," added wing and Rudy Scholz Award nominee Nic Mirhashem.
Cal brought on freshman Sam Walsh at halftime in part to bolster the goalkicking—flyhalf Elliot Webb was uncharacteristically inaccurate on the day. But Walsh also had trouble finding the goal, and that kept Saint Mary's in it.
Gaels Scholz Award nominee and fflyhalf Aaron Matthews went over to stake his side to a 19-10 lead. But two minutes later, center Keanu Andrade took an offload from Lockyear. That made it 19-15, and the Bears stayed on the job. Mirhashem scored the go-ahead try 15 minutes later, and Wiley sealed the win with his second score at minute 78, Walsh converting both.

"Both teams are lucky to have each other," said Cal head coach Jack Clark. "It's fortunate to have high-caliber matches locally. Not surprisingly, they exposed quite a bit we need to improve as we turn the page and head into the postseason."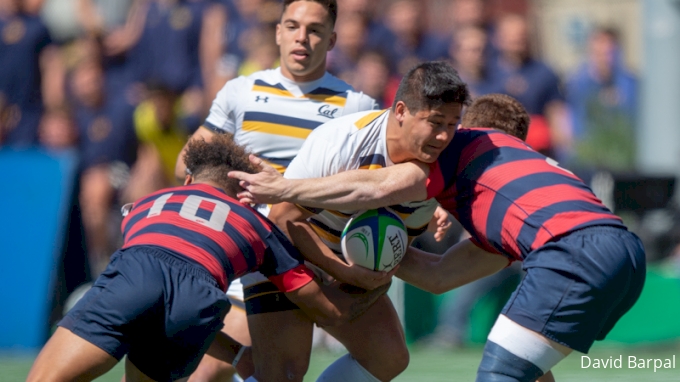 Life Weathers Penn State
Meanwhile, Life University overcame an early Penn State with an explosive second half to win 53-24. Penn State scored on a spectacular try from wing Brian Stella, who chased down a box kick and was off for 60 meters.
Down 10-0, Life worked its way back and took the lead after a superb dummy and run from fullback Mitch Wilson set up wing Conner Mooneyham. Wilson was on fire on the day, and prop Kareem Odeh put in a strong effort with ball in hand.
Tries from Duncan van Schalkwyk and Harley Wheeler put Life well in front, and the Running Eagles cruised from there.
Army-Navy
Navy beat Army 17-10 in a game where the Naval Academy looked in control early on, scoring quickly after some concerted pressure to lead 7-0. Phil Dahlke did the honors. But Army held the defensive line for most of the game after that, and right before halftime scored to make it 7-5.
It was much the same story in the second half. Navy scored first, capping off a superb maul and with scrumhalf Cole Euverard's second conversion, led 14-5. Euverard would add a penalty goal for a 17-5 Navy lead.
Army got one back when Jason Green beat pretty much the entire Navy backline to go 80 meters (he probably covered over 100 in his weaving run), but that was it for Army.
78th minute | Jason Green keeps us alive with a longggggg try |

Navy - 17
Army -10#GoArmy ? pic.twitter.com/bsnemQ9Ucs

— Army M. Rugby (@ArmyWP_MRugby) March 30, 2019
Navy put a stamp on what has been a very strong spring so far.
CWU Strong
Also putting a bit of a stamp on the spring was Central Washington, which defeated Grand Canyon 22-8 in a meeting of top-15 teams. Grand Canyon led 8-7 partway through the first half, but tries from Max Risenham and Riley Schell put the Wildcats on top.
"A scratchy performance to be honest," said CWU head coach Todd Thornley. "We struggled to look after the ball on attack. We couldn't build any phases together and consequently couldn't put any scoreboard pressure on them. We spent most of the game defending and gave away too many penalties. In saying that, I'm still happy we found a way to win, yet there is a lot to fix going forward."
Watch The D1A Bracket Reveal Show March 31 at 1PM CT LIVE
Red Wolves Move Up
Arkansas State was perhaps the only team to come out of the blocks quickly. The Red Wolves clinched 3rd in the Mid-South with a 34-16 defeat of Davenport that owed much to a strong first half. Determined to take their chances when they were available, the Red Wolves went for the points whenever Davenport infringed.
Dylan Boast knocked over four penalty goals, while George Sharpe and Calvin Gentry touched down to make it a 24-3 halftime lead.
Christian Schulze and Boast scored in the second half, that Boast try securing a four-try bonus point and ensuring Arkansas State passed Lindenwood in the standings.
"Given the weather conditions, I thought we played well against Davenport," said ASU head coach Blake White. "The players did a great job and remained composed throughout the match. They came out committed to play as a team."
Wildcats Cruise
Arizona took on Utah and won 41-10 to solidify the Wildcats' place in the rankings. The win also finished up with PAC Rugby Conference season, with Arizona taking 2nd behind Cal with a 3-1 record.
And Cal Poly registered a nice 30-22 victory over San Diego State thanks to two tries each from wing Christian Jones and center David Bartolomucci. Those two each scored their second in the final ten minutes to turn a 22-20 deficit into a 30-22 victory.
FloRugby Picks
For the five major games this weekend, FloRugby was 4-1, picking Saint Mary's by 3 when Cal actually won by 10.
In the other games, the picks went as follows:
FloRugby picked Life by 15, Life won by 29
FloRugby picked Central Washington by 11, CWU won by 14
FloRugby picked Arkansas State by 17, ASU won by 16
FloRugby picked Navy by 6, Navy won by 7
FloRugby picked Arizona by 20, Arizona won by 31
FloRugby picks SD State by 12, and Cal Poly won by 8