The Webb Ellis Cup received a star-studded welcome to Hollywood as it embarked on the fifteenth leg of the Rugby World Cup 2019 Trophy Tour in Los Angeles.
The great and the good of tinsel town were pictured with the Webb Ellis Cup as the Trophy Tour visited Madame Tussauds Hollywood to be photographed bext to the likenesses of famous actors, and also the real-life actors Gerard Butler and Tony Curran, both huge Scotland rugby fans.
Back in the world of sport, the Trophy Tour visited some of Los Angeles most iconic stadiums including The Staples Centre; home of the LA Lakers, and Dignity Health Sports Park; home of NFL side LA Chargers and soccer team LA Galaxy. The Dignity Health Sports Park recently unveiled a statue of former LA Galaxy player and England football great, David Beckham - a rugby fan and regular visitor to Twickenham Stadium – and will be the host venue for rugby sevens at the upcoming Los Angeles 2028 Summer Olympics.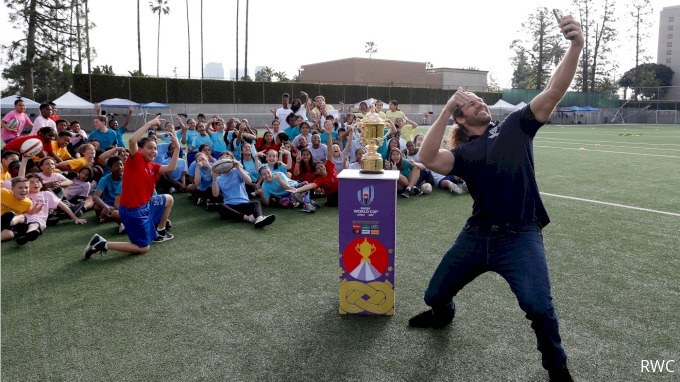 The Trophy Tour also got a sneak peak of the new LA Stadium and Entertainment District, future home of the Los Angeles Chargers and Rams whilst in town.
Former USA Eagles Captain and most capped player, Todd Clever, joined fellow former Eagle, Dallen Stanford, for the Rugby World Cup 2019 Trophy Tour visit to LA helping to inspire local rugby teams and schools. The pair took part in a beach rugby session with local clubs alongside the iconic Santa Monica Pier before visiting Emerson Middle School where over 100 children aged between 11-13 took part in a rugby tournament in front of the Webb Ellis Cup.
It was here that Rugby World Cup 2019 Worldwide Partner DHL delivered a Get Into Rugby kit including ball, bibs and cones for the school rugby team. Official Vehicle Partner Land Rover also made one pupil's Rugby World Cup 2019 dreams come true, selecting seventh grader Sabrina to be the official mascot who will run out with USA Eagles Captain Blane Scully at the Argentina v USA match at Kumagaya Rugby Stadium in Japan at Rugby World Cup 2019 in October.
Clever was on hand to help choose the winning mascot, selected as the pupil and player who truly embodies the values of the game.
"Having the Rugby World Cup here in the USA is a huge boost for us and seeing the reaction of the pupils at Emerson Middle School and all the tour stops just cements the opportunity – people want to know more, get involved and start playing or even just find out where to go and watch a game," said Clever. "The Land Rover Rugby World Cup 2019 mascot promotion gives kids such a phenomenal prize – to be in seventh grade and know you are going to Japan to run out with the captain in front of millions of fans is just amazing. Rugby is a values-based game, that is one of the things that makes is so special and so accessible to anyone that ones to have a go. Sabrina was a rightful winner at Emerson Middle School—a true team player who respects and supports her teammates and whose passion for rugby was on show throughout the whole tournament."