The nominees for the MA Sorensen Award for the top women's college player in the country have been released.
The award is named after groundbreaking William & Mary and USA prop MaryAnne Sorensen, who was a pioneer in the women's game as a player and a coach, and remains a highly-respected doctor. Sorensen has been present at all three Sorensen Award presentations.
---
On display at the Washington Athletic Club, jerseys from the three previous Sorensen Award winners: Hope Rogers (Penn State, 2016), Ilona Maher (Quinnipiac, 2017), McKenzie Hawkins (Lindenwood, 2018).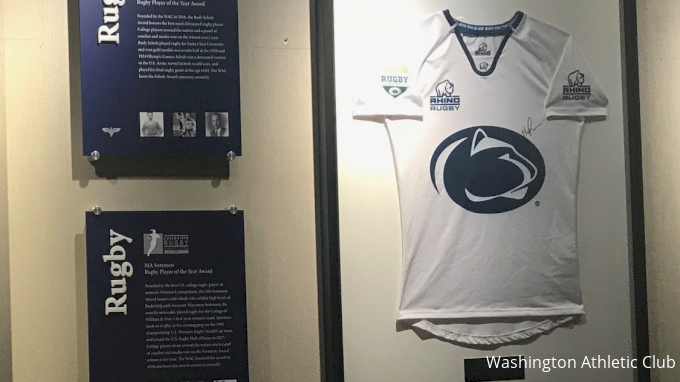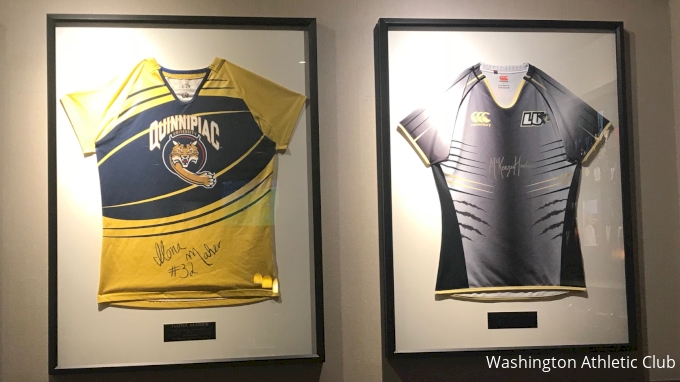 ---
Sponsored by the Washington Athletic Club in Seattle, WA, the Sorensen Award is selected each spring and officially presented during a gala event in June. This year the event, once again held at the Washington Athletic Club in Seattle, will be held June 8.
The nominees were selected by a panel of college coaches and administrators, overseen by FloRugby Senior Editor Alex Goff. One nominee was voted on by the fans, and the fans will have a heavy hand in deciding the finalists.
If you are a fan, you can vote for which nominee should be a finalist in the poll below.
If you are a coach, director of rugby, or captain of a college team, you can vote for which nominee should be a finalist here >>
2019 Sorensen Award Nominees

Player
Position
College
Sui A'Au
Center
Central Washington
Kayla Cannet
Flyhalf
Penn State
Gio Ferguson-Lewis
Flanker
Army
McKenzie Hawkins
Flyhalf/Center
Lindenwood
Emily Henrich
Center
Dartmouth
Jenny Kronish
Lock
Harvard
Azniv Nalbandian
Prop
Penn State
AnnaKaren Pedraza
Scrumhalf
Lindenwood
Kat Ramage
Scrumhalf
Dartmouth
Megan Rom
Prop
Life
Emily Roskopf
Center
Quinnipiac
Alex Sedrick
Center
Life
Grace Taito
Flanker
BYU
Caitlin Weigel
Center
Harvard
Ilona Zaishliuk
No. 8 / Center
Notre Dame College
[polldaddy]=10273086