Guinness PRO14 2018-19
Socino: Calcutta Cup Memories
Socino: Calcutta Cup Memories
The latest column from Juan Pablo Socino
Mar 22, 2019
by FloRugby Staff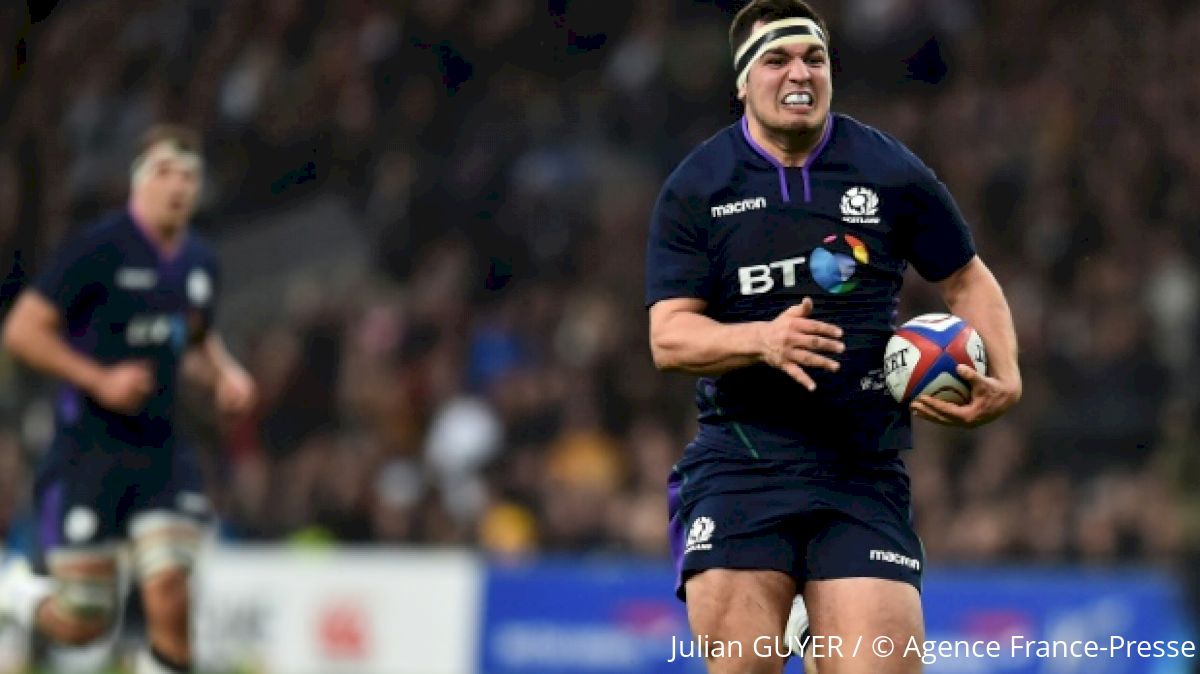 The Six Nations finale surpassed everybody's wildest dreams in terms of entertainment.
The final round had a game that had almost nothing at stake. Italy was trying to finish the tournament on a high, and take the opportunity to farewell the great Sergio Parisse with a win. On the other hand, France, after an inconsistent campaign needed a victory to change their image.
---
Latest Column from Argentina and Edinburgh player Juan Pablo Socino
---
Unfortunately, it wasn't to be for Italy, not taking their many opportunities that could have given them the game. France took every chance that came their way and went home with a win.
It is fair to say that it wasn't a full change of image although it helps that they won ahead of the start of Rugby World Cup.
The most important game of the round was in a rainy Cardiff; an unbeaten Wales tackled the very tough Ireland that had very little chances of winning the Six Nations but wanted to revitalize themselves.
Watch Guinness PRO14 Live on FloRugby for Subscribers in Latin America, North Africa, Middle East, Spain, Portugal, and France
Dragons vs Ospreys
Benetton vs Connacht
Cheetahs vs Glasgow
Zebre vs Munster
Leinster vs Edinburgh
Scarlets vs Cardiff
Southern Kings vs Ulster
As expected, it was a close game unlike the roof at the stadium that stayed open against expectations as it allowed heavy rain to come in.
Climate played its role in the game, with a hard to control ball which meant a lot of kicked ball. The Welsh defense, again, was very strong and key to the win that gave their team the championship and the Grand Slam.
Few would have thought of Wales as a clear favorite to take the Trophy home; with each round, the Dragon's dominance was more and more evident.
Who would have thought that the last game of the tournament would eclipse the Welsh Grand Slam win? England and Scotland played the Calcutta Cup in Twickenham knowing they had no chance to make chances to the final table.
The home side demolished Scotland from the start, taking a 31-0 lead before the break; had they taken every chance, it could have been even bigger.
At halftime, many in Edinburgh, where I watched the games turned away from the bars and TV sets thinking it would be a darker second half.
Townsend sent his team to attack and soon found that phase to phase they could hurt their hosts; they even generated two interception tries.
The home side was suddenly groggy; going into the final minutes, Scotland was leading 38-21 in a stadium that had gone quiet and with a city up in the North that couldn't believe what they were seeing.
This was a historical comeback that was going to the history books.
The game was coming to an end and it seemed that the win would be for Scotland. After a penalty 50 yards out, George Ford put his side five yards from the in-goal from where the relentless attack got Ford through the defense from close-range for a try that he easily converted for a 38-38 draw.
In the draw, the visiting side takes the Calcutta Cup and Scotland, after many years, finally got their hands on the beautiful silver trophy. This in some way change the bittersweet taste of not having been able to win the game.
Needless to say, over here there was a huge celebration until late into the night.
---
El cierre del Seis Naciones sobrepasó las expectativas de los espectadores, especialmente en materia de entretenimiento.
La fecha tuvo un partido que virtualmente no definía nada. Italia buscaba la posibilidad de terminar el torneo sumando y aprovechando la oportunidad de despedir al gran Serio Parisse con una victoria. Por otro lado, Francia, en un torneo inconsistente buscaba terminar con una victoria para cambiar la imagen del equipo.
Lamentablemente no pudo ser para Italia, dejando muchas oportunidades en el campo de juego donde podrían haber marcado la diferencia. Por el contrario, Francia aprovechó cada oportunidad que tuvo y cerró el torneo ganando.
Es justo decir que no fue un cambio de imagen total, aunque sumó; fue una victoria que sirve para calmar un poco las aguas hasta el inicio de Rugby World Cup.
Watch Guinness PRO14 Live on FloRugby for Subscribers in Latin America, North Africa, Middle East, Spain, Portugal, and France
Dragons vs Ospreys
Benetton vs Connacht
Cheetahs vs Glasgow
Zebre vs Munster
Leinster vs Edinburgh
Scarlets vs Cardiff
Southern Kings vs Ulster
El partido mas importante de la fecha fue en una lluviosa Cardiff; Gales que venía invicto, enfrentaba a un durísimo Irlanda, quien con poquísimas chances de salir campeón también aspiraba a terminar de la mejor manera, revitalizando la imagen del torneo.
Como se esperaba fue un partido cerrado, a diferencia del techo del Millenium de Cardiff que contra toda expectativa se mantuvo abierto dejando entrar la lluvia.
El clima tuvo un rol importante en el desarrollo del partido, pelota difícil de manejar y mucho juego con el pie. La defensa galesa nuevamente iba a salir a relucir y ser responsable de la victoria, que le iba a dar a Gales el campeonato.
No muchos hubieran elegido a Gales como un claro favorito para llevarse el trofeo y por sobre todo de la manera que lo hizo, pero a medida que fueron pasando las fechas, fue claro el dominio del Dragón.
¿Quién hubiese dicho que el siguiente y ultimo partido de la fecha iba a opacar el Grand Slam en Cardiff? Inglaterra y Escocia se disputaban en Twickenham la Calcutta Cup, sabiendo que ya no había posibilidades de afectar la tabla.
El equipo de la Rosa empezó el primer tiempo de manera demoledora, dominando en cada situación de contacto y generándole problemas a los escoceses en cada ataque. Iban a lograr irse al descanso por 31 a 0, que podría haber sido mas abultado si aprovechaban todas las chances que generaban.
Durante el entretiempo, muchos en Edimburgo donde vi el partido, se alejaron del televisor y de los bares, esperando un segundo tiempo aún mas oscuro. Pero los del Cardo tenían otros planes.
Luego de la controversia entre Russell y el entrenador Gregor Townsend respecto al sistema de juego, Escocia salió a atacar. Imponiendo su juego, fase a fase. Quebrando a Inglaterra en su propio juego y hasta generando dos tries de intercepción.
El local parecía no hacer pie, a tal punto que a escasos minutos del cierre del partido se encontraban abajo por 38 a 31. Un estadio enmudecido por un lado y una ciudad en el norte que no podía creer lo que estaba viviendo. Una remontada histórica que iba a quedar en la historia.
Parecía que el partido se acababa y el festejo viajaba para el norte, pero luego de un penal en mitad de cancha que le iba a permitir a George Ford poner a su equipo a cinco metros del ingoal con line out a favor, iba a dejar a todos con la boca abierta. Pelota obtenida en la hilera y a sufrir, fase tras fase acercándose al ingoal, hasta que Escocia no pudo contener más. Fue Ford el que selló el resultado final con un try debajo de los palos y tablas.
En el empate, el visitante se queda con la hermosa Calcutta Cup. Escocia, después de mucho tiempo se quedó con la copa, pero con un gustito un poco amargo; luego de terrible remontada, no poder cerrar el partido fue duro.
De mas esta decir que acá se vivió una fiesta, gente en las calles hasta altas horas, festejando la "casi" victoria.