Make sure you visit FloRugby at 1PM Central Time on March 31 to see a panel of four unveil the D1A Rugby playoff bracket, and there are plenty of seeding questions to be answered in the coming weeks.
Like this week, for example. This week we see a crucial (for the rankings) cross-country meeting of Top-10 teams as Saint Mary's visits Navy. And we also see what is the Mid-South decider in Life at Lindenwood.
Watch The D1A Bracket Reveal Show LIVE on FloRugby, Available To All Viewers, March 31 at 1PM CT
#1 vs #4
"We're excited to have Saint Mary's come to Navy," said US Naval Academy head coach Gavin Hickie. "It will give as an opportunity to play a different style of oppponent and that's exactly what we need at this stage. The [one-point] loss to Life was tough to take but we've got more work to do with Saint Mary's and Army coming up, so we can't slack off."
Saint Mary's head coach Tim O'Brien takes a strong squad to Navy for an A-side and a B-side match. The Gaels third squad is staying home to play Cal Maritime. The Navy thirds are in action, too.
March 21, 2019
"I hope this becomes a more regular thing for us and Navy," said O'Brien. "These trips are important, not for winning or losing, but for how it prepares the guys going forward. Our trip to BYU every year is absolutely the most beneficial thing we do. I hope this is the same."
Piecing it all together, both teams are looking strong, with Saint Mary's having rolled through their opposition, including scoring an unheard-of 50 on BYU in Provo.
#2 vs #5
Life at Lindenwood is also a battle.
They already faced off in a non-conference game in Marietta, with Life winning a typically tight affair 22-11.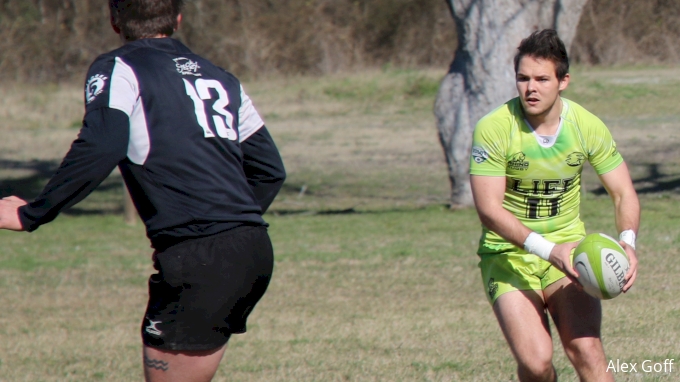 Unlock this video, live events, and more with a subscription!
Get Started
Already a subscriber? Log In
"We've evolved since that game," said Life head coach Colton Cariaga. "There are some things in that game we felt we could have capitalized on. I know both teams will have made adjustments which is what makes it such a great rivalry."
Lindenwood head coach Josh Macy agreed, adding that "the hallmark of the Life teams is that they find a way to win. We have to do some things better, and I think in the previous game we didn't value our possession enough. When you're playing a team as dangerous as Life, you have to treat every possession you have with respect."
Two More High-Ranked Games
And that's not all this weekend. The PAC Rugby Conference is decided when Arizona visits Cal. Now, realistically, most would say that Cal will win this, but that's not the whole story for Arizona. If the Wildcats can make it a game, then they do their rankings prospects a lot of good. Aside from University of British Columbia, no team has come within 57 points of the Cal Bears in a full-length 15s game.
(The two closest games were against Cal teams with very young lineups.)
Beautiful day and a beautiful victory @CalVarsityRugby GO BEARS! pic.twitter.com/oyxWMircf3

— Cal Band (@CalBand) March 16, 2019
If Arizona scores a couple of tries and comes within 30, they will have achieved something no one else has.
Central Washington has two huge rankings games this week, with tonight's clash with BYU the first of a two-game weekend that sees the Wildcats face off with Utah Valley in a rematch of last week's meeting in Ellensburg.
This trip is important for all of the teams involved. While BYU is guaranteed a D1A playoff spot as a conference champion, where the Cougars fall in the rankings could dictate who they face in the quarterfinals. Central, meanwhile, has been battling through an independent schedule that has suffered three cancelations.
The Wildcats need these games to prove they belong in a higher seed. A win in Provo would go a long way to achieving that.
And Utah Valley is on the cusp; the Wolverines need to do well to hang onto a playoff spot. UC Davis, which finished off its regular season last week with a somewhat disappointing loss to Grand Canyon, is in that 8th Western spot at the moment, and UVU would have to wrest it from the Aggies.
The matchups (with D1A's official rankings in parentheses)
| | | | |
| --- | --- | --- | --- |
| Away | at | Home | Our Picks |
| Saint Mary's (1) | at | Navy (4) | Saint Mary's by 7 |
| Life (2) | at | Lindenwood (5) | Life by 3 |
| Arizona (10) | at | Cal (3) | Cal by 25 |
| Central Washington (11) | at | BYU (8) | BYU 6 |
| Central Washington (11) | at | Utah Valley * | CWU by 25 |
*-UVU is no longer in the D1A Top 20, but is ranked #24 by FloRugby.