This weekend the top four women's D1 college teams playing 15s this spring face off in the D1 Elite semifinals: Why so early? Why just four of them? Why all alone? We'll tell you.
Last year, USA Rugby put together a Round of 16 for D1 women's college teams. If you made it through that round, you would then track into one of two championships. The losers of the quarterfinals would be in the D1 Semis. The winners would go to D1 Elite.
The Switchup
The idea was to give a hand up to the aspiring programs to show them the standard and see who is close to the very top. It didn't really work that way. Life, Penn State, BYU, and ultimate D1 Elite champions Lindenwood won their Round of 16 and Round of 8 games by an average score of 98-1. That was the average. In those eight games only one team (Penn State) gave up any points. Five times the winning team topped 90 points.
So this year the top programs are battling among themselves. The lineup has changed slightly. Central Washington left NIRA (the National Intercollegiate Rugby Association) and after beating BYU 42-12 on March 9, replaces the Cougars in this group.
So that sets up two meetings this weekend, with Lindenwood taking on CWU and Life taking on Penn State.
Central Washington
Central is coming off what head coach Trevor Richards called the team's "most complete performance of the year" in beating BYU. With Sui A'au pummeling defenders, the Wildcats can beat you with power and they can beat you with quickness. But it will be a tall order against a Lindenwood team CWU has met twice already this academic year, losing both times.
Lindenwood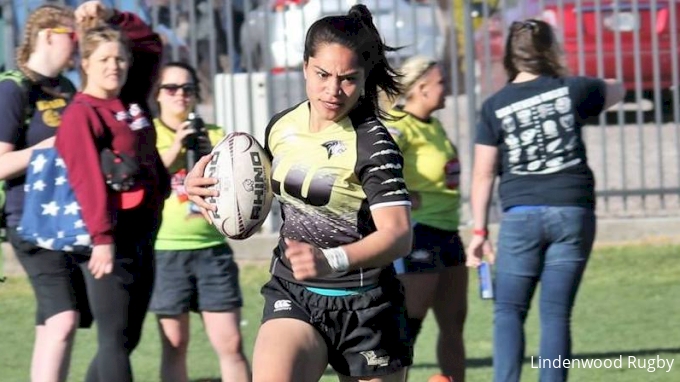 "We're excited to play them again," said Lindenwood head coach Billy Nicholas, who calls on some superb talent led by 2018 Sorensen Award-winner and capped Eagle McKenzie Hawkins. "We're both familiar with the threats the other has, so it's about playing our game. We believe we have the ability to challenge and beat most teams out there."
That they do.
Penn State
Penn State has been quietly going about its business, and toured France for three games last week.
Après avoir disputé un match amical contre le @STFeminin ce week-end, les féminines du @PennStateWRugby préparent les demi-finales du Championnat National Universitaire Américain au stade Ernest-Wallon ! 😉 pic.twitter.com/SEqaJUW9o1

— Stade Toulousain (@StadeToulousain) March 5, 2019
It was a good tour, as much to build team unity as anything. Last year, the Nittany Lions, so used to playing in the championship match, were edged by Life 17-15 thanks to a late Whitney Wilson penalty goal. This year, led by redoubtable prop Azniv Nalbandian, they're thinking a little bit about some revenge.
Life
Life looked solid against the Atlanta Harlequins and are largely unchanged from the team that finished runner-up to Lindenwood last season. Head coach Rosalind Chou said she likes what she sees, but acknowledges that Penn State's powerful forward pack will be, once again, a massive challenge.
Why Now?
With just the semis and final to be played, D1 Elite doesn't need a long buildup of playoff rounds. The semis will be held on Sunday at Furman University, and the final will be held two weeks later at Stanford. Chou said the desire had been to have a one-game weekend.
"We wanted a week between games, and as it turned out, it will be two weeks," she said. "This will, I feel, ensure the best game."
Then all of the teams will have time to switch to sevens. Not that they need it—they've all performed well there, especially Lindenwood. But the teams felt there was no need to wait until late April or early May to finish this off. That's why we've got semifinals in March.