2019 Spring Collegiate Championship
Claremont Colleges Look To Out-Fox Women's D2 Bracket
Claremont Colleges Look To Out-Fox Women's D2 Bracket
A closer look at Claremont Colleges women's team.
Mar 12, 2019
by Jackie Finlan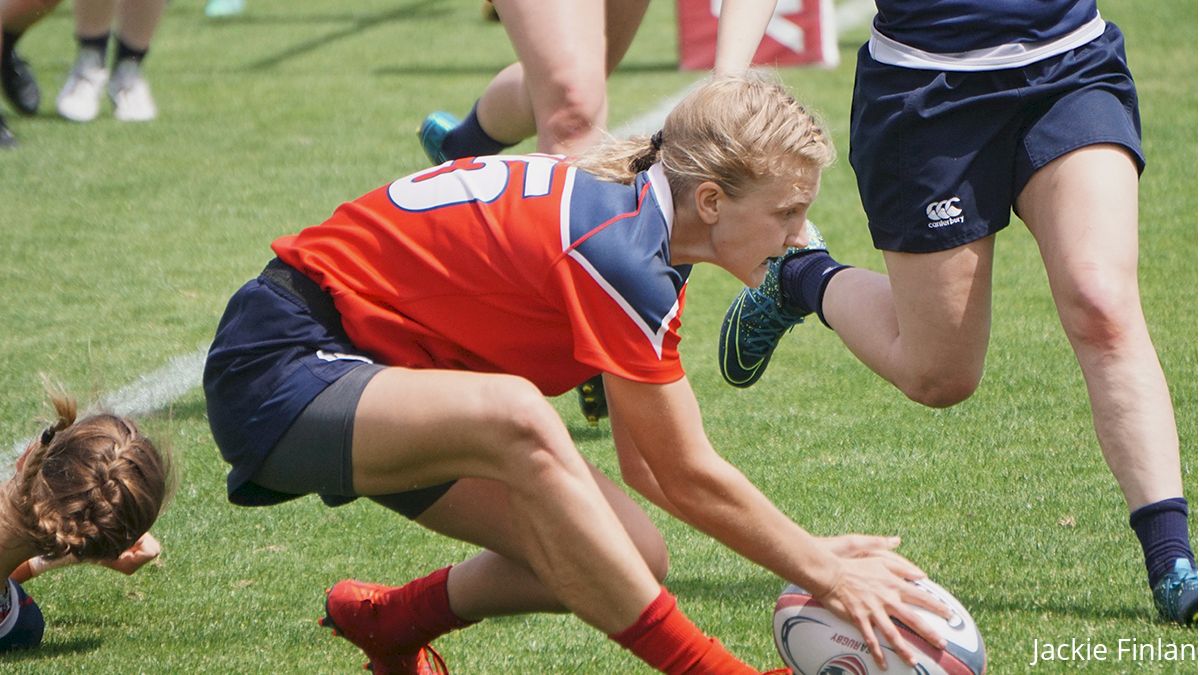 A goal for any team is to improve on its previous performance, but for Claremont College, which advanced to the USA Rugby DII College Spring Championship last year, that would mean a trophy in 2019.
The Foxes aren't that confident just yet, but the Pacific Desert team just wrapped up a 5-0 regular season and its post-season potential is now being considered.
Claremont graduated 11 players last year, and it was a special group according to Director of Women's Rugby Evan Woller indicated.
"I joked with them that they joined a team that had won one game over two years, and then their last game [the spring championship final] was on a field with a jumbotron," Woller reflected on their influence.
Watch The Women's D2 Spring Semis And Final LIVE on FloRugby May 3-4
"The most important question we had to answer heading into this season was finding a replacement for Joey Yamada. That's not going to happen overnight," Woller praised the standout flyhalf, four-year starter, and leader. "We took our fullback, [junior] Ali Parker, and moved her to flyhalf and she's been doing a great job."
Parker's backup, sophomore Anastasia Lavongtheung, has also been doing very well, and they're charged with initiating that fast-moving, wide-open attack. Parker is currently leading the team in points and tries scored, so the move from the back three hasn't affected her ability to find the try zone.
New Blood
Players like Lindsay Mooradian and Kendal Kipper have stepped up and developed into good finishers, as well. But the back line did lose a powerhouse in Dana Alimena, who suffered an ACL injury last summer with ARTPC. She hasn't played at all this year although Woller is hopeful the center will return in April.
"The forwards have increased in size a little—not to the level of Tulane—but we have 2-3 rookies who have come out of nowhere and do a great job," Woller turned attention to the pack.
Twins Margaret and Vivienne Krause, as well as prop Sage Fletcher are among the newcomers who are catching on quickly. They're also lucky as scrumhalf Rachel Sun and prop Marisa de Souza, both seniors, have returned. They're engineering students at Harvey Mudd, which offers only one window to travel abroad – spring semester of junior year. So these two influential players missed last year's playoff run and are eager to push their final season.
Neither Rain Nor ...
All of these elements came together during a significantly rainy and cold winter in SoCal. Woller explained that all the fields in SoCal are of the same grass, and if you play on them when they're wet, you can ruin them for months.
"Fields will shut down on Thursday if the forecast is for 20% rain for Saturday," Woller described the level of protection.
Fortunately, Claremont was able to use a turf pitch and avoid that dampening cycle of late cancellations and schedule reshuffling. Instead, the Foxes outscored opponents 268-63.
"There were no easy games despite the scorelines," Woller said. "MiraCosta got better, Occidental and Long Beach improved. There's no bigger divide [compared to last year]. In fact, I wouldn't say there's a divide at all."
Final Surge
The Foxed capped it all off with a 49-5 defeat of UC Riverside to finish 6-0 and secure a spot in the playoffs.
"We had a great run last year, advancing to the [spring] final four and losing to Tulane in the championship. We have no regrets about it and think we played a good game," Wooler said.
"I think we do [have potential to do well again]," the coach continued. "There are some great teams out there – Fresno State, Salisbury, Nevada, Tulane. Overall, the goal is to be better than last year."
Claremont will also be pursuing a berth to the USA Rugby DII College 7s National Championship, which is now being held a week later and thus three weeks after the DII 15s spring final. FloRugby will be live-streaming the entire USA Rugby Spring College Championships on May 3-4.