Create a free account to unlock this article!
Get Started
Already a subscriber? Log In
With the 2019 Americas Rugby Championship all done, and Argentina XV champions for the first time since 2016, we can take a look at the entire season—time for some awards:
First off, the stats. Here are your leading try-scorers:
2019 ARC Top Points-Scorers




2019 ARC Top Try-Scorers

Player
Team
Points
Player
Team
Tries
Reeves
BRA
54


Taufete'e
USA
6
Elias
ARG
38


Mensa
ARG
5
Hearn
CAN
34


Dominguez Widmer
ARG
4
Taufete'e
USA
30


MacGinty
USA
3
Magie
USA
27


Favaro Garcia
URU
3
MacGinty
USA
25


Lloyd
CAN
3
McRorie
CAN
25


Coe
CAN
3
Mensa
ARG
25


Bavaro
ARG
3
Favaro Garcia
URU
22


Ezcurra
ARG
3
Miotti
ARG
22


Carreras
ARG
3
Dominguez Widmer
ARG
20


Germishuys
USA
2
A quick nod also to Canada's Gordon McRorie, who was the first player to pass 100 ARC points in his career. He came into the 2019 ARC with 99, and now has 124, with Reeves a distant second at 89.
Mike Te'o scored one try in the ARC and now has 10 overall, leading Joe Taufete'e (8) for the most all-time.
2019 MVP
Argentina XV was so dominant you'd be hard-pressed to pull one player out as the best, while you could argue that one single player on a team further down the standings (Taufete'e or Reeves, for example). Has Brazil beaten the USA or Uruguay, then maybe Reeves would have earned the nod. Had the USA beaten Uruguay, then Taufete'e might have been our MVP.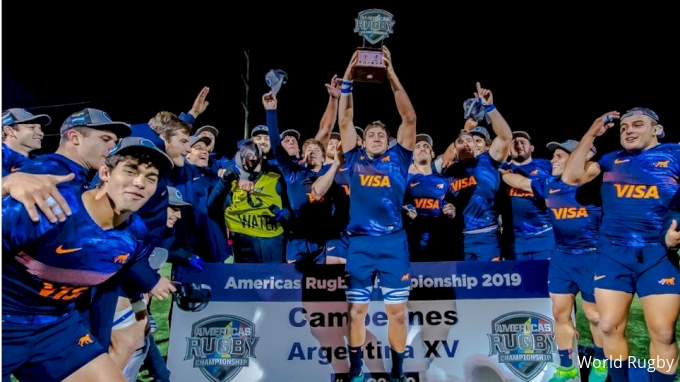 But they didn't, and Argentina XV beat everybody. And the one player who made it all chug along brilliantly was scrumhalf Felipe Ezcurra. The 25-year-old Leicester Tiger is a smart player who knows who to use on attack, and can burn you on his own, as well. The Argentina XV machine worked thanks to him.
MVP: Felipe Ezcurra
All-ARC 15
This list was difficult to make, in part because in certain positions there were several strong players. Openside flanker, with Lautaro Bavaro, James Rumball, and Arthur Bergo was stacked. Flyhalf (Argentina's Martin Elias), hooker (Uruguay's German Kessler), and center (USA's Bryce Campbell) all had really good candidates.
Here's our list:
2019 FloRugby All-ARC 15

1
Mateo
Sanguinetti
Uruguay
2
Joe
Taufete'e
USA
3
Jardel
Vettorato
Brazil
4
Ignacio
Dotti
Uruguay
5
Jerónimo
Ureta
Argentina XV
6
Juan Manuel
Gaminara
Uruguay
7
Hanco
Germishuys
USA
8
Cam
Dolan
USA
9
Felipe
Ezcurra
Argentina XV
10
Josh
Reeves
Brazil
11
Ciaran
Hearn
Canada
12
Lucas
Mensa
Argentina XV
13
Juan Manuel
Cat Piccardo
Uruguay
14
Jullian
Dominguez
Argentina XV
15
Theo
Sauder
Canada
Yes we missed a bunch of players who were very good. We had an honorable mention list but it got way too long. As we said, in some positions the talent was very deep.
Watch All of the ARC Games On-Demand Here On FloRugby