In a game that was a bit shocking and almost turned into an even bigger shocker, Life University escaped a determined Naval Academy side to win 19-18 Saturday at Life's Lupo Field in Marietta, GA.
The Running Eagles led 19-3 at one point only to see Navy storm back, and the game hung in the balance until the final play, when Navy scored in the corner, only to see a very difficult touchline conversion sail wide, thus preserving Life's victory.
In a very physical game, Navy was up in Life's face a great deal, and in fact managed to block a kick and put the Running Eagles under significant pressure.
Massive thank you to John Theiss USNA '81 and his wonderful wife Deena for their incredible hospitality in Atlanta this evening. Fueling up for our game against Life tomorrow! #NavyRugby #withyou @NavyRugbyAlumni pic.twitter.com/9MB5stFEzO

— Navy Rugby (@USNAMensRugby) March 9, 2019
It wasn't until 15 minutes into the game that anyone was able to score. From a scrum in the Life half, Running Eagle center Nikey Roberts blasted through for a long-range run. Justin Johnson took it up again, and Life gained a scrum inside the Navy 22.
From there, scrumhalf Ryan Reese looped around his flyhallf, Duncan Van Schalkwyk, to snake in for the opening try.
After some sustained pressure midway through the first half, Life got another when lock Daemon Torres spun out of a tackle and crashed over under the posts. Van Schalkwyk slotted the extras and it was 12-0.
Navy got a penalty goal back from scrumhalf Cole Euverard, and the half ended with Life up 12-3.
The second half seemed to be an extension of the first, with Life absorbing pressure, but exerting enough and showing some ability to get around the edge.
Life marched right down the field, blocked a box kick and from there sent flanker Justin Johnson through some somewhat iffy tackling. Van Schalkwyk made it 19-3 after 44 minutes.
Life would not score again.
Hobbs Is Choice
Navy center Joey Hobbs intercepted a pass as Life tried to run out of its own end. He was in under the posts and Navy had new life. Euverard slotted the conversion and it was 19-10. The scrumhalf would add a penalty later.
That set it up for finale.
Life had probably done enough, and had a lineout inside the Navy half with about two minutes to go. All they had to do, really, was work off the block. But an ill-advised pass out off contact bounced up for Hobbs, who raced off to paydirt.
The play by Hobbs was a big one, but so too was the work of lock Mike Islava, on as a sub. He took off after Hobbs, knowing he could catch the fleet Navy center. But what Islava did succeed in doing was forcing Hobbs to the corner. That made Euverard's kick to win it exponentially harder, and he missed.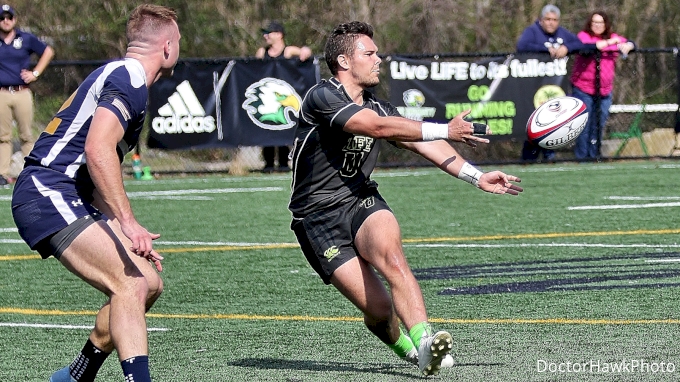 Closeout Woes
"We identified some areas at halftime that we working, and applied massive pressure," said Navy head coach Gavin Hickie. "I think we've grown and matured a lot in 15 months, as last time we played Life we lost 30-0."
"I was very pleased with our resilience on defense," said Life head coach Colton Cariama. "The final try we let in was the result of an offensive error, not defensive. We defended really well. But we also needed to do better in finishing our opportunities, and in closing out that game. What we needed to do was keep that ball in tight and run out the clock."
That said, Cariaga had all sorts of praise of Navy.
"When we were a step too late to the breakdown they made us pay," he said. "It's pretty clear that game could have gone either way."
With the win, Life goes to 3-0 in the Mid-South. Navy drops to 3-2.
Life 19
Tries: Rees, Torres, Johnson
Convs: Van Schalkwyk 2
Navy 18
Tries: Hobbs 2
Convs: Euverard
Pens: Euverard 2