World Rugby has released a statement regarding the organization's position on an annual global international league as key meetings are set to kick off in Dublin next week.
In part, the statement says:
Tasked by unions last May to examine the feasibility of competition structures that had the potential to reinvigorate the July and November windows, World Rugby's goal has always been to create:
the best-possible environment and opportunities for players


a first-ever pathway for emerging unions to compete at the top table of annual competitions


a better fan experience with enhanced meaning and attractiveness of fixtures


financial certainty for unions


harmonisation with club rugby


revenue maximisation for reinvestment in all levels of the game globally
The current rugby broadcast market is complicated, which impairs the overall ability of the game –including players, fans, unions and clubs—to realise its full potential. World Rugby is undertaking this important work on behalf of our unions to secure the long-term growth and stability of the sport in an ever more competitive sports and entertainment environment.
It is incumbent on World Rugby to champion and represent the whole game, not just the top of the game, and we are committed to working with our union and player representative colleagues to ensure an equitable solution that works for all.
Put forward for union CEOs and international players to consider was a plan that would:
Debut a World Nations Championship in 2022


Retain the Six Nations, The Rugby Championship, and The British & Irish Lions tours


Create a Two-division world league with promotion and relegation


Add two Tier 2 nations to two conferences of the top 10 teams for a 12-team, 11-game schedule followed by semis and a final


This would not be held in a World Cup year, and there would be no relegation-promotion in a Lions Tour year (allowing the competition to proceed even when a British Isles team has to select down due to Lionscallups)


Additional conferences in the 2nd Division and 3rd Division would expand the concept to 56 national teams
The big thing in this is broadcast rights. World Rugby plans to oversee broadcast rights and acknowledged the "possiblity to centralise some sponsorship rights." Observers note that the likely addition of Japan into the top level is crucial when it comes to discussing sports entertainment sponsorship dollars.
The USA would be in Division 2, but the United States would be a crucial part of the monetary equation.
Player Welfare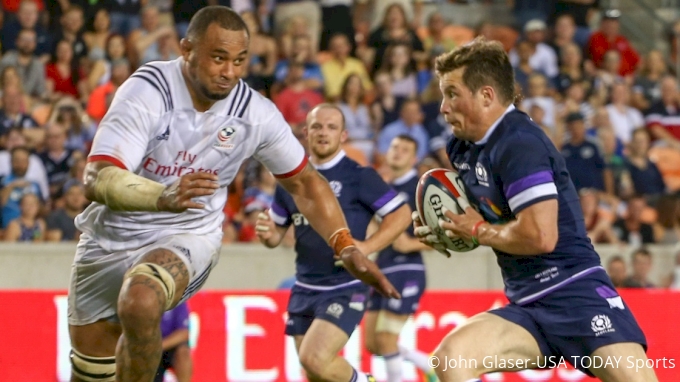 From World Rugby:
Player welfare is fundamental to our sport. Within the original proposal, players would play a maximum of 13 matches if their team reaches the final, compared to an average of between 12 and 14 test matches presently. Most teams would play 11 matches.
Growing the sport's fan base through more compelling competition is also vital as broadcasters will only pay more for a product that fans want to see. As part of the analysis, market research was conducted in the UK and France and more than 60 percent of people surveyed, who saw a video of the competition format, said the concept would increase their interest in international rugby, while only four percent said they would be less interested.
Everyone Involved?
World Rugby said reports that certain nations wouldn't be included was wrong, noting specifically that the Pacific Island teams will be part of the plan.
"We continue to consider the feedback, but remain absolutely committed to an eventual pathway for all," said World Rugby.
Who Owns It?
One key aspect of this plan is that, clearly, World Rugby wants to have control over the entire world international schedule, and wants to hold broadcast rights to sell. Whether that can be seen as a money-grab, or simple a way to leverage a bigger competition to help everyone might depend on your point of view.
Again from World Rugby: "With the proposed model incorporating competitions that are not owned or run by World Rugby, not all unions are presently in favour of immediate promotion and relegation."
And ... "Under the proposed competition, media rights would be combined, enabling greater consistency and overall value. Strong interest from media entities has indicated that the model would boost annual media revenue for international rugby and unions, for reinvestment in the game, by a substantial amount."
Revenue And Pay
What this could do is bump the financial situation of smaller nations. If World Rugby sold broadcast rights globally for this competition, that money would, in part, be used to support the unions and, we'd hope, pay the players.
Imagine what would happen if players who get paid little to none for playing for their country could get something approaching a living wage?
Ripple Effects
Professional leagues are holding up a large part of international rugby. Many national teams rely on professional leagues to pay players enough that they can afford to play for their nation, as well.
Professional leagues that aren't necessarily financially strong (oddly, in some of the major rugby nations) are still important because they are where international players are produced, nurtured, and where they play regularly.
But, this league might be a chance for World Rugby to impose some reasonableness in professional rugby. We know that a 12-game pro season is probably a bit small. We know that a 30-game season, combined with 10 or more test matches, is too much. (French Pro 14 is 26 games, Heineken Cup is six games, and if you make the playoffs, it's more.)
But there has to be a middle ground, and maybe this league will force the issue. Maybe it won't.