Life West remains atop the Pacific Rugby Premiership after beating the Glendale Merlins Saturday, but the chase is on to catch the Gladiators.
Life West Holds Off Glendale
Life West found itself in a tight contest with Glendale and in fact trailed 12-5 midway through the first half. However, at that point Glendale hooker James DelBozque was sent off for a red card offense. Shorthanded the rest of the game, the Merlins were in trouble.
Right before that red card, Life West prop Hamitele Ngaluafe left the field with a nasty gash on his head that required stitches. All the discussion about the red card gave the prop time to get stitched up, and soon he returned to the field in time to score a try that, with Guillaume Cazenave's conversion, tied the game 12-12.
The teams continued to battle to a standstill. Life West hooker Jacob Finau went over to make it 17-12, but yellow cards to Gladiators Devereaux Ferris and Zach Bonte early in the second half negated the man advantage for 20 minutes.
During that time, Glendale scored two tries to take a 22-17 lead into the final 15 minutes.
"We're deeper and we're fitter than we were last year," said Life West head coach Adriaan Ferris. "We had a good preseason buildup and it's really helped us."
With loose forward Tesimoni Tongauiha again having a big game, the Gladiators started to pull away once they regained the man advantage. Wing Fatai Vailala tied it up 22-22, and then Tongauiha put his side ahead to stay.
Center Meli Ratumaimuri's score denied Glendale a close-loss bonus point, which was perhaps a little harsh for a Merlins squad that had put in its best performance of the season so far.
Belmont Shore Comes Back
Belmont Shore came back from 6-3 down in the first half to dispense of previously unbeaten Santa Monica 31-9. It was a fairly masterful performance from the Belmont Shore forwards in the second half, led by loose forward Matt Masoe, who got in the face of Santa Monica flyhalf Maxwell Rodman and helped throw the Dolphins off their game.
Belmont Shore head coach Ray Egan said his backs weren't really firing, especially on 1st phase, but did produce a couple of well-worked tries—Danny Thomas's score that sealed the game open was a classic. But for the most part, this game was won on the backs of the pack.
"We were against the wind in the first half and I was pretty happy for us to switch down only 6-3," Egan said. "But they missed a couple of kicks and almost scored a couple of tries hed our cover defense not been there. So we were a little fortunate. Having said that, we had a good second half."
Thomas opened the scoring with a penalty, and then Rodman added two for the 6-3 Santa Monica lead. Thomas equalized early in the second half, and fullback Vili Iongi raced in for the first try of the game, and a Belmont Shore lead of 11-6. Rodman kicked another penalty to make it a two-point lead, and Thomas replied to make it 14-9. Adam Channel added a penalty for a 17-9 lead, before Iongi and Thomas crossed over.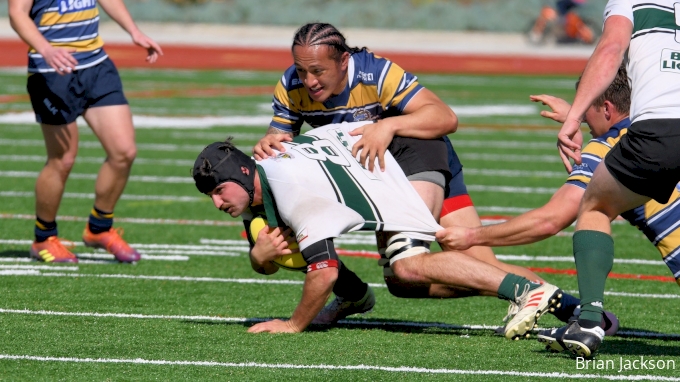 Belmont Shore had a chance for a fourth try and a crucial bonus point, but biffed a four-on-one.
OMBAC To 2nd
Meanwhile, OMBAC defeated SFGG 36-21 in a tough clash that left SFGG winless so far, and OMBAC 2-1. The win, with the bonus point, vaulted OMBAC into 2nd, with Santa Monica and Belmont Shore (both 2-1) close behind.
| | | | | | | | | | |
| --- | --- | --- | --- | --- | --- | --- | --- | --- | --- |
| 2019 PRP | W | L | T | PF | PA | PD | BT | BL | PTS |
| Life West Gladiators | 3 | 0 | 0 | 138 | 70 | 68 | 3 | 0 | 15 |
| Old Mission Beach Athletic | 2 | 1 | 0 | 99 | 99 | 0 | 2 | 0 | 10 |
| Santa Monica Dolphins | 2 | 1 | 0 | 69 | 52 | 17 | 1 | 0 | 9 |
| Belmont Shore Rugby | 2 | 1 | 0 | 68 | 49 | 19 | 0 | 0 | 8 |
| San Francisco Golden Gate | 0 | 3 | 0 | 53 | 97 | -44 | 0 | 1 | 1 |
| Glendale Merlins D1 | 0 | 3 | 0 | 36 | 96 | -60 | 1 | 0 | 1 |