Create a free account to unlock this article!
Get Started
Already a subscriber? Log In
Argentina XV handed the USA a humbling 45-14 defeat in Round 2 of the Americas Rugby Championship, punishing a series of USA mistakes and missed tackles, and also taking full advantage of a red card to center Paul Lasike.
The USA was behind the eight ball early, couldn't convert on chances in the first half, and looked slow, desultory, and inexact through most of the game.
Nightmare Start
It was a bit of a nightmare start for the USA, with Argentina XV scoring in the first couple of minutes.
Spinning the ball wide quickly, the Argentina XV wing Julian Dominguez pushed off Gannon Moore and outstripped Will Magie before offloading to fullback Santiago Carreras, who did the rest. It was poor defense from the USA on the outside, with Argentina XV showcasing their pace.
The set piece soon started to be a question-mark, as the Eagles lost their first lineout, and then suffered a rather harsh penalty in the scrum on their own put-in.
That penalty led to a lineout for Argentina XV, and they ran a nifty little play that cut through the USA holes and put prop Lucas Favre in under the posts. Martin Elias converted for a 14-0 lead.
Almost eight minutes in and the USA had hardly touched the ball. Finally, they got a chance. After defending their line, the Eagles stole a lineout and ran it, with Moore racing off to midfield. The USA team made a few more inroads, but the attack was stopped by a knock-on.
Rebound Fail
Through the next ten minutes or so, the Eagles had chances, but kept making mistakes. At 20 minutes, a strong passage of play put Joe Taufete'e a meter away from the tryline. But the big hooker stretched too far and was isolated, giving up a holding-on penalty when a little patience would have kept the Americans on the front foot.
After the water break, the Eagles were again through to the Argentina 22, thanks this time to a snipey run from AJ MacGinty. He offloaded to Taufete'e, who surged on, but lost the ball as he was tackled.
On the front foot again after a superb chase from Marcel Brache, the Eagles popped another kick expecting a penalty from Uruguayan referee Francisco Gonzalez for Argentina being offside, but no call came.
Finally, Argentina XV got a scoring opportunity after absorbing pressure for about 18 minutes. Strong interplay from the forwards and backs, and hooker Gaspar Baldunciel showed off some nifty footwork to score. Elias converted to make it 21-0 at 29 minutes.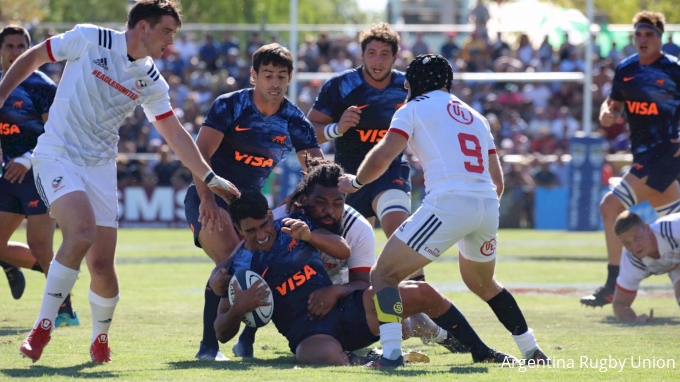 Seeing Red
Right after the restart, more trouble for the Americans. Lasike found himself held around the ankle by an Argentina player. Lasike couldn't pry the player off, and eventually stomped on the player's back or neck. After a long look at the replay by Referee Gonzalez, Lasike was shown a red card.
Argentina XV looked to capitalize, changing their approach slightly to be a little more patient with the ball, knowing that the USA now needed to cover more ground being a man down. After a long series of phases, Argentina XV punished a fairly average clearance kick from Magie and flanker and captain Lastaro Bavaro, trailing the attack out wide, was there to go over.
However - no try. Moore tackled Bavaro and rolled him to prevent the touchdown.
The Eagles were still under pressure, but then No. 8 Cam Dolan intercepted a pass and rumbled about 75 meters. He wasn't fast enough to outstrip the chasing Argentina wings, however, and he was pushed into touch before he could score.
After that, despite being shorthanded, the Eagles had the run of play and some good scoring chances. Dolan had another run down the wing, and lock Nick Civetta charged up the middle. But that final pass, or that final support player, wasn't there.
Second Half
In the second half, Argentina finally broke through with the man advantage. A free kick from a scrum allowed Elias to send a long pass to Carreras for his second in the corner.
With players tired and angry, tempers started to flare and John Quill got into it with Lucas Mensa. Both got yellow cards, although really Argentina XV prop Santiago Garcia Botta should ave also for taking Quill out around the neck.
Regardless, things settled down a little after that. Scrumhalf Felipe Ezcurra - who had a superb game - slipped in for a try. Wing Julian Dominguez came exposed some more poor tackling, and then sub hooker Axel Zapata steamrolled Magie before offloading to Bavaro.
It was now 45-0. Somehow, with the subs on, the USA rallied and put together a solid final few minutes. A good run from Hanco Germishuys and an excellent kick to touch from AJ MacGinty set up an attack the put Bryce Campbell down the wing. He was tackled but offloaded inside to Magie. In the way was lock Jeronimo Ureta, who deliberately knocked the ball down, and after watching the replay, Referee Gonzalez awarded a penalty try for the Eagles.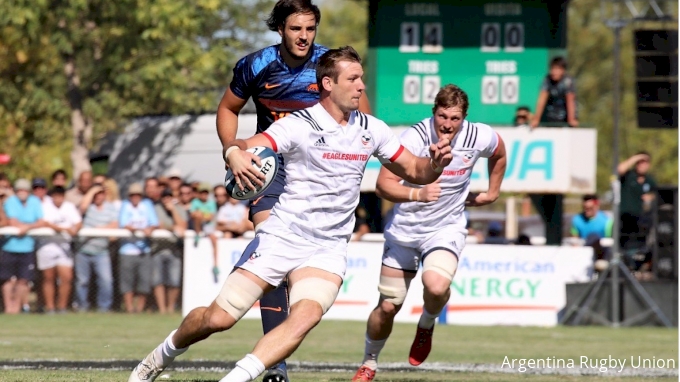 Showing Some Pride
Moments later, Campbell again challenged the Argentina defense, offloaded to Brache, who slipped a behind-the-bad pass to sub hooker Dylan Fawsitt, who scored.
That was it, 45-14. The USA did not capitulate, and when it was 40-0 at 60 minutes it looked like they might. But there were sub-par performances from players who have been consistently good all 2018. Joe Taufete'e wasn't accurate with his lineout throwing. Nick Civetta produced too many knock-ons. Neither Moore nor Magie tackled well. Even the dependable Shawn Davies was a bit off.
Meanwhile, Dolan, Germishuys, and Campbell put in a full day's work, perhaps more considering the conditions and the circumstances. Greg Peterson battled hard, while Tevita Tameilau, Ruben de Haas, Chance Wenglewski, and Dylan Audsley all made an impact when they came on as subs.
But overall, this was a poor USA performance at the wrong time. The team didn't have a spring in its step, made far too many mistakes, committed far too many avoidable penalties, and didn't convert when they had scoring opportunities.
"Very disappointing," said Brache after the game. "They ran us around the park and made the most of their chances and out mistakes."
Added Excurra, "yes we played a guy down but we also made things happen."
Notes: AJ MacGinty appeared to take an injury at the end of the game. It wasn't exactly clear what the nature of any injury was.
The USA returns to the United States and will get a week off before preparing to take on Brazil February 23 LIVE on FloRugby.
The Eagles are now 5-3-1 in South America in the ARC, while holding a 7-0-1 record in North America.
Argentina XV 45
Tries: Carreras 2, Bavaro, Excurra, Baldunciel, Dominguez, Favre
Convs: Elias 5
USA 14
Tries: Penalty Try, Fawsitt
Convs: Penalty Try, Magie
| | | | | | |
| --- | --- | --- | --- | --- | --- |
| | USA | | | Argentina XV | |
| 1 | Titi Lamositele | | 1 | Nicolas Solveyra | |
| 2 | Joe Taufete'e | | 2 | Gaspar Baldunciel | |
| 3 | Dino Waldren | | 3 | Lucas Favre | |
| 4 | Greg Peterson | | 4 | Jeronimo Ureta | |
| 5 | Nick Civetta | | 5 | Franco Molina | |
| 6 | John Quill | YC | 6 | Francisco Gorrissen | |
| 7 | Hanco Germishuys | | 7 | Lautaro Bavaro (c) | |
| 8 | Cam Dolan | | 8 | Nicolas Sibrocco | |
| 9 | Shaun Davies | | 9 | Felipe Excurra | |
| 10 | AJ MacGinty | | 10 | Martin Elias | |
| 11 | Marcel Brache (C) | | 11 | Julian Dominguez | |
| 12 | Paul Lasike | RC | 12 | Lucas Mensa | YC |
| 13 | Bryce Campbell | | 13 | Agustin Segura | |
| 14 | Gannon Moore | | 14 | Matias Osadczuk | |
| 15 | Will Magie | | 15 | Santiago Carreras | |
| | | | | | |
| | Reserves | | | Reserves | |
| 16 | Dylan Fawsitt | @58 for Taufete'e | 16 | Axel Zapata | @58 for Baldunciel |
| 17 | Chance Wenglewski | @34 for Waldren | 17 | Santiago Garcia Botta | @40 for Solveyra |
| 18 | Paul Mullen | @64 for Lamositele | 18 | Teo Castiglioni | @58 for Favre |
| 19 | Nate Brakeley | @58 for Civetta | 19 | Santiago Portillo | @21 for Sibrocco |
| 20 | Tevita Tameilau | @64 for Quill | 20 | Benito Ortiz de Rozas | @55 for Molina |
| 21 | Ruben de Haas | @58 for Davies | 21 | Gregorio Del Prete | @59 for Ezcurra |
| 22 | Tadhg Leader | | 22 | Marco Ciccioli | @58 for Segura |
| 23 | Dylan Audsley | @58 for Moore | 23 | Facundo Cordero | @58 for Dominguez |