The USA 7s teams are earning respect, but are they always getting it?
The recent Sydney 7s delivered yet another brilliant weekend of action on the thrilling HSBC Sevens World Series; highlights included the United States Women winning Bronze and Men claiming their 4th Silver medal in consecutive tournaments, but four silvers also means four losses in the final.
After watching the Men's Cup final, one aspect which bothered me was the behavior of New Zealand's Kurt Baker. With the men in black leading 21-5 in the second half, USA's Martin Iosefo dropped the ball, to which Baker slapped his hands on the Eagles back two times and clapped in his face. Iosefo got up and gave Baker a look as Ben Pinkelman came in to push Baker saying that his actions weren't appropriate.
Celebrating something other than yourself
It is common practice for players on the HSBC Sevens World Series to have some sort of try celebration. Fijian magician Jerry Tuwai acknowledges his faith by looking to the heavens. Werner Kok from South Africa shows his love for his family; he has his wife's name written on his wristband, which he kisses after scoring.
Baker's celebration is giving it the two thumbs up.
In isolation it seems OK, but if you watch him antagonize players during some matches you start to wonder if that celebration is disrespectful as well. This is just my opinion, and while I think he is an exceptional player, he is on a world stage with fans from around the globe watching and he represents the famous All Black 7s brand, part of the most respected and well-known rugby team on the planet.
Call me old-fashioned
In the book Legacy: What the All Blacks can teach us about the business of life by James Kerr, you learn about the New Zealand 15s selection principle of "Great men make great All Blacks". This is one of the reasons why New Zealand is one of the greatest and most successful sporting teams ever.
With that in mind, you look at a photo Baker posted on Instagram after his side won this weekend. Now he admitted he was just having fun—but more traditional fans like myself can't help but see this as disrespectful behavior. Call me old-fashioned!
Think about this statement from World Rugby: "In 2009 member Unions identified Integrity, Passion, Solidarity, Discipline and Respect as the defining characteristics of Rugby. These are now collectively known as the World Rugby Core Values and are incorporated within the World Rugby Playing Charter, a document which aims to ensure that Rugby maintains its unique character both on and off the field of play. The Core Values enable participants immediately to understand the character of the Game and what makes it distinctive as a sport which is played by people of all shapes and sizes."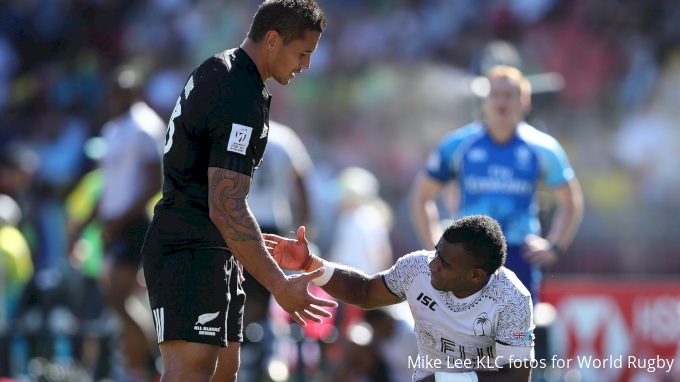 Respect is one of rugby's core values, and something that our society could use more of. Sports can also be used as a tool for social change, and through working with Play Rugby USA in Los Angeles over the past seven years it became quickly evident to me that young people look up to coaches or older players at every opportunity. It's so important to showcase the values that will positively impact our next generation.
Respect is learned behavior
When I was coaching at Occidental College, I saw a lot of examples of opposition coaches hurling abuse at officials. For the past 30 years I have yet to witness an official change their mind because someone has shouted at them. Coach behavior is modeled by the coach's players; yelling at officials isn't positive behavior for life outside of rugby.
Same goes for respecting the kicker. As a youngster learning the game at Rondebosch Boys Prep and then the High School it was instilled in me to respect the kicker by keeping silent. This is the same when playing or watching a game, and it baffles me that some people start shouting or trying to distract the kicker. It's important that rugby people try to keep the ethos that make this game so special. This is especially important here in America where new fans are attending games for the first time—or watching on TV or online.
When Kurt Baker waves four fingers in the face of the USA players (signifying four straight losses in the final), after his team has won, I am not sure that sends the message about the game we want to send. Maybe what it does show is the Eagles have New Zealand worried.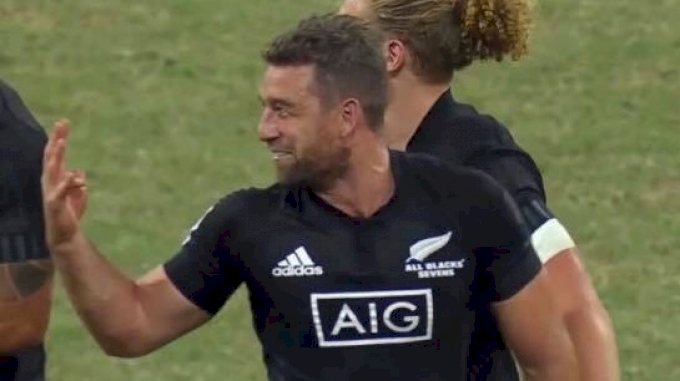 What we can do about it
A perfect opportunity exists through Major League Rugby where people can model our rugby culture to those newer to the game. Congratulations to several teams in the league who have produced educational materials for new spectators on the laws on the game, and this should include more about the game's values. We certainly try to talk about this in the commentary booth, especially when we are trying to bring the game to millions of new fans.
As for the talented Kurt Baker, we'll see you next in Las Vegas for Round 5 of the HSBC Sevens World Series.
---
Dallen Stanford commentates for World Rugby on the HSBC Sevens World Series, having played for the USA 7s Eagles from 2007-2009. He was a commentator the 2018 Rugby World Cup Sevens in San Francisco, and will be in the booth this season for the Americas Rugby Championship, World Rugby u20 Championship, Major League Rugby as well as the Las Vegas, Vancouver, Singapore 7s. Follow him @TheRugbyCorner on Instagram & Twitter.