2019 Pacific Rugby Premiership
Surprise Leaders After PRP Round 2
Surprise Leaders After PRP Round 2
Life West and Santa Monica look strong in the PRP.
Feb 4, 2019
by Alex Goff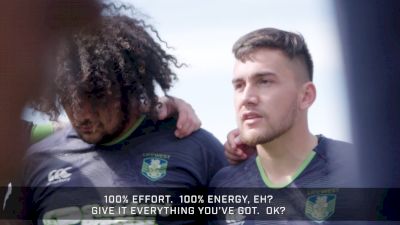 Don't look now but the top two teams in the Pacific Rugby Premiership were a combined 5-15 in the regular season last year.
But some problems in sports can be temporary, injured players get better, inexperienced players mature. That's what has happened at Life West and Santa Monica, and two of the bottom three teams in last year's PRP are now 2-0.
Gladiators put OMBAC to the sword
Life West is 2-0 with two bonus-point victories and the Gladiators now sit in 1st place. This week, the Gladiators beat OMBAC 59-30. OMBAC scored early with a penalty goal in the 1st minute from fullback Alfonsu Cornu-Labat, and a try from flanker Shane Dempsey that Cornu-Labat converted.
But after that it was all Life West. Lock Sione Molitika, center Josefa Vuatalevu, and flanker Tesimoni Tongauiha all touched down, with Giuillaume Cazenave converting all three. OMBAC responded and at halftime it was 28-23 Life West.
Watch Life West vs OMBAC On-Demand
"We had given up a fairly easy try early on," said scrumhalf Devereaux Ferris. "But we felt we were a little fitter, and we know if we just took better care of the ball and relaxed and played to our plan we'd be OK."
They were. Tongauiha scored two more tries in the second half, and Jacob Finau and Junior Helu added tries as Life West pulled away.
"Offensively we were very good," said Ferris, who earned his first USA cap this past fall. "Defensively I think we can be better, but the boy are working hard and getting around the park pretty well."
Dolphins smiling
Santa Monica edged SFGG 19-14 to move to 2-0. Flyhalf Maxwell Rodman continued his solid form, kicking four penalty goals and converting the Dolphins' lone try to stake his squad to a 19-7 lead at 50 minutes. They then held on.
"Max has done a great job for us and his kicking into the wind really helped us," said Santa Monica captain and prop Rob Cleere.
But it's more than that.
"We've got some guys who came back from last year, and that's a rarity - living in the LA area people are always moving," said Cleere. "And we have really good team chemistry. We've mixed well."
Still, for Santa Monica, it was almost all lost, as SFGG came back to make it a one-score game. With the wind at their backs, the Dolphins, said Cleere, kind of eased up rather than put the game away.
"That's a lesson for us in closing out a game," said Cleere.
Shore keeps pace
Also winning was Belmont Shore, which came back to beat the Glendale Raptors 18-7. After an early Daniel Thomas penalty for Belmont Shore, Glendale took the lead just before halftime with a try from scrumhalf Vita Makasini, converted by Campbell Johnstone.
That 7-3 held up until the closing moments of the game, when Vili Iongi raced in to give Shore the lead. Thomas converted, and moments later Adam Channel went over. Thomas converted to deny Glendale even a close-loss bonus point.
The game was played in a downpour, and the teams weren't able to even take the field until 45 minutes before the game. Perhaps as a result, knock-ons and penalties made it difficult for either team to gain any momentum.
"In fairness to Glendale, I think it was harder on them than us," said Belmont Shore head coach Ray Egan. "It was a tough. They are a good side, and we had a 15-minute period there where we were defending our line. We didn't allow them a try when Glendale probably deserved one. That was kind of the turning point."
Urged to drop the mistakes in the second half, Belmont Shore did that and started to gain the upper hand in the scrums. That was a key factor in the victory.
Shore is 1-1, as is OMBAC. SFGG and Glendale both drop to 0-2.