Saint Mary's Immense Over UC Davis
Saint Mary's Immense Over UC Davis
Report on Saint Mary's over UC Davis.
Jan 12, 2019
by Alex Goff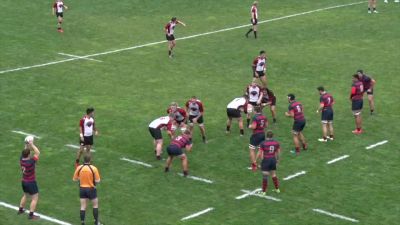 Saint Mary's opened up conference play in the California Conference with a 78-3 defeat of UC Davis.
The Gaels ran out a mostly front-line squad, but shuffled their front row a little bit, and in fact both starting props and the hooker crossed the try line.
Flanker Anthony Rodriguez in 1st two minutes, and freshman prop Joe Marchant as well as lock Chase Jones scored. With flyhalf Joe Yacoubian converting all three, Saint Mary's led 21-0 after 21 minutes.
Back in the starting lineup this weekend was center Tavite Lopeti. Lopeti had been the Gaels' starting outside center last year but was felled by injury. He has been working his way back and was doubtful last week against Central Washington. But he came off the bench and was impressive on attack.
This week, Lopeti started and scored his team's fourth try. Scrumhalf Sean Yacoubian then went over to make it 35-0 before Davis got on the scoreboard.
Tarik Siniora's penalty goal would be the Aggies' only points of the day. Saint Mary's captain and No. 8 Vili Helu would answer with a try to make it 42-3 at the break. Joe Yacoubian was a perfect 6-for-6 in conversions.
Saint Mary's opened up the second half with Payton Telea Ilalio scoring two quick tries. The experience prop forward has always been good in the open field, but this season has embraced a more explosive attacking role, looking at home working with the backs or pounding it up the field with the forwards.
Helu added a try and then Sean Yacoubian scored his second. Hooker Hayden Warneke, who has been captaining the Saint Mary's 2nd side in much of the early going, celebrated his start with a try, and sub back Alex Shinohara scored the final Gaels try.
Joe Yacoubian has shown a ton of poise at flyhalf and ended up with 18 points from nine conversions.
This was a pretty dominant performance from Saint Mary's, which appears to have filled some of its holes left by graduating players. Marchant, highly-touted after being labeled a top prospect by many, including FloRugby, has already shown he knows what he's doing. The back row of Helu, Rodriguez, and Ronan Murphy was strong again, while Aaron Matthews is a talent wearing any number (as long as it's double digits) on his back.
Saint Mary's 78
Tries: Rodriguez, S. Yacoubian 2, Marchant, Jones, Lopeti, Helu 2, Telia Ilalio 2, Warneke, Shinohara
Convs: J. Yacoubian 9
UC Davis 3
Pens: Siniora