Create a free account to unlock this article!
Get Started
Already a subscriber? Log In
FloRugby will be showing the entire Rugby Europe Championship LIVE in the USA, Canada, Latin America, Middle East, and North America.
The Rugby Europe Championship (REC) is an annual competition featuring the best Tier 2 nations in Europe: Georgia, Romania, Belgium, Germany, Spain, and Russia. The REC has existed in some form since 1936, back when the governing body was FIRA (the International Federation of Amateur Rugby). France dominated that competition until 2000, when the FIRA Trophy became the European Nations Cup. France and Italy left, and from 2000 to 2016, Georgia won nine times, with Romania taking three championships.
In the 2016-17 season, Rugby Europe formed the REC. Romania took the title, beating Georgia 8-7 in the final weekend to secure the championship by the slimmest of margins.
In 2018, Georgia ran the table 5-0. Meanwhile, the league was thrown into controversy as the league was also tied to qualification to the Rugby World Cup. Spain seemed destined to finish 4-1 and take a spot in RWC 2019. However, a shocking 18-10 loss to Belgium threw everything into confusion. The Spanish team was sanctioned for its behavior during that game. Belgium, meanwhile, was sanctioned for using ineligible players. In the investigation, it became known that Spain, too, had used ineligible players, as well. The upshot was that 2-3 Russia finished 2nd and earned a place in the World Cup.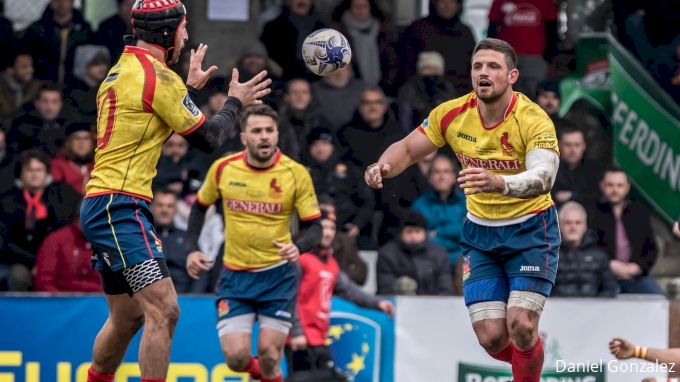 Plenty of drama and unfinished business, then, wraps up the 2019 competition. And for fans in the USA and Canada, this provides a unique opportunity to see the countries the Eagles and Maple Leafs compete with regularly around the world.
February 9 sees all six teams face off, with Romania taking on Georgia, Belgium playing Germany, and Spain facing Russia.
The tournament wraps up on March 17. The team that finishes 6th will play-off with the lower division champion in a relegation decider.
FloRugby will have every game LIVE throughout the spring as part of a busy February and March.
Fans in the USA, Canada, Latin America, the Middle East, and North Africa can see all of these games with a FloRugby subscription.
For USA fans, major domestic championships, USA National Team games (including the ARC), major internationals, and the French Top 14 and French Pro D2 are all available.
Canadian fans also can see US championships as well as the French Top 14 and French Pro D2.
Rugby fans in the Middle East and North Africa can also see the Guinness PRO14 and Heineken Champions Cup, as well as US domestic championships. Fans in Latin America can see the Guinness PRO14 and US domestic championships.
| | | | | |
| --- | --- | --- | --- | --- |
| Date | Matchup | Competition | Watch Live | Where |
| Feb-9 | Romania vs Georgia | Rugby Europe Championship | Watch Live | USA, Canada, Middle East, Latin America |
| Feb-9 | Belgium vs Germany | Rugby Europe Championship | Watch Live | USA, Canada, Middle East, Latin America |
| Feb-10 | Spain vs Russia | Rugby Europe Championship | Watch Live | USA, Canada, Middle East, Latin America |
| Feb-16 | Georgia vs Spain | Rugby Europe Championship | Watch Live | USA, Canada, Middle East, Latin America |
| Feb-16 | Russia vs Belgium | Rugby Europe Championship | Watch Live | USA, Canada, Middle East, Latin America |
| Feb-16 | Romania vs Germany | Rugby Europe Championship | Watch Live | USA, Canada, Middle East, Latin America |
| Mar-2 | Belgium vs Georgia | Rugby Europe Championship | Watch Live | USA, Canada, Middle East, Latin America |
| Mar-2 | Germany vs Russia | Rugby Europe Championship | Watch Live | USA, Canada, Middle East, Latin America |
| Mar-3 | Spain vs Romania | Rugby Europe Championship | Watch Live | USA, Canada, Middle East, Latin America |
| Mar-9 | Georgia vs Germany | Rugby Europe Championship | Watch Live | USA, Canada, Middle East, Latin America |
| Mar-9 | Romania vs Russia | Rugby Europe Championship | Watch Live | USA, Canada, Middle East, Latin America |
| Mar-10 | Spain vs Belgium | Rugby Europe Championship | Watch Live | USA, Canada, Middle East, Latin America |
| Mar-17 | Russia vs Georgia | Rugby Europe Championship | Watch Live | USA, Canada, Middle East, Latin America |
| Mar-17 | Germany vs Spain | Rugby Europe Championship | Watch Live | USA, Canada, Middle East, Latin America |
| Mar-17 | Belgium vs Romania | Rugby Europe Championship | Watch Live | USA, Canada, Middle East, Latin America |