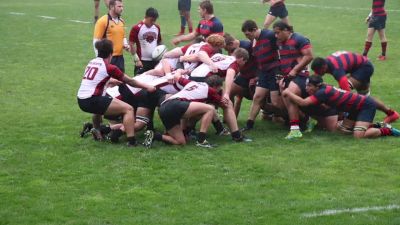 Saint Mary's produced a strong tactical performance in very difficult conditions to shut out Central Washington 50-0 in the opening game of 2019.
CWU was moving off an impressive victory over UC Davis on Thursday, and had expectations of producing another improved result. To the extent that on their 2018 Northern California trip, Central lost twice and were dropped by Saint Mary's to the tune of 73-5, then this was better than 2018, but the Wildcats struggled mightily in lineouts and scrums, giving them no platform from set piece, and were never really close to scoring.
See Saint Mary's vs Central Washington On-Demand
On Friday, Saint Mary's head coach Tim O'Brien impressed on his players to use field position in this game. It was expected the weather would be cold, windy, and rainy, and it was, in spades. The Gaels eschewed the quick tap and the wild counter-attack for kicks to the corner and defensive pressure in the CWU 22. It was hugely effective.
@CWURugby at @Gael_Rugby LIVE today on FloRugby in every market. Saint Mary's prepping hard on Friday. https://t.co/xLZttbpPE5 pic.twitter.com/ASLkhbazCZ

— FloRugby (@FloRugby) January 5, 2019
"I thought the guys were pretty on point," said O'Brien. "I think there were other opportunities where we could have kicked for territory, but overall the guys did what they needed to do, and they played really solid defense."
Kick errors by Central led to the first two tries. A missed touch on a penalty allowed Saint Mary's to launch and burst up the middle some after wonderful interplay between center Aaron Matthews and prop Peyton Telea Ilalio. That produced a try on the wing. And then another mistake led to an attack where, after a series of phases, scrumhalf Sean Yacoubian popped a somewhat risky kick into in-goal and his brother and flyhalf Joe Yacoubian. The ball bounced up perfectly in the deep Saint Mary's in-goal, and the younger Yacoubian grabbed it and was around near the posts.
Sean Yacoubian capped off some tough work from the forwards off a lineout, diving over an unguarded ruck to score, and very direct running from the forwards and interior backs produced another.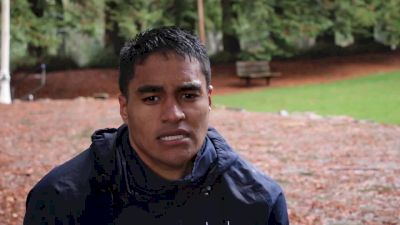 The Gaels continued to roll from there. While they made mistakes, seeing a few try-scoring opportunities go wanting thanks to a little impatience, and the wet, cold conditions led to several knock-ons, Saint Mary's controlled the game from start to finish.
Flanker Colin Clancy, called into service due to some injuries, was superb. He was the main jumper in the lineout, and especially on defense caused Central all sorts of problems. Talea-Ilali was massive in the scrums as well as in open play. Matthews played three different positions and was excellent at all, while Vili Helu, despite a yellow card for a dangerous tackle, led the team and was central to its attack.
The try above was symptomatic of the day, with the Gaels pack (subs and all) shoving CWU off the ball, and Helu rambling in on the eighteen pick to the left from 25 meters out.
"One other thing I was pleased with was that we brought some players in and it was pretty seamless; you couldn't see any difference in the performance," said O'Brien.
And that spelled bad news for Central Washington.