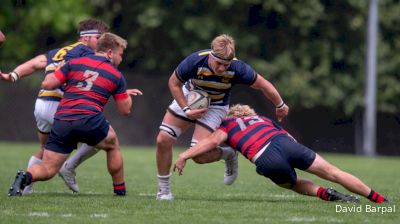 D1A rugby's winter break was very short, and it kicks off once more this week, with the first game of a wild winter/spring season happening on Thursday.
As it did last January, the Central Washington will visit UC Davis and Saint Mary's to kick off the year. Last year, that trip was a harbinger of where CWU was, and it wasn't exactly good news. Davis beat a fairly young CWU team, and Saint Mary's took down the first-string Wildcats by over 60.
Watch Central Washington at Saint Mary's LIVE on FloRugby, KO 3 p.m. CT, 1 p.m. PT
After that, Central, already under some difficulty in finding games, battled to find any rhythm, and while the Wildcats got into the playoffs (thanks to Notre Dame College being unable to travel), that playoff game was an 87-7 loss to Life.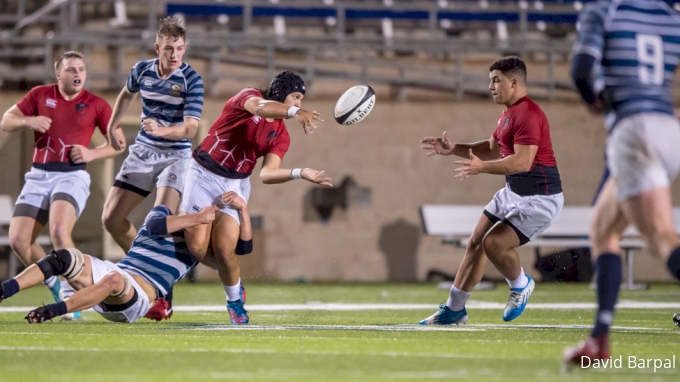 This year also promises to be a harbinger, and it's likely going to show an older, tougher, more battle-ready Central Washington team this time around, but it's still a young program. Of the 41 players on the CWU roster, 19 are freshmen and 11 are sophomores.
Some of those sophomores, such as Ivan Pula and Jack Wendling, will need to show some leadership, while captain Alex MacKenzie and the four seniors -- Trenton Keys, Reuben Ludick, Brian Nault and Cole Zarcane -- have important jobs to do off the field.
Meanwhile, UC Davis enjoyed a solid year in the winter-spring of 2018 and brought some solid performances despite its youth in the fall sevens tournaments. But as a club team, Davis struggles with depth. The game with CWU on Thursday will be an excellent measuring stick of where the Mustangs are.
They have talent -- Brad Maples, Tarik Siniora, Ian Slack and Jared Woosley, to name a few -- and will likely play a very young CWU on Thursday.
As for Saint Mary's, the Gaels have already been playing, logging wins over several preseason opponents, including SFGG, and, this past weekend, the Diablo Gaels men's club. Saint Mary's is about as game-ready as any team at this time of year, but it, too, is dealing with the annual rebuilding college teams face. The Gaels lost massive talents such as Mike McCarthy, Charlie Loudon, Tommy Wallace and Alec Barton, but they return some players, too. We will see how the pieces fit together this weekend.
More On D1A
Below is a list of most of the major D1A games in the second half of this season (yes, we know we're missing a few).
Key games to watch for:
LSU vs. Baylor, Jan. 26; Grand Canyon vs. Cal Poly, Feb. 1 (a chance for GCU to show where it stacks up); BYU at Central Washington, Feb, 9; BYU vs. Saint Mary's twice; UCLA vs. Arizona, Feb. 23; anything in the Mid-South; and Saint Mary's at Cal, March 30.
| | | | |
| --- | --- | --- | --- |
| 1/3/19 | Central Washington | at | UC Davis |
| 1/5/19 | Central Washington | at | Saint Mary's Live on FloRugby |
| 1/12/19 | Saint Mary's | at | UC Davis |
| 1/12/19 | Central Washington | at | Washington |
| 1/19/19 | ALL-UC TOURNAMENT | at | UCLA |
| 1/19/19 | Saint Mary's | at | Grand Canyon |
| 1/19/19 | Central Washington | at | Cal Poly |
| 1/19/19 | North Texas | at | LSU |
| 1/20/19 | ALL-UC TOURNAMENT | at | UCLA |
| 1/26/19 | UC Davis | at | Cal |
| 1/26/19 | Santa Clara | at | Saint Mary's Live on FloRugby |
| 1/26/19 | UCSB | at | Saint Mary's Live on FloRugby |
| 1/26/19 | Arizona | at | San Diego State |
| 1/26/19 | Utah | at | Arizona State |
| 1/26/19 | LSU | at | Baylor |
| 1/26/19 | Texas Tech | at | North Texas |
| 1/26/19 | Arkansas | at | Oklahoma |
| 1/26/19 | Texas A&M | at | Texas |
| 1/26/19 | UC Davis | at | California |
| 1/26/19 | Cal Poly | at | UCLA |
| 2/1/19 | Grand Canyon | at | Cal Poly |
| 2/2/19 | San Diego State | at | Cal |
| 2/2/19 | Glendale U23s | at | Saint Mary's Live on FloRugby |
| 2/2/19 | Utah State | at | Arizona |
| 2/2/19 | Santa Clara | at | UC Davis |
| 2/2/19 | Texas A&M | at | Texas Tech |
| 2/2/19 | Utah | at | Arizona |
| 2/2/19 | San Diego State | at | California |
| 2/2/19 | Washington State | at | Central Washington |
| 2/3/19 | Grand Canyon | at | UC Santa Barbara |
| 2/6/19 | Cal | at | Cal Maritime |
| 2/9/19 | Arizona State | at | Cal |
| 2/9/19 | BYU | at | Central Washington |
| 2/9/19 | Grand Canyon | at | Arizona |
| 2/9/19 | Lindenwood | at | Arkansas State |
| 2/9/19 | Life | at | Clemson |
| 2/9/19 | Cal Poly | at | Santa Clara |
| 2/9/19 | San Diego State | at | UC Santa Barbara |
| 2/9/19 | Arizona State | at | California |
| 2/9/19 | Utah | at | UCLA |
| 2/9/19 | BYU | at | Central Washington |
| 2/9/19 | Texas | at | Arkansas |
| 2/9/19 | Baylor | at | North Texas |
| 2/9/19 | LSU | at | Oklahoma |
| 2/9/19 | Grand Canyon | at | Arizona |
| 2/9/19 | Western Washington | at | Central Washington |
| 2/13/19 | Stanford | at | California |
| 2/16/19 | Arizona | at | Arizona State |
| 2/16/19 | Santa Clara | at | Grand Canyon |
| 2/16/19 | Arkansas State | at | Life Live on FloRugby |
| 2/16/19 | Clemson | at | Lindenwood |
| 2/16/19 | UC Davis | at | San Diego State |
| 2/16/19 | Utah State | at | Central Washington |
| 2/16/19 | Clemson | at | Lindenwood |
| 2/16/19 | Texas Tech | at | Arkansas |
| 2/16/19 | Texas | at | Baylor |
| 2/16/19 | Texas A&M | at | LSU |
| 2/16/19 | North Texas | at | Oklahoma |
| 2/16/19 | Cal Poly | at | California |
| 2/16/19 | BYU | at | Saint Mary's Live on FloRugby |
| 2/17/19 | Santa Clara | at | Grand Canyon |
| 2/23/19 | UBC | at | California |
| 2/23/19 | UCLA | at | Arizona |
| 2/23/19 | Arkansas State | at | Clemson |
| 2/23/19 | UC Santa Barbara | at | Santa Clara |
| 2/23/19 | San Diego State | at | Saint. Mary's Live on FloRugby |
| 2/23/19 | Cal Poly | at | UC Davis |
| 2/23/19 | Utah Valley | at | Central Washington |
| 2/23/19 | Arkansas State | at | Clemson |
| 2/23/19 | Lindenwood | at | Life Live on FloRugby |
| 2/23/19 | Grand Canyon | at | Arizona State |
| 2/23/19 | Washington | at | Central Washington |
| 3/2/19 | BYU | v | Arizona |
| 3/2/19 | BYU | v | USC |
| 3/2/19 | Navy | at | Arkansas State |
| 3/2/19 | Santa Clara | at | San Diego State |
| 3/2/19 | UC Davis | at | UC Santa Barbara |
| 3/2/19 | UCLA | at | Arizona State |
| 3/2/19 | Navy | at | Arkansas State |
| 3/2/19 | Wyoming | at | Arizona |
| 3/3/19 | Cal | at | UBC |
| 3/9/19 | Cal | at | UCLA |
| 3/9/19 | Saint Mary's | at | BYU |
| 3/9/19 | San Diego State | at | Grand Canyon |
| 3/9/19 | Navy | at | Life Live on FloRugby |
| 3/9/19 | UC Santa Barbara | at | Cal Poly |
| 3/9/19 | San Diego State | at | Grand Canyon |
| 3/9/19 | California | at | UCLA |
| 3/9/19 | Colorado State | at | Central Washington |
| 3/9/19 | Arkansas State | at | Lindenwood |
| 3/9/19 | St. Mary's | at | BYU |
| 3/15/19 | Cal | at | Santa Clara |
| 3/16/19 | Humboldt State | at | Cal |
| 3/16/19 | Utah | at | Cal |
| 3/16/19 | BYU | at | Weber State |
| 3/16/19 | Saint Mary's | at | Cal Poly |
| 3/16/19 | Grand Canyon | at | UC Davis |
| 3/16/19 | Life | at | Davenport |
| 3/16/19 | St. Mary's | at | Cal Poly |
| 3/16/19 | Utah | at | California |
| 3/16/19 | Life | at | Davenport |
| 3/16/19 | San Diego State | at | UCLA |
| 3/16/19 | Texas | at | Arizona |
| 3/21/19 | Central Washington | at | BYU |
| 3/23/19 | Southern Utah | at | BYU |
| 3/23/19 | Saint Mary's | at | Navy |
| 3/23/19 | Life | at | Lindenwood |
| 3/23/19 | Arizona | at | California |
| 3/23/19 | Central Washington | at | Utah Valley |
| 3/23/19 | Texas | at | Arizona State |
| 3/30/19 | Saint Mary's | at | California |
| 3/30/19 | Arizona | at | Utah |
| 3/30/19 | Grand Canyon | at | Central Washington |
| 3/30/19 | Davenport | at | Arkansas State |
| 3/30/19 | St. Mary's | at | California |
| 4/5/19 | Utah | at | BYU |
| 4/6/19 | Saint Mary's | at | Nevada |
| 4/6/19 | San Diego State | at | Cal Poly |
| 4/6/19 | Grand Canyon | at | UC Davis |
| 4/13/19 | D1A Round 1 | | |
| 4/20/19 | D1A Quarterfinals | | |
| 4/27/19 | D1A Semis | | |
| 5/4/19 | D1A Final | | |