This fall, the UNC Charlotte backline tandem of Tyreke Huntley and Michael Basnett tore up the Southern Rugby Conference. They'll look to do the same in sevens this spring with additional space to showcase their speed.
In 2018, this duo was named DII 7s First Team All-Americans and DII 7s national champions. In the American sevens rugby ranks, they have undoubtedly some of the brightest futures of any college players in the country. Their speed and footwork are perfectly crafted for sevens, but it is their abilities beyond their athleticism that put them on this list.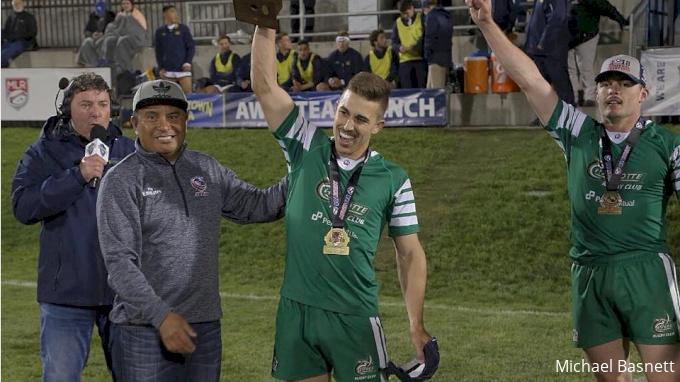 The UNC Charlotte backline duo of Tyreke Huntley and Michael Basnett forced Southern Conference teams to prepare differently to account for their game-changing pace.
"You focus on having everyone come up under control in one flat line, you stress the importance of inside support and you try to make sure that your restarts are sent to the opposite side of the pitch," said Furman head coach Mike Miller.
Anytime the ball was kicked, the possibility for a try loomed large. Michael Basnett assumed a new role at fullback, where he could lead the counter-attack in either direction or tactically kick back. Huntley and Basnett each possess the unique ability to cut off both feet. Basnett uses his sidestep to quickly change direction and scamper through small holes, while Huntley loads up his sidestep to explode into defenders with a stiff-arm.
At outside-center, Huntley carries his weight expertly into contact and is leaned on by his squad to dominate the cutback on attack and defense. "More often than not he is the one making the big impact tackle, or securing the ball at the ruck for the 49'ers," said Miller.
Last summer Michael Basnett took his talents to Colorado to play under coach Stephen Lewis with the eventual men's club 7s national champion Bulldog Rugby Club. Basnett lead the Southern Conference in tries and took home the Conference MVP trophy. In the sevens national championship tournament, Basnett made his biggest statement by scoring four tries in the final and securing the championship MVP trophy. "The best defense against Michael is to keep the ball in hand and make them play defense," said Miller.
Stout Southern Conference
In 2016, the Southern Rugby conference organized a three-stop sevens series with a decisive conference championship tournament. Budding teams like ECU, Appalachian State and Furman stand in the way of a UNCC repeat. The tandem will have nearly 20 conference matches and several non-conference tests to prepare for another national championship run.