In 2013, Robby Sindic and Levi Van Lanen lined up across from each other in their high school rugby state championships. By 2018, they had won two Division II National Championships and a Division II 7s National Championship. This fly half and inside center combo are nearly impossible to tackle for a loss, and after 80 minutes all that forward momentum adds up.
The University of Wisconsin-Whitewater ran off back-to-back national championships in 2016 and 2017, before falling short to NC State in 2018. The duo of Robby Sindic and Levi Van Lanen should be credited with much of the Warhawks' perennial success.
Sindic is an absolute unit and likely the biggest fly half in college rugby at 6-0 and 250lbs. At first glance you'd look at his #17 jersey in warm-ups and expect Sindic to come off the bench as a front rower, but Sindic is a technician. His passing ability and vision are unmatched at this level and his bag of tricks is deeper than any in college rugby.
"Robby Sindic is not your typical fly half. He sees things on the field before they even happen," said his inside center Levi Van Lanen.
Van Lanen is Sindic's aggressive two-way center and former rival turned recruit. At inside-center Van Lanen is not going to try sidestep you, "I'm trying to attack the defense where they are weak," he says.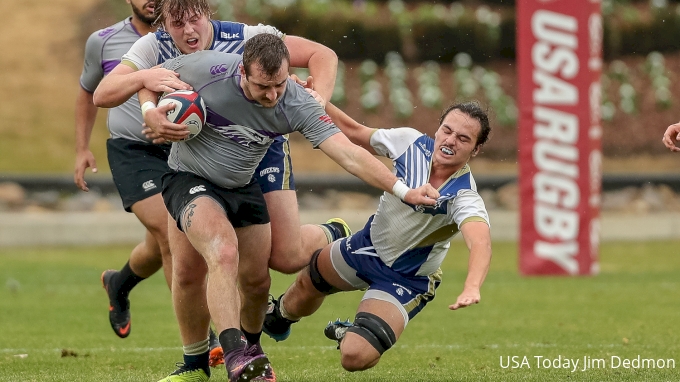 Van Lanen likes to establish the crashing run early. But throughout the match he'll incorporate his weaving running style. He is not trying to dance but instead trying to glide around the park looking for weak shoulders.
The Warhawks have displayed several line-breaking backs in the last five years, but Van Lanen has done it from multiple positions and rarely commits a turnover or penalty. "Having a hard-nose running center like Levi is what makes my bag of tricks so versatile," said Sindic. "I have a safety net, a hard crash ball that will break the line even if there isn't a hole."
This duo sparked one of college rugby's most impressive dynasties, compiling a championship résumé that can stand side-by-side to some of the great Cal and BYU runs, and these two aren't done. The duo look to repeat as First Team All-Americans in sevens, but more importantly they hope to bring home one last national championship.