In Fort Dodge, Iowa there is a budding young program that could beat just about any conference champion in Division II.
The Tritons are deep, they are fit, and they are smart. In 2018, Coach Brent Nelson and the Iowa Central Community College rugby brought together a freshman flyhalf from England and a farm boy from Iowa.
Rhys Smith
Rhys Smith is a freshman flyhalf from England, but already one of the standout playmakers in Division 2. The manager of the Iowa Central attack, Smith is also a capable defender, and at 6-2, 208, an imposing figure.
Smith often locates himself at different positions in the backline to give the opposition as many varied looks as possible.
"Rhys is totally unselfish, spins a great ball, and has vision beyond his years," said Triton head coach Brent Nelson.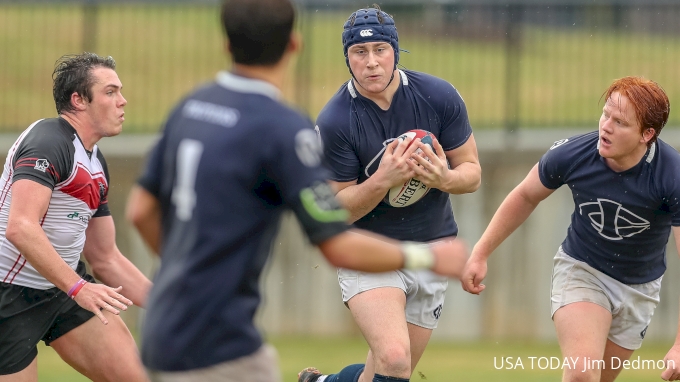 On championship weekend, Smith read the defense as many times as possible before getting ball in hand. When it was decision time for Rhys his teammates received early play-call and reacted accordingly. "Smith isn't your typical lean 10, he's got size to him, so he can take it to the line himself," said Nelson.
Smith established his prescience as a ball-carrier early in the semifinal match, forcing the NC State defense to honor him as a running threat. NC State's national champion defense didn't let the attacking channels open horizontally, but instead the blitzing defenders left the space behind them.
After working the Triton attack inside the NC State 22-meter line, Smith spotted space and exploited it with a clever cross-field chip to his winger for the try.
Mike Wildin
Smith's biggest support runner, Mike Wildin, is an Iowa native and led Iowa CCC in tries in 2018. Wildin played sevens rugby exclusively before reaching Fort Dodge, and that comes as no surprise when you see his speed.
Coach Nelson's excitement builds when he begins to speak on the character and lengthy gait of his speedy outside center.
"He's an absolute blazer with long strides like a deer, and off the pitch he is a gentleman ... My mom's favorite player," said Nelson.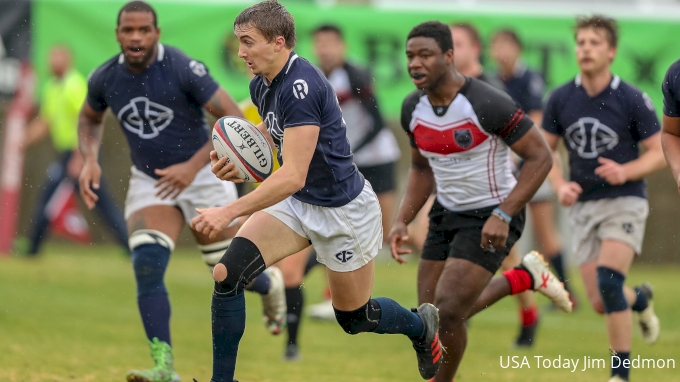 On championship weekend, Wildin was outsized by the other three outside centers in the final four, but he was able to take away the space of his opposition with his pace and tracking ability. In the semifinal match, the Triton #13 made a game-breaking loose-ball recovery and raced through the unsuspecting Wolfpack.
Smith has never played sevens before, but clearly possesses the playmaking ability to dominate the extra spacious sevens pitch. Wildin is coming off an incredible transition to fifteens, but in his natural sevens Wildin should be a prospective All-American by summer. As the youngest duo on this list, look for these guys to shine in many more fifteens seasons ahead.