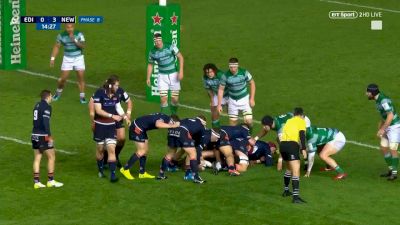 It is always good to get back to winning mode and the start of the Heineken Champions Cup window allowed us to play well and win at home, which is important.
---
This is the latest column by Edinburgh Rugby and Argentina star Juan Pablo Socino
---
Despite the win, the game on Friday allowed me to experience some things that I want to share with you.
If I have been anything in my career it's been that I am adaptable, having played in many different clubs in different countries since I first arrived in Europe. Newcastle Falcons was the first club for which I played more than one season; I played with them for four years until my move to Edinburgh.
I never thought that I would have to cross paths with them on the field after changing country and league, but the luck of the draw saw us sharing the same group in the continental competition.
Many things came through my mind at the start of the week; it was inevitable not remembering stories, anecdotes, moments, games, teammates, coaches, fans, the club staff, the city. Somehow, those four years were very present in my match preparation.
Those four seasons were very good, enjoying many things on and off the field. It was being in touch with the shirt, but now on the other side of the fence.
To add to this emotional rollercoaster, my younger brother Santiago plays for Newcastle. Playing against him is one of the best things I've experienced in my career. I am fortunate to have gone through this.
The game as such was very important to us to continue with possibilities in the Heineken Champions Cup and there were many factors that contributed to the win. On the one hand, we were back playing at home in Murrayfield and that is always important to be strong there, and the other the pressure of needing to win.
In the buildup week, I had a constant role of consultant when it came to the analysis as coaches and teammates were keen to find out what I knew of my former club.
Typical of this time of the year, there was rain and wind, which meant it was an error-ridden game. In that context, the pack controlled the game, mostly in the set pieces, which allowed us to unlock and control the game.
I started on the bench and I was very nervous until I got on the field on the hour mark. Once I came on, all those thoughts I'd had floating on my mind disappeared and it became another game which I played with the same seriousness and will.
Not even playing against my brother Santi for a few minutes changed that. In all, I played twenty minutes which I fully enjoyed.
Obviously, once the game finished, all the goodwill came back, with smiles and hugs from former teammates, coaches, officials and the fans that came to Edinburgh.
Beyond all of this, what will be an everlasting memory of this game against the Falcons was that hug with my brother.
- Juan Pablo Socino
Siempre es bueno volver a ganar y el arranque de la ventana de la Heineken Champions Cup nos permitió jugar bien y ganar en casa, algo que es siempre importante. Más allá del triunfo, el viernes pasado me tocó vivir sensaciones que quiero compartirles.
Si algo tuve en mi carrera fue la adaptabilidad, habiendo jugado en muchos clubes en distintos países desde que llegué a Europa por primera vez. Con Newcastle Falcons se dio la particularidad que fue el primer y único club al momento en el que jugué más de una temporada consecutiva. Estuve cuatro años con ellos, hasta que me mudé a Edinburgh.
Nunca pensé que me los iba a tener que cruzar dentro de la cancha al cambiar de país y de liga, pero la suerte del sorteo hizo que compartamos el grupo en la Copa Europea.
Muchas cosas se me empezaron a cruzar por la cabeza en el inicio de la semana. Fue inevitable no recordar historias, anécdotas, momentos vividos, partidos, gente, compañeros, entrenadores, hinchas, staff, la ciudad. En definitiva, todo lo que viví en esos cuatro años estuvo muy presente en la preparación para el partido
Fueron cuatro temporadas y años muy lindos, donde atravesé un montón de cosas, dentro y fuera de la cancha. Era estar de vuelta estar en contacto con la camiseta, aunque esta vez me tocaba estar de la vereda de enfrente.
Sumado a todas estas emociones, se daba la situación de que mi hermano menor Santiago es jugador de Newcastle. Esto fue una de las mejores cosas que me pasó en mi carrera, tuve la suerte de vivir este partido.
El partido era muy importante para nosotros para seguir con posibilidades de avanzar en la Copa Europea y se daban varios factores. Por un lado volvíamos a jugar de local en Murrayfield y eso es siempre importante hacernos fuertes en casa y la otra era la presión de ganar sí o sí.
Debo reconocer que durante la semana tuvo un rol de consulta constante a la hora del análisis ya que me consultaron constantemente, compañeros y entrenadores, sobre lo que sabía de mi viejo club.
Típico de la época del año, tuvimos lluvia y viento y eso genero un partido impreciso. En ese contexto, el pack tuvo un gran dominio, sobre todo en las formaciones fijas, lo que nos permitió destrabar y controlar el partido.
Me tocó empezar el partido en el banco de suplentes y hubo mucho nerviosismo en la previa y durante la hora que me tocó esperar hasta que me avisaron que entraba a la cancha.
Una vez que entré, todo eso de lo que me había estado dando vueltas en la cabeza desapareció y fue un partido más en lo personal, encarado con las mismas ganas y misma seriedad de siempre.
Ni siquiera el hecho de haber enfrentado unos minutos a Santi pudo cambiar eso. Fueron casi 20 minutos que disfruté mucho.
Obviamente, una vez finalizado el partido todo eso vuelve de la mano de sonrisas y abrazos con ex compañeros, entrenadores, directivos e hinchas que se acercaron a Edimburgo.
Más allá de todo esto, lo que más que quedará de este partido con los Falcons fue el abrazo con mi hermano.