Two Men's D2 college teams that have received a little criticism over the last year or so get set to face off in national semis Saturday.
Watch The Men's D2 College Semis and Final LIVE on Flo Rugby Dec 1-2
Iowa Central Community College gets criticized for being "just" a junior college, despite the school's impressive record of sending students to four-year colleges and also providing valuable two-year degrees in technical and other disciplines that helps get young people jobs.
The two-year status of Iowa Central ended up denying the team a place in the CRC 7s tournament last spring. The Tritons won an automatic qualifier at the Heart of America Qualifier tournament, only to have it rescinded because they weren't a four-year institution.
ICCC is also a varsity program, something we're seeing more of in Division 2, and that rankles some. But like other new varsity programs before it (Davenport, Lindenwood, Lindenwood-Belleville), Iowa Central CC is working its way up the ladder season-by-season. That's only fair.
For North Carolina State, it's not being small or varsity that's drawn notice, it's the size of the school. NC State has an undergraduate enrollment of over 24,000 and the school's varsity sports play in D1. But, as players with the team pointed out, they get almost no funding.
They are an old-school, player-supported club team. They spend most of the late season fundraising for playoffs.
So, on to the matchups.
Battered But Unbowed
Iowa Central is young - being a two-year school most of the players are 18 to 20 years old. Head coach Brent Nelson has been able to recruit from overseas, and that rugby experience has been crucial to the program's success. After being in the National Small College Rugby Organization (NSCRO) bracket last year, the Tritons moved up.
They've played an independent schedule this season, facing off with mostly D1 teams, and going 2-5. But it was a competitive 2-5 against some high-level teams.
"We have huge expectations of ourselves," said Nelson. "I think after we played Lindenwood we found our identity. The players saw what it takes in terms of mental toughness, and how you need to play a full 80 minutes. We're very young, but to achieve what we want to achieve we need to play a full match."
Leading the way for Iowa Central is captain and prop Mitchell Coleman-Hardy. The Australian has come in to lead the squad and nailed down the tighthead prop position. He's been a rock. Michael Wildin, a local Iowa boy, has excelled at wing, center, and fullback. Another Iowan, Nathan Veal, and New Zealander Alec Johnson came to the Tritons as backs and are now lock forwards. They have embraced the new jobs, and could be two of the fastest players on the team.
As a result, Iowa Central is a team that can torch you in a number of ways, and they're not intimidated by a team's background.
Wolfpack Stays Healthy
The biggest hell-yeah moment for NC State player Tom Kiernan has been in the last couple of weeks, not on the field.
"Watching the players work outside the training and the games to fundraise so we can play in the payoffs is a huge thing," said Kiernan. "The work the guys do is what separates us from other teams."
On the field, added Kiernan, the team has built a game plan on how they want to play and how they want to operate.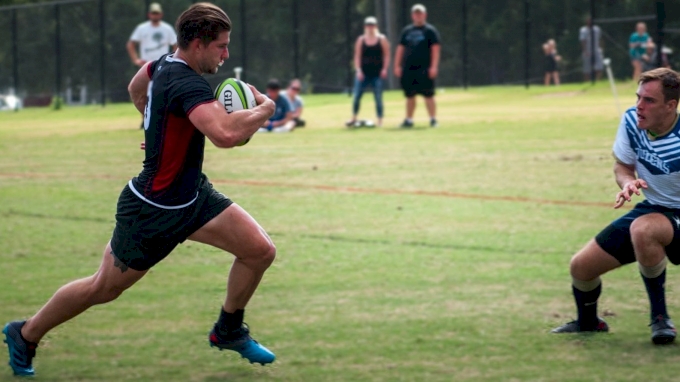 "Everyone has bought in, we have really good chemistry, and the guys who come in from high school are able to slot right in," said Kiernan.
The other big factor in NC State's success this year - a Cardinals Conference title and defeating SUNY Geneseo and UNC-Charlotte in the playoffs - has been injuries. In 2017, the Wolfpack saw eight starting players go down with injuries. This year it's been a different story.
That's not an accident.
"We worked on it," he said. "We worked on what we were doing in the weight room and made sure our weight training is safer and doesn't lead to injuries. Same in training. We made changes in our contact drills to make it safer. That's made a huge difference."
Watch The Semis And The Final LIVE
Along with Kiernan, NC State's success has relied on props Jack Dalton and Dave Lavezzo to set the tone. Meanwhile, Tom Stockton, a HS All American with the Raleigh Rattlesnakes in North Carolina, has taken on the flyhalf role and done well. Charles Harrocks has been a crucial experienced head at inside center.
This will be a huge clash; the easy excuses: "Oh, they're varsity," or "Oh, they're basically a D1 school" cancel each other out. It's just who can do it on the day. Iowa Central can score from pretty much anywhere, and so this is a game that may hinge on NC State's defense.