New York 7s 2018
Can NY 7s Carry Banner Of Men's Elite Development?
Can NY 7s Carry Banner Of Men's Elite Development?
What teams look solid at Boys HS Premier in NY 7s?
Nov 20, 2018
by Alex Goff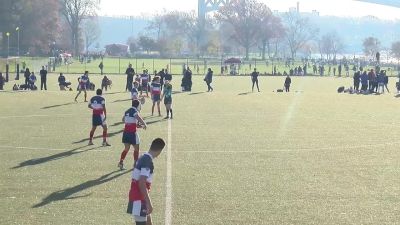 Is development of men's elite-level sevens in trouble? Some think it is.
With the growth of Major League Rugby, and as a result the absence of many of those players in the club 7s season, means that the USA Men's Sevens National Team may have to look further afield to find players.
Watch The New York 7s LIVE All Day Saturday, Nov 24 on FloRugby
Not that it doesn't already do that. College teams can certainly provide that pipeline - note that a team of mostly college players won the Men's Club 7s after all - but high school is an even more obvious talent pool. Elite high school rugby is huge, and the New York 7s, along with the NAI 7s and the burgeoning NAHS 7s Series, is already producing serious national team prospects, and will continue to do so.
At the New York 7s, American and Canadian teams use the event to showcase what they can do.
Teams to watch:
CODP
The Olympic Development Program owes a great deal to the Play Rugby USA program, and in fact Play Rugby Academy just won the Rugby NY fall 7s. This is a team that produced the likes of Jon Rodriguez.
Tsunami Misfits
Winners of the 2017 HS Premier bracket, the Misfits bring two teams once again and could blow up this event once more.
Upright Rugby Rogues
After a rough 2017, Upright rebounded and edged the Misfits 22-19 in the final of the NAI 7s. That has sparked an intense intra-Canada rivalry between the two teams.
Rugby PA
Rugby Pennsylvania has one of the best-organized select-side programs in sevens, and should produce a solid squad this year.