Defense has been a major focus for USA head coach Gary Gold leading into this weekend's game with Romania, and rightly so, as it was the Eagles' defensive lapses that kept Samoa in the game last week.
Watch USA vs Romania LIVE Saturday, Nov 17 at 6AM CT
"We lot of their tries were based on something we did wrong," Gold told FloRugby. "We had some quiet times, especially in the first half but then toward the end of the first half we picked it up."
Gold acknowledged that some players who have been playing consistently well had off days. He isn't going to roast them for that.
"Sometimes somebody has a bad day," he said. "There were other guys who had exceptional games. But the guys who didn't play well, I know they don't mean to do that, and I know it's uncharacteristic. You're not going to improve a player by just sitting him down for one bad game. It's critically important that you trust that player."
(Note, the photo of Nick Civetta associated with this article isn't a hint.
Watch USA vs Samoa Again! On-Demand On FloRugby
A couple of screenshots from the live showing from FloRugby can illustrate some of the defensive issues the USA was running into.
First, here's an example of a blitz gone wrong. If a defensive player comes out quickly, leaving the defense line (as you see below), the other players in the line have to fill in. At this instant, they haven't, and the result isn't terrible - enough Eagles make tackles that Samoa makes it to halfway, but no further.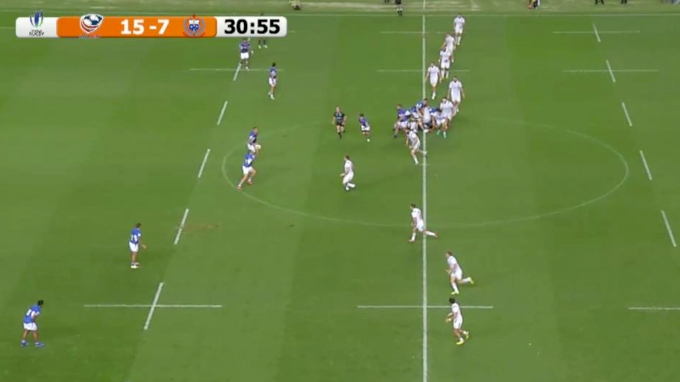 But they needed several players to accomplish that, and when the USA does the same thing a few seconds later, there's no cover, and Samoa breaks through for a try.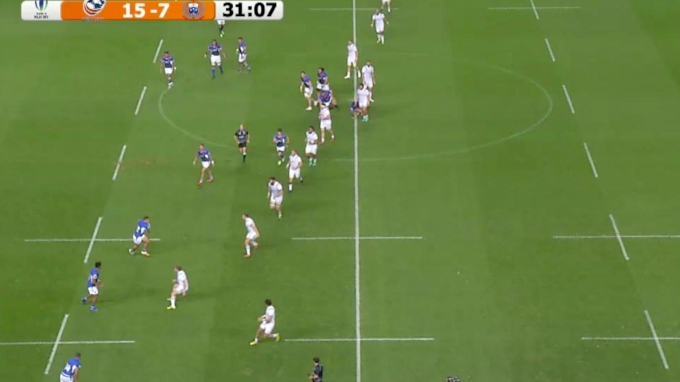 Contrast this with the second half, a period in which, after a soft try given up in the first 14 seconds, the USA holds Samoa to three points. This defensive line is indicative of the second half. There are players to fill in and everyone is rushing up in a unified way.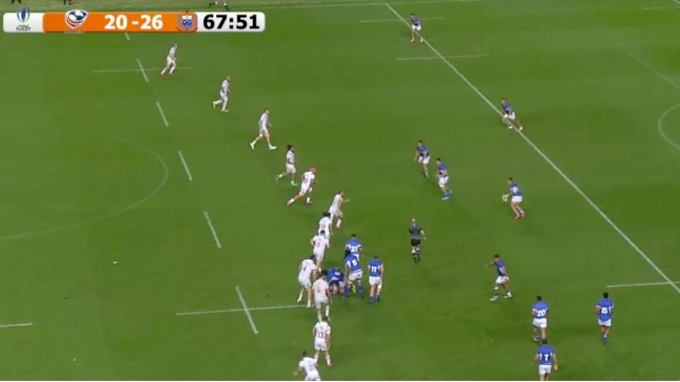 The result? Samoa is forced to kick.
And in fact, the strong USA defense wasn't really about tackling and tackling and tackling; it was showing a unified front early in a Samoa possession. The result was often a Samoa mistake, or a kick. Samoa did not play a ton of multi-phase rugby.
The difference for this weekend is that Romania will run the phases and will force the Eagles to remain organized on defense. And the key will be that if a defender rushes up to make that first tackle, his teammates need to back him up.