USA Women vs England Women
England Women Hit USA Hard 57-5
England Women Hit USA Hard 57-5
USA women went down 57-5 to England Friday.
Nov 9, 2018
by Alex Goff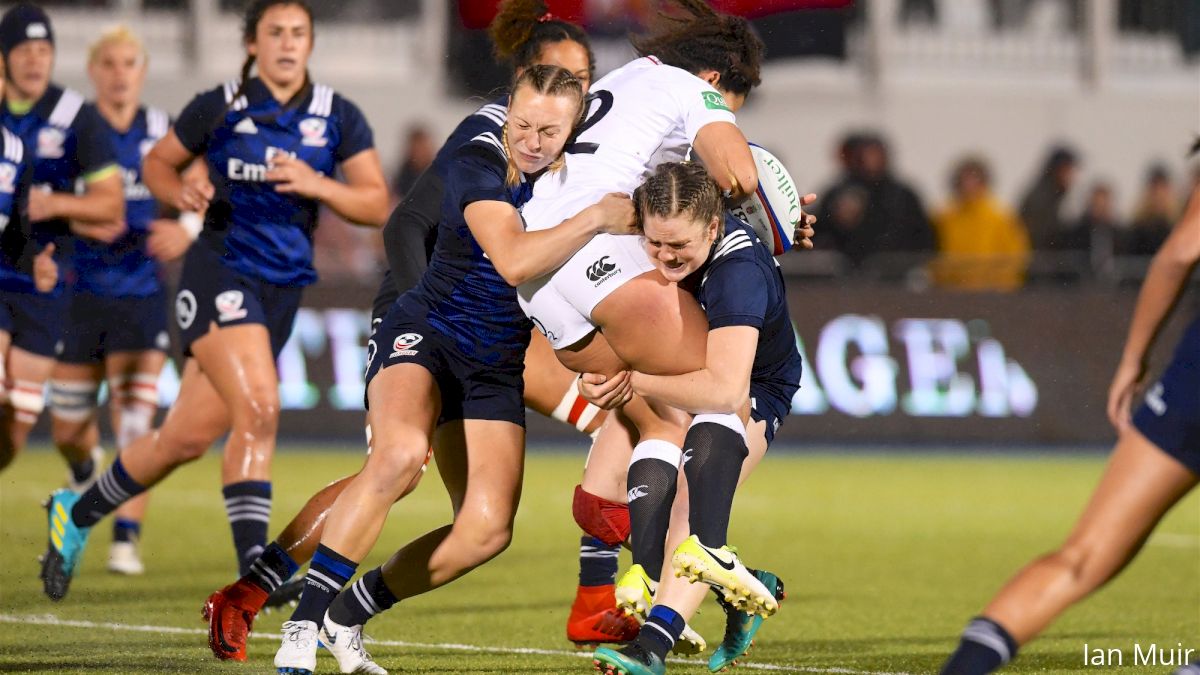 An experienced England women's side put the USA to the sword Friday at Allianz Park in London, taking down the Eagles to the tune of 57-5.
On a wet day, the Roses had the stronger game, and it didn't help when prop Megan Rom used her forearm in a tackle and was sin-binned, putting the USA down to 14 players in the first half. Scrumhalf Leanne Riley set up No. 8 Sarah Beckett for a try ten minutes in, and Sarah McKenna scored with the player advantage.
A penalty try - which put the USA down to 13 players, and then Kate Daley-McLean, playing her 100th test, set up a try and then scored one of her own.
75' | ON THE BOARD.

Collecting her first cap, Jennine Duncan breaks away on the outside for ?? points. #USAvENG | #EaglesUnited
USA 5-47 ENG pic.twitter.com/V5vIctmQeb

— USA Rugby (@USARugby) November 9, 2018
England led 33-0 at the break and cruised from there. The USA had few answered, although Jennine Duncan did score the first try of the Rob Cain era.
"It was tough as the conditions were absolutely horrendous," said England head coach Simon Middleton. "It's so difficult to play in those conditions so you've sometimes got to look at different aspects of the game, like I thought in defense we were fantastic with great energy and aggressive."
Next up for England will be a test match against Canada. The USA look to face Ireland. Both matches will be LIVE on FloRugby.
England 57
Tries: Riley. McKenna, Penalty try, Scott, Daley-Mclean, Smith 2, Hunter, Williams
Convs: Daley-Mclean 5
USA 5
Tries: Duncan
England Lineup: 15. Sarah McKenna, 14. Lydia Thompson, 13. Carys Williams, 12. Tatyana Heard, 11. Kelly Smith, 10. Katy Daley-Mclean, 9. Leanne Riley; 1. Ellena Perry, 2. Lark Davies , 3. Shaunagh Brown , 4. Zoe Aldcroft, 5. Abbie Scott (c), 6. Joanna Brown, 7. Vicky Fleetwood, 8. Sarah Beckett.

16. Heather Kerr, 17. Vickii Cornborough, 18. Hannah Botterman, 19. Catherine O'Donnell, 20. Sarah Hunter, 21. Claudia Macdonald, 22. Zoe Harriso, 23. Lucy Attwood.
USA Lineup: 1. Megan Rom, 2. Joanna Kitlinski, 3. Catie Benson, 4. Stacey Bridges, 5. Alycia Washington, 6. Rachel Johnson, 7. Kate Zackary (c), 8. Jordan Gray-Matyas; 9. Anna Karen Pedraza, 10. Gabby Cantorna, 11. Sarah Levy, 12. McKenzie Hawkins, 13. Emily Henrich, 14. Kelsi Stockert, 15. Kaitlyn Broughton.

16. Joyce Taufa, 17. Azniv Nalbandian, 18. Nick James, 19. Melissa Finkelstein, 20. Kristine Sommer, 21. Nikki Kenyon, 22. Megan Foster, 23. Jennine Duncan.